Second time's the charm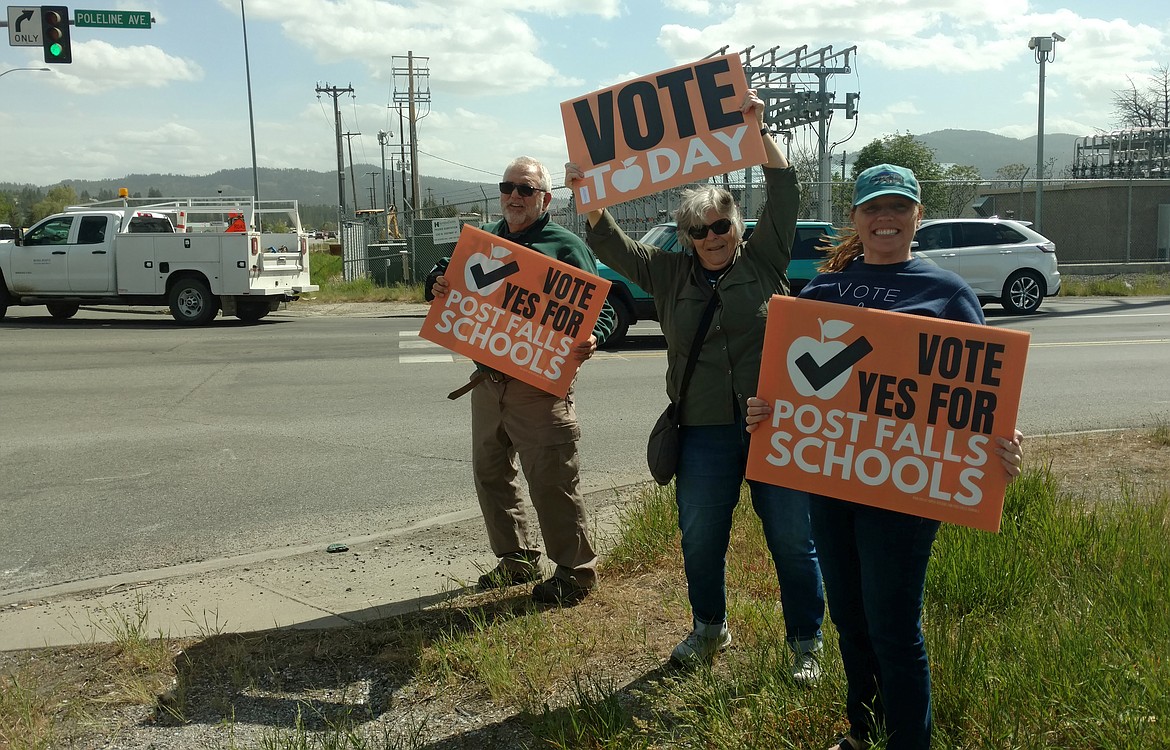 From left, Frank and Diana Pratt of Post Falls and Citizens for Post Falls Schools co-organizer Teresa Borrenpohl "do the wave" at Poleline Avenue and State Highway 41 to encourage drivers to vote yes on the supplemental levy. School district concerns will continue to be a focus for Post Falls in 2022.
DEVIN WEEKS/Press File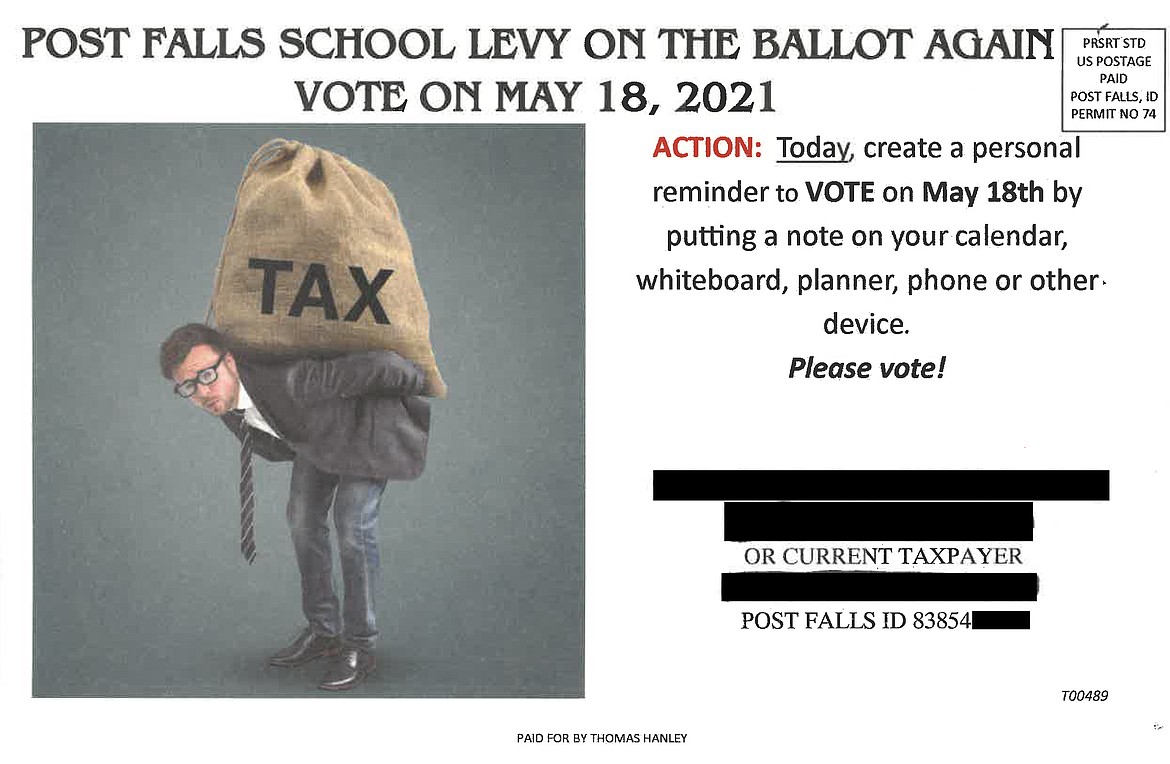 This "Post Falls Taxpayer Informational Newsletter" advertisement was sent to Post Falls residents prior to the May 18 election.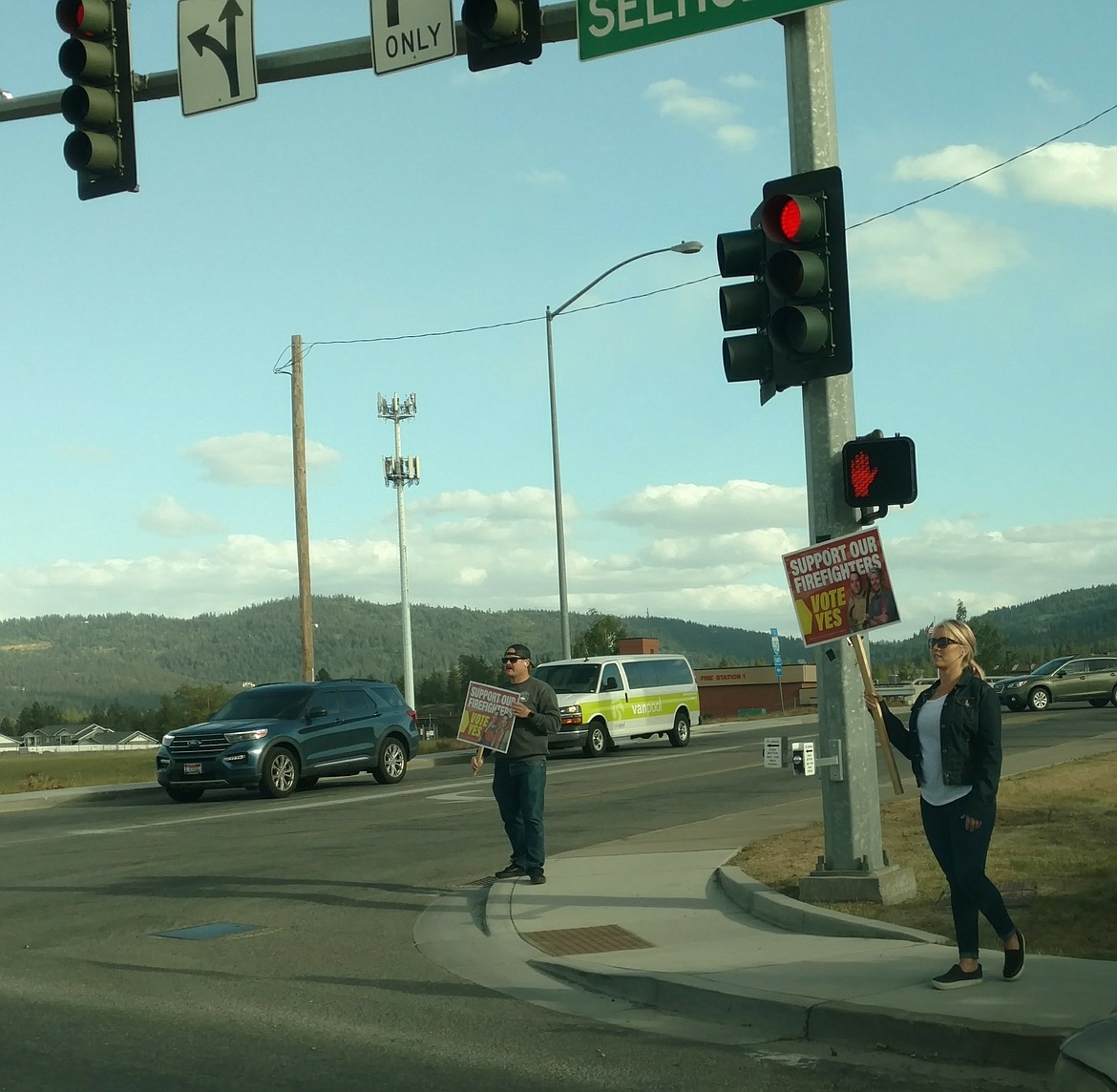 Kootenai County Fire and Rescue supporters hold up signs Tuesday evening at Seltice Way and Idaho Street in Post Falls.
Previous
Next
by
DEVIN WEEKS
Staff Writer
|
May 19, 2021 1:29 AM
POST FALLS — The replacement supplemental levy for the Post Falls School District earned a stamp of approval Tuesday.
The $4.95 million per-year, two-year levy passed by 329 votes when ballots were tabulated late Tuesday night and into the early morning. About 53% of voters (3,436) were in favor. Roughly 47% of voters (3,107) opposed.
It was the second attempt by the district to pass its supplemental levy, following the initial try that failed by 33 votes March 9. This time around, 6,543 voters made it to the polls or submitted absentee ballots versus the 2,889 who voted in March.
"We appreciate our parents and patrons who went to the polls to support the children of Post Falls who will continue to pay it forward," Superintendent Dena Naccarato said.
She said many are to thank for the successful renewal of this levy, including the new nonprofit Citizens for Post Falls Schools; the Post Falls Chamber of Commerce and local businesses; Jim Putman and Real Life Ministries, which "hosted a podcast to address the misconceptions and misinformation published on social media and in newspaper editorials;" and the Post Falls School Board, which "continues to keep the best interest of Post Falls' students at the forefront of every decision they make."
"We are grateful for the staff of the Post Falls School District, who have worked tirelessly to educate and support the students of Post Falls during this very challenging year," Naccarato said. "Finally, we appreciate our K-12 students, who are the reason we do what we do each day."
Supporters were sprinkled throughout the River City waving signs to remind people to vote.
Retired music teacher and high school principal Diana Pratt and husband Frank Pratt, whose arm was in a sling from a recent surgery, along with Citizens for Post Falls Schools co-organizer Teresa Borrenpohl, were stationed at State Highway 41 and Poleline Avenue.
"We had two kids that were successful in school, and because they were successful in school, they're successful in life," Diana Pratt said. "They're on their own, making a good wage and able to support their families. And every kid should have that opportunity."
Pratt said she started her 30-year career teaching in Washington during double levy failures and was only able to be hired once a levy finally passed.
"Good schools impact the economy of the area," she said. "No one wants to move to an area with crummy schools."
Michelle Lippert, longtime board trustee, put it this way: "This is the Post Falls I have grown to love in my 30 years here."
"Our administration and staff are accomplished professionals who nurture, educate and inspire our students," she said. "Levy dollars will be used to continue that effort."
KOOTENAI COUNTY FIRE AND RESCUE PUBLIC SAFETY BOND
Voters easily approved the Kootenai County Fire and Rescue Public Safety Bond.
The bond passed with 6,252 votes in favor, with about 78% of voters approving. About 22% of voters opposed, with a total of 1,764 voting against the measure.
The annual increase of $24 per $100,000 assessed valuation for property owners will pay for projects that address service, safety and community needs, as the county has experienced a 34.5% population growth from 2010 to 2020, emergency responses have increased in the last decade and underserved areas of the county also continue to grow.
These projects include the relocation of Fire Station No. 3 from 16th Street to Charleville Road and Prairie Avenue in Post Falls and the relocation of Fire Station No. 4 from Golf Course Road to Kathleen Avenue and Fourth Street in Coeur d'Alene.
A new fire station will be built in southeast Post Falls on the KCFR Training Center campus on Seltice Way, as well as an outdoor classroom and training campus logistics warehouse.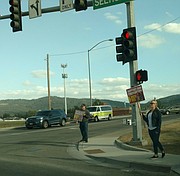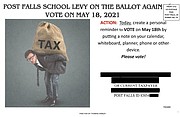 Recent Headlines
---