Man pleads guilty to animal cruelty
by
KAYE THORNBRUGH
Staff Writer
|
May 19, 2021 1:00 AM
POST FALLS — After an attack that left him bloody, a year-old border collie named Bubbers has recovered — and his assailant has pleaded guilty to animal cruelty.
For Bubbers, March 4 began like any other day.
He went to work with his owner, Brandon George, who owns CDA Import Auto Repair in Post Falls. He settled in behind the business, where he has food, water and a dog house.
Then employee Alex Schaeffer heard Bubbers yelping in distress.
"It started to get more frantic," he told The Press last month. "It sounded like it was tangling with something."
Schaeffer said he expected to see another dog, maybe a raccoon, fighting with Bubbers.
Instead he saw a man, later identified as 49-year-old Post Falls resident Jesse L. Jones, sitting on Bubbers and repeatedly punching the dog in the head.
Schaeffer shouted at Jones, who left the scene on foot.
Bubbers was bleeding, though not profusely, Schaeffer said.
He suffered a large cut on his nose, according to court documents, and the right side of his head was swollen.
George was on a test drive at the time of the incident.
When he returned a few minutes later and found out what happened, he set off on foot in search of the person who attacked Bubbers.
He found Jones several streets away and called the police.
He said he pursued Jones more than a quarter of a mile, until Post Falls police caught up with them.
"I did my part," George said. "I went and found him and made sure he had to answer for it."
Jones reportedly had blood on his hands, as well as scratches and puncture wounds.
Police said tufts of what appeared to be dog hair were stuck in the dried blood.
Jones was charged with cruelty to animals, a misdemeanor. He pleaded guilty on Friday.
As part of a plea agreement, the state dismissed an unrelated misdemeanor charge for providing false information to law enforcement.
In Idaho, cruelty to animals is generally a misdemeanor, but some forms of abuse become a felony if the defendant has previous animal abuse convictions.
Misdemeanor cruelty to animals is punishable by a maximum of six months in jail and a $5,000 fine.
George said he hopes Jones understands that what he did to Bubbers was wrong.
"If he's (pleading guilty) to man up and take responsibility, that's a step in the right direction in my book," he said.
Despite the trauma he experienced, George said his dog's good nature remains.
"It didn't seem to affect how he looks at people," George said. "He's just high energy, a smile on his face."
But some things have changed.
Jones reportedly broke 11 of the dog's teeth. Bubbers can't chew bones anymore — a favorite pastime of his — and has to eat soft food.
"We've had to make adjustments," George said.
A fundraiser on social media covered the cost of Bubbers' dental work.
Even after the medical care was paid for, people continued to reach out. George said he received dog food and a new bed for Bubbers, who has enjoyed it immensely.
"They went out of their way," George said. "We both really appreciate that — me and the dog."
Jones's sentencing is not yet scheduled.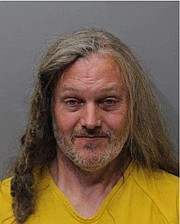 Recent Headlines
---