From sea to shining sea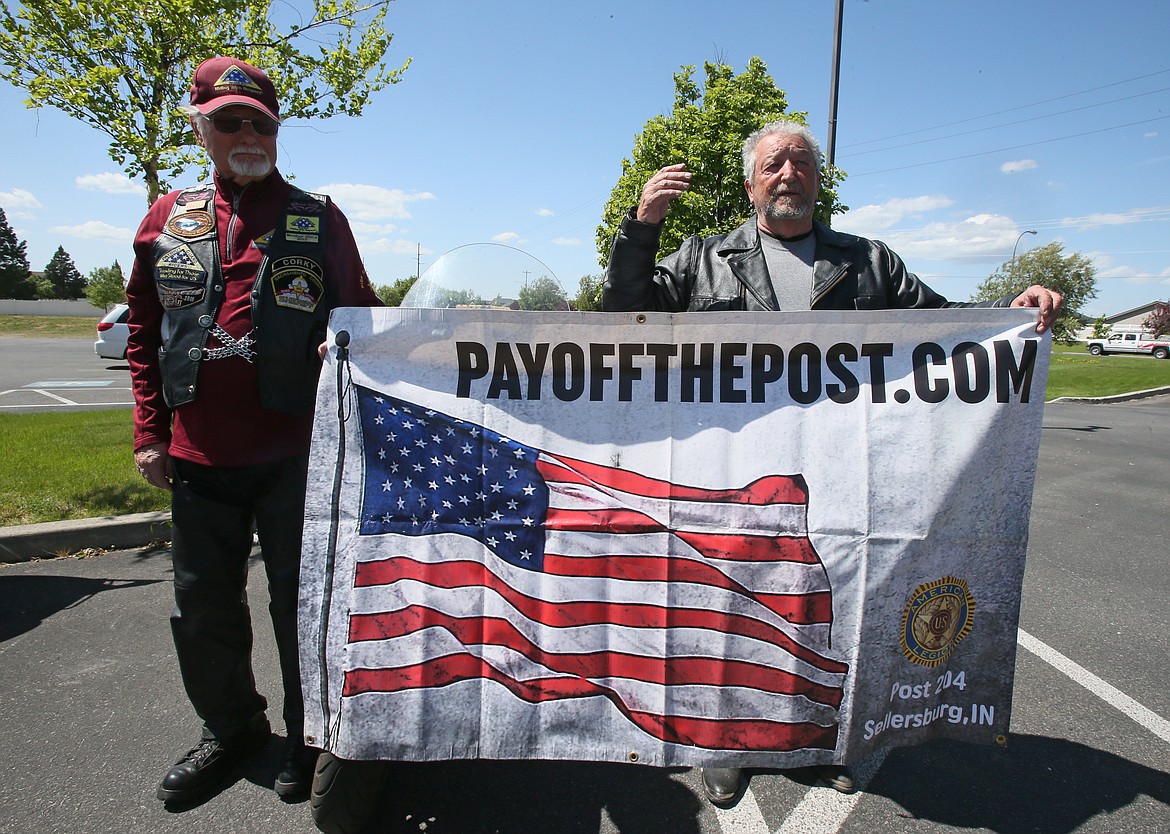 Thomas Bird of Sellersburg, Ind., right, discusses during a visit Monday to the Post Falls American Legion why he is riding his motorcycle 16,000 miles across the U.S. to raise money to pay off American Legion mortgage debt. Also pictured: Patriot Guard Corky Read.
DEVIN WEEKS/Press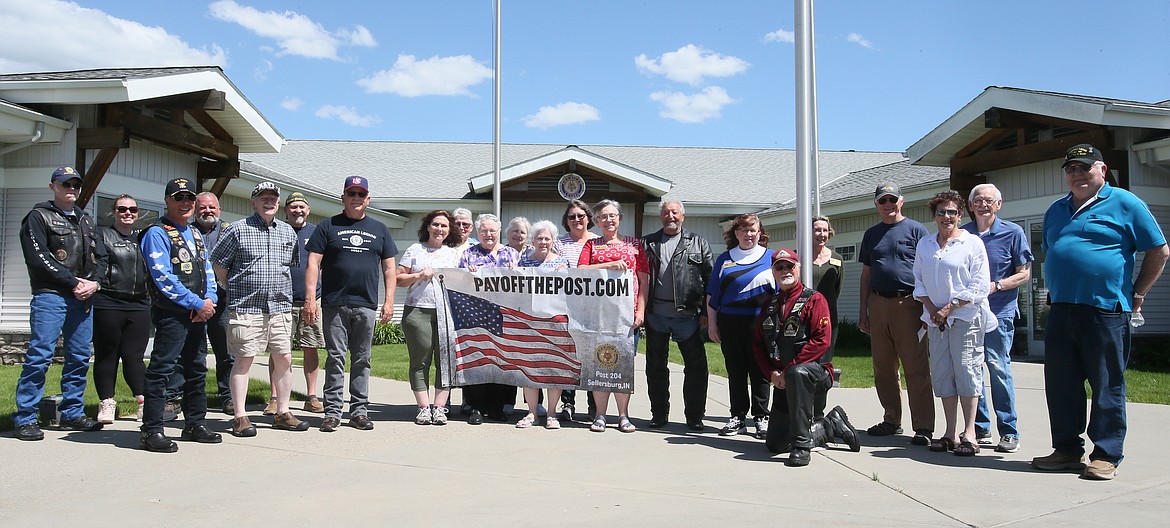 A friendly crew poses with Thomas Bird (center right, in the leather jacket) at the Post Falls American Legion on Monday. Bird is visiting at least one post per state in efforts to pay off mortgages for posts across the country.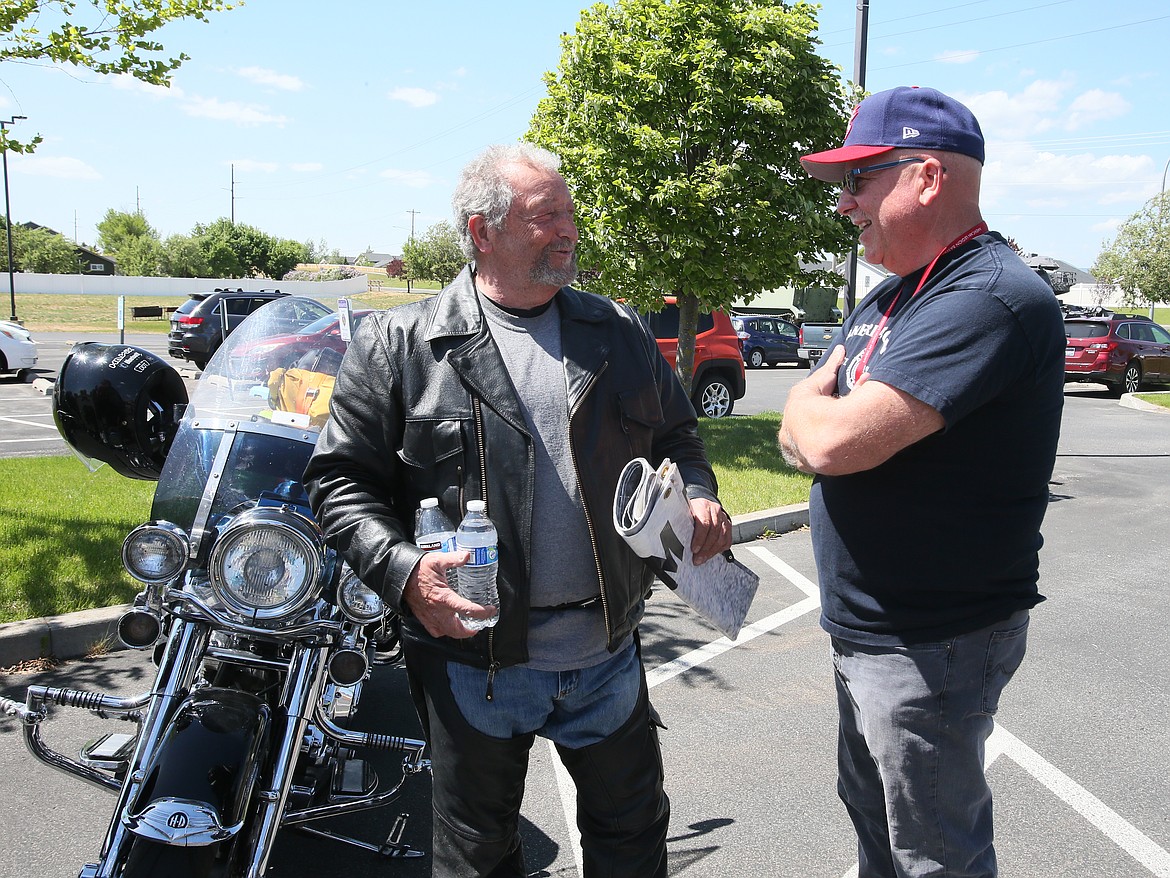 Thomas Bird, left, chats with Post Falls American Legion adjutant Tim Shaw during a visit Monday on Bird's 16,000-mile cross-country motorcycle ride to pay off American Legion mortgage debt.
Previous
Next
by
DEVIN WEEKS
Staff Writer
|
May 18, 2021 1:08 AM
POST FALLS — A 72-year-old veteran rode his 2001 Harley Davidson to American Legion Post 143 in Post Falls around 2 p.m. Monday.
Thomas Bird had traveled thousands of miles from Sellersburg, Ind., through the southern U.S. and up through California and Oregon to make his appearance.
"I'm going to tell you what, there's a lot of bugs in California," he said after dismounting his motorcycle. "I stayed in the Redwood forest, and my God, I walked around one of those trees that was 100 feet in diameter … It's amazing what beautiful country (is) out there that nobody knows about. I've actually been so blessed to do this."
Bird didn't come all this way just to chat about his travels. His goal is to raise money to pay mortgages of American Legion posts around the country so when something like a pandemic strikes, veterans will still have somewhere to go.
His rally cry is "Pay off the Post."
"If it works the way I want it to work, every post just like this can be paid off," he said, "every place that a veteran needs to go to have a place to talk to people about what he has done, what he or she has been through."
Bird is stopping by at least one post in each of the 48 contiguous states to encourage Americans to donate $5 for every household member to their nearest American Legion in a campaign to end mortgage payments that many posts are struggling to pay, especially following pandemic shutdowns.
"Places like legions depend on some source of income to be able to pay the bills," he said. "The purpose of this is to pay mortgages off. It has nothing to do with politics, it doesn't make any difference if you're Democrat, Republican, independent. It has to do with paying off mortgages for the American Legion veterans."
A past financial officer for his home American Legion, Wilber R. Ruby Post 204 in Sellersburg, Bird came up with this idea when he was trying to think of ways to pay off his post's mortgage. He realized he should do something on a larger scale to help out his fellow veterans.
"Anything associated with veterans, we want to help," he said.
In the River City, he was greeted by fellow vets, motorcycle enthusiasts, patriotic quilters and Post Falls American Legion members, including adjutant Tim Shaw.
"We're very happy," Shaw said. "We're really glad he chose us and chose to come here. It's an honor."
Bird has raised more than $5,000 to date. Although he doesn't know the total mortgage amount owed by American Legions across the U.S., he's confident that if everyone chipped in just a bit, this issue could be solved.
After leaving North Idaho, Bird's route is taking him to Butte, Mont.; Minot and Sioux Falls, N.D.; Minneapolis; and several more stops before he gets home.
Info: www.payoffthepost.com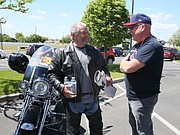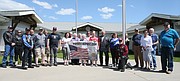 Recent Headlines
---