Kathleen Bernadette Hogan Debenham Favaro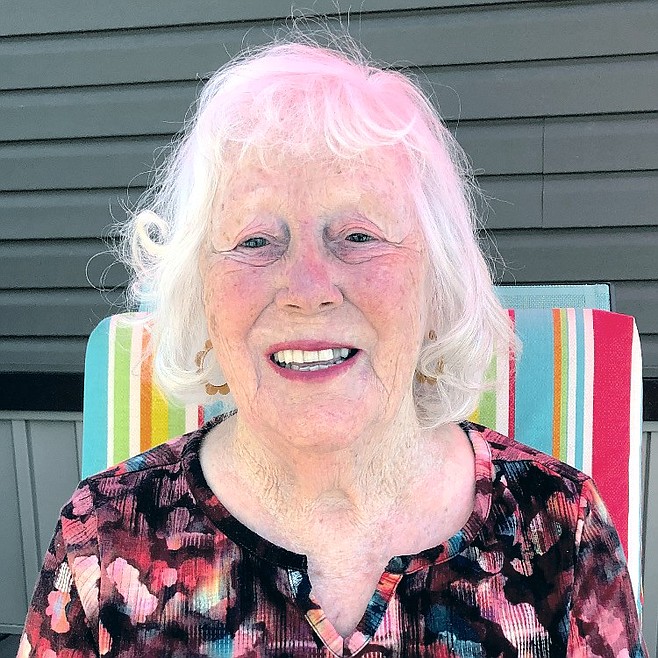 Kathleen Bernadette Hogan Debenham Favaro passed away peacefully in her home with her 'angel' caregiver, Shauna Debenham Conant holding her hand. She was born in London, England to Irish parents, Patrick Joseph and Rosanna Hogan.
The oldest of seven children, Kathleen was intelligent, clever and resourceful. During World War II she experienced the full force of the German bombings in London, including bombs that landed on her own home. At 17 she performed with a roller-skating trio on vaudeville stages and at nightclubs from Piccadilly to Edinburgh. It was in a roller-skating rink that she met an American airman, Harold James Debenham. They married, had four children and eventually settled in Spokane, Wash.
Education and learning were part of Kathleen's DNA. Having finished compulsory schooling at 14 in England, she knew she wanted more. In America, while raising a family and being a 'homemaker' in the 1950s and '60s, she pursued and received high school and college degrees, graduating at the top of her class in education.
She spent 26 years as an influential elementary and junior high school teacher in Freeman, Wash. before retiring with her husband, Leo Favaro, to travel the US, enjoy multiple cruises, become the club president of several clubs at Sunset Resort in Surprise, Ariz., and to spend summers entertaining at their home on a bay of the Spokane River in Post Falls, Idaho.
At 'four-feet-eleven-and-three-quarter-inches-tall' (her words) you couldn't get Kathleen to sit down. She was always on the go and doin'-doin.' She was an avid Bloomsday walker and much like her mother, she cooked meal after meal for family and friends.
Her trademarks were Birkenstocks with socks, recipe cards by the score, T-shirts with elastic waist bands, her jewelry/snow globes/teddy bears and Beanie Baby collections, her bright eyes and white, white hair that framed her face.
In her last days of life she was witty, and measured one-liners came from her that made you laugh out loud. Most importantly, in her presence you knew you were loved, respected and would be treated with dignity.
She is preceded in death by her husband, Leo Favaro; his daughter and son, Kathleen and Victor; and her siblings John Hogan, Hannah Hogan Sanders, Rose Pelligrino and Etty Burciago.
Kathleen is survived by her children, Pat Debenham (Kathie), Terry Debenham, Shauna Conant (Bill) and Craig Debenham (Debi); stepdaughter, Pam Favaro; 17 grandchildren; 42 great-grandchildren and two great-great grandchildren.
Internment will be at 1 p.m. on June 12, 2021, at the Holy Cross Cemetery in Spokane, Wash.
Mom's hand written note, perhaps given to her by a friend. We thought it was an obit she wrote for herself:
Everything about Kathleen was 1st class. When you were invited to her house for dinner the food was outstanding and the table was elegantly set and worthy of being in magazines such as has beautiful ladies home journal etc.
She loved beautiful jewelry and was extremely knowledgeable about precious and semi precious stones and how they should be set and was quite a collector.
Kathleen was very intelligent. She and I used to talk on Sunday afternoons and have long conversations by the phone and there was not one subject we talked about but she did not have knowledge of. It was amazing
Another thing she like to do was excellent at was taking photographs especially of her grandchildren. She could have a career as a photographer. She was that good. And last but not least she was extremely well liked. There was not one person who met her who was not charmed by her outstanding personality and friendliness. She will be greatly missed but not forgotten.
Recent Headlines
---