'Ride when the riding is good'
by
BILL BULEY
Staff Writer
|
May 18, 2021 1:00 AM
Biking 1,700 miles in six weeks sounds like hard work. And dangerous, too. We're talking falls, crazy hill climbs and even heat stroke.
"The terrain was absolutely brutal," Eric Deady said. "It was the hardest ride I've ever done."
But the Coeur d'Alene man also had this to say about this epic trip on the Baja Divide that runs the length of the Baja California peninsula, from San Diego to San Jose del Cabo.
"Feels fantastic," he said. "There's nothing like being on a bike to make me happy. Being on the trail that long really gives you that space — the space that you can find within yourself, that you don't often get time to do in the real world."
Deady, a longtime cyclist, bike mechanic, shop owner and advocate for the sport, has been evolving from paved city streets to dirt roads in the wilderness to escape traffic.
After planning for nearly a year, he was joined by two others, Cosmo Haun and Paula Funatake, on the journey, which raised money for the nonprofit Border Angels that works on immigration reform and migrant rights.
They set out from Tecate on Feb. 15. It was an environment Deady described as "hostile" for humans — dry, hot and often barren landscape.
This is no paved path.
"You're on borrowed time as soon as you enter the desert down there," Deady said.
Consider the challenges:
Chilly night temperatures in the 20s and day highs of 110.
They peddled through long, desolate stretches and endured many flat tires.
They went days without seeing any signs of humanity.
There were 200-mile sections without any realistic water supply, so they always had to carry water, food and supplies.
"The idea of breaking down, having an emergency in that kind of terrain, is pretty scary," Deady said.
But it was breath-taking and beautiful and he raised a few thousand dollars.
The best part of the trip was the people.
"I tried not to expect anything, but I was impressed with how generous and kind people were," Deady said. "People were so willing to give you the time of day, to give you whatever is necessary to be sure everyone is safe. We were constantly being asked if we needed anything."
Funatake, who went the distance with Deady, wrote: "Rolling along the unpaved brings a special happiness, peace of mind like nothing else can. As in life, I revel in the journey of riding and am passionate about sharing this joy with friends."
Deady posted a blog and pictures of his trip at bikes4good.org. Some highlights:
• I will remember Day 29 of the Baja Divide as not only one of my favorite riding days of this trip, but also as the realization of a long-standing dream of riding along Bahia Concepción. It's impossible to overstate the beauty and tranquility of this protected bay, where dolphins move lazily along its shores, piles of gorgeous multicolored seashells cover the beaches, and bright green cactus cover the gently sloping plains like a blanket as far as you can see.
•Day 16 — This trip is turning out to be all-business, and the scenery, people, and atmosphere of Baja is our reward during our daily rides. Camp time is for unpacking, setting up, and cooking, which is usually done in the dark, and mornings are for making coffee, packing, and tearing down camp. No time to mess about, and I suppose that's true of most bike trips. If you are going to make a reasonable mileage goal, you need to ride when the riding is good, because it will get bad soon enough. No doubt about it.
• Day 36 began with a spectacular sunrise over our little campsite that we had named Chupacabra camp. Pale blue light filtered through the darkened shapes of tall cactus, and the flickering light from Paulas fire created dancing shadows on the fabric of my tent.
• To sum up the past four days would be difficult, so I'll just throw some adjectives at you. Challenging. Cold. Difficult. Beautiful. Remote. Dusty.
When they finished, it was a huge sense of accomplishment and relief — that they survived. On his final day, Deady suffered heat stroke.
"Looking back on it now, I realize what a sorry state I was in, and how dangerous it had become for me out there in the heat, but at the time, I was just confused, and desperate for shade and cold drinks," he wrote. "I had every symptom of heat stroke, and am very lucky to have found my way out of the mountains that day.
"I felt great until it got up to 110," he said. "It was dicey."
Deady has more bicycling to do. He's looking into similar treks in Africa and Iceland and is scouting a new Panhandle route.
He wants to translate his love of cycling into charity work and lead others on bike tours.
"On a bike, you just ride. You focus on the trail," he said. "You can't really do anything else. You can't think about stress or what's happening. You have to be present on the bike."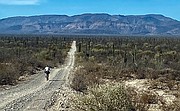 Recent Headlines
---