Heavy turnout expected for today's election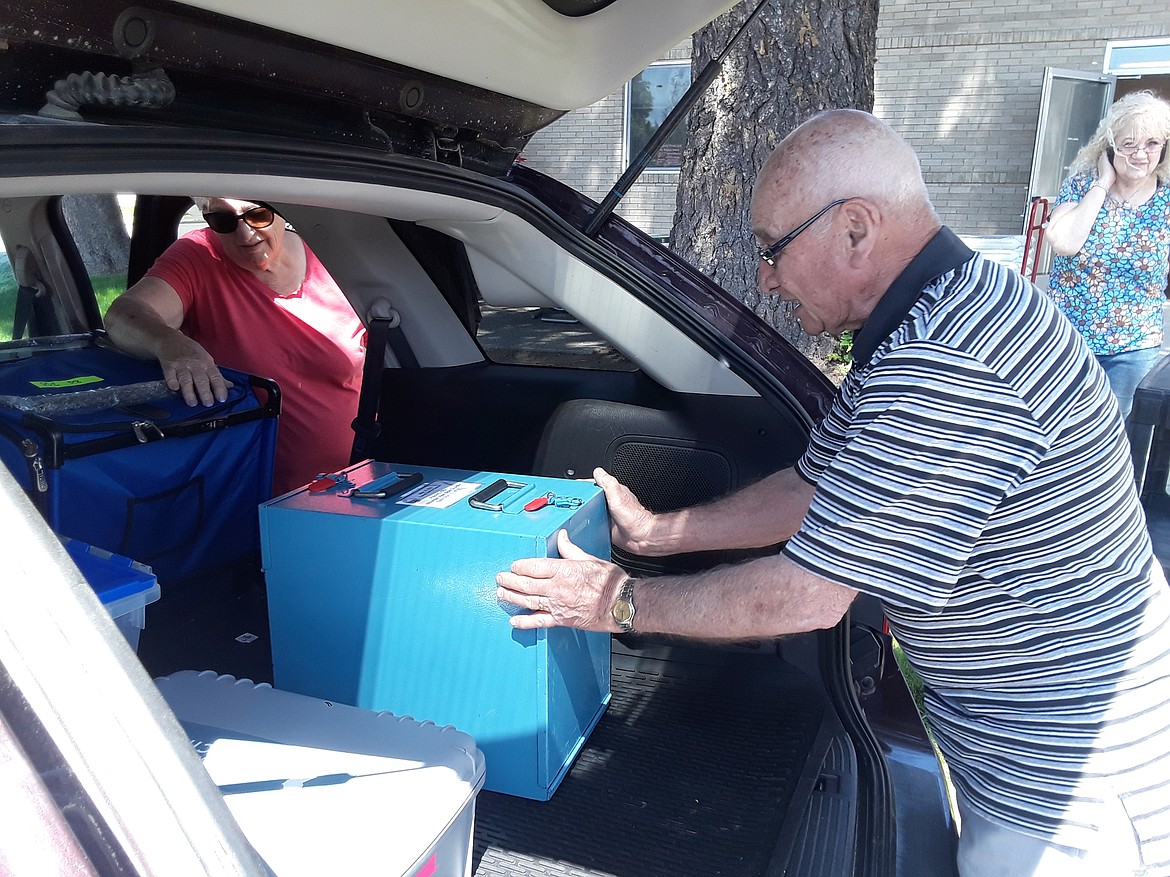 Gordon Grover of the Kootenai County Elections Office loads a ballot box for transport to a secure location Monday in preparation for Tuesday's election. Clerk Jim Brannon said 1,187 have already participated in early voting, more than four times the 295 who voted early in May 2019, the last odd-year May election. (CRAIG NORTHRUP/Press)
by
CRAIG NORTHRUP
Staff Writer
|
May 18, 2021 1:09 AM
Today's vote count will likely dwarf Kootenai County's last odd-year taxing district election, as early voting and absentees are already approaching May 2019's total numbers before the polls have even opened.
"Right now, we have 4,193 [absentee ballots] received," said Kootenai County Clerk Jim Brannon just after 11 a.m. Monday. "And we've got another 400 or so that came today in the mail."
A total of 6,175 citizens cast their vote in the last odd-year May election, a number that includes absentees, early voting and people showing up to the polls on Election Day.
Add up the 4,193 received absentees this year, Monday's approximately 400 — some of which could still technically be rejected — and the 1,187 who participated in early voting, and today's voting at the polls could break voting records.
"This is like no May election I've seen in years," Brannon said.
Typically, May taxing district elections don't attract voters the same way general elections do, but this has been no typical election cycle.
Water district, sewer district and highway district races — usually quiet, non-partisan contests between water, sewer and highway experts — have been amplified after the Kootenai County Republican Central Committee has continued a trend of stamping endorsements. That's drawn the ire of some candidates, many of whom did not get the KCRCC's seal of approval.
"In nonpartisan races, I think endorsements are nasty," said Katie Brodie, incumbent for one of the three open Kootenai Health District board meetings. "There's no point in nonpartisan races to bring politics to the table. What you're looking for in nonpartisan races is people that will do the job."
The local Republican committee's endorsements of nonpartisan candidates date back to before the last fall's general election, when the committee endorsed candidates in the North Idaho College board of trustee races.
Shortly after the Nov. 3 election, KCRCC continued to recruit candidates for nonpartisan races, including Kootenai Hospital District trustee candidate Steve Matheson, who's also the Kootenai County treasurer.
"I intend to flipped [sic] every elected body in Kootenai County," wrote Rob Barrans, vice chair of the KCRCC, in a Nov. 23 email to Matheson. "So, I am asking you to run again for Kootenai Health. This time the KCRCC will get behind you and get you elected. Thank you."
The KCRCC stands by the practice of vetting and endorsing candidates for nonpartisan elections. Most recently, one of Idaho's most prominent Republicans — Janice McGeachin, the state's lieutenant governor and a potential candidate to challenge Gov. Brad Little in the 2022 general — encouraged the KCRCC to continue endorsing whomever it sees fit.
"As has been reported in the 'fake news' locally, 'This shouldn't be your role,' that 'partisan politics shouldn't be entering into these positions,'" McGeachin said during a KCRCC town hall event on April 24 in Coeur d'Alene. "Well, so what? Just because it's not written that way into the statute doesn't mean that we, as conservatives, shouldn't be vetting those people."
Adding to today's political theater is the Kootenai Health trustee race. Six candidates — Matheson, Brodie, Chris Nordstrom, Robert McFarland, Terence Neff and Duke Johnson — are vying for three seats to help guide the community hospital over the next six years.
Public health has become a front-and-center political firestorm over the past year, with COVID-19 inserting itself into area politics as the pandemic has spread around the world, killing more than 3.3 million people, according to the World Health Organization.
But politics in today's election isn't only for strategy's sake. Voters will also decide on ideological issues, including on a practice that has been decried as censorship.
Candidates for the Community Library Network board's two open seats have had to lend their thoughts to whether or not they would censor books after allegations arose that a KCRCC subcommittee asked them whether or not they would remove certain books the committee found objectionable.
"They read to me from a book that I did not get the name of that was apparently from one of the libraries that describes something about transgender and gay activity," incumbent and lifelong Republican Robert Fish said in an April interview. "They were obviously uncomfortable."
When asked by a reporter from the Coeur d'Alene Press in April whether or not the KCRCC asked candidates if they would censor certain books, chair Brent Regan didn't answer directly. He defended the committee's endorsement scoring system while saying that written questionnaire responses from all the participating candidates is readily available on its website, www.kootenaigop.org/ratingvettingprogram.
"It is not surprising that candidates who did not score well have a low opinion of the process," Regan wrote to The Press. "Conversely candidates that receive a high ranking applaud the process. The process is designed to be open and fully transparent. The final secret ballot ensures no pressure is applied to any committee member to vote a specific way."
The politics of schools also overshadow today's election. Voters will decide whether or not to approve a two-year, just-under-$10 million supplemental operations levy for the Post Falls School District, a second attempt after the March 9 levy of the same amount failed by a mere 33 votes.
Politics aside, Brannon said the Kootenai County Elections Office and its 320 poll workers are prepared for today. He and chief deputy clerk Jennifer Locke both want to remind voters still holding absentee ballots that, at this point, mailing their ballots won't get their votes into the Elections Office at 1808 N. Third St. in Coeur d'Alene by today's 8 p.m. deadline — when polls officially close — and that bringing absentee ballots to a polling place is a mistake.
"Just remember the rule," Brannon said. "Do not try to return your absentee ballot to the precincts. They will not accept it. They don't have the capabilities to accept it. You have to bring it to the Elections Office."
For those looking to vote but don't know where to go, you can visit www.kcgov.us/321/Polling-Place-Look-Up to search your nearest location. Those without internet access can also call the Elections Office at 208-446-1030 for assistance.
But Brannon also asked for patience. While turnout likely won't equal the record-shattering Nov. 3 election numbers, he said results for a usually-quiet election won't come in until late.
"Judging by the higher turnout so far, we're going to have something closer to a primary election than a normal school district or school levy election," he said. "Either way, we're ready to roll."
Polls open today at 8 a.m.
Recent Headlines
---