Good Samaritans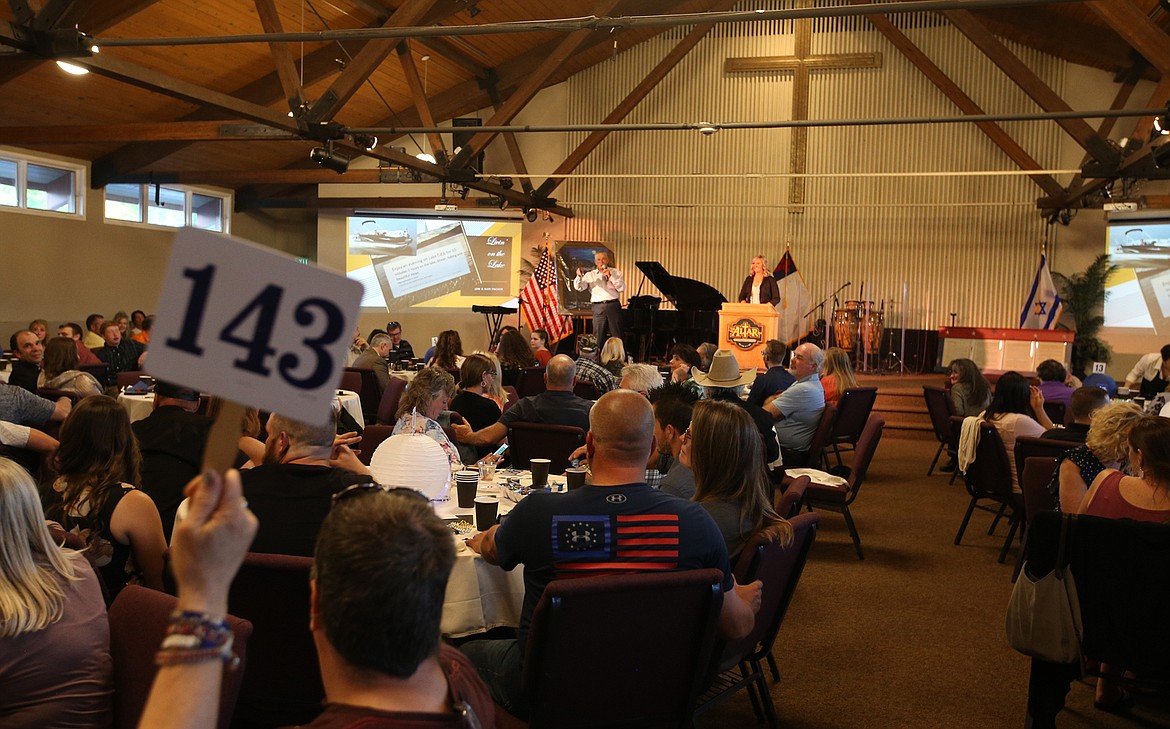 Ron Nilson calls for bids Friday night at The Altar Church during a auction to raise funds for the Good Samaritan Rehabilitation program.
BILL BULEY/Press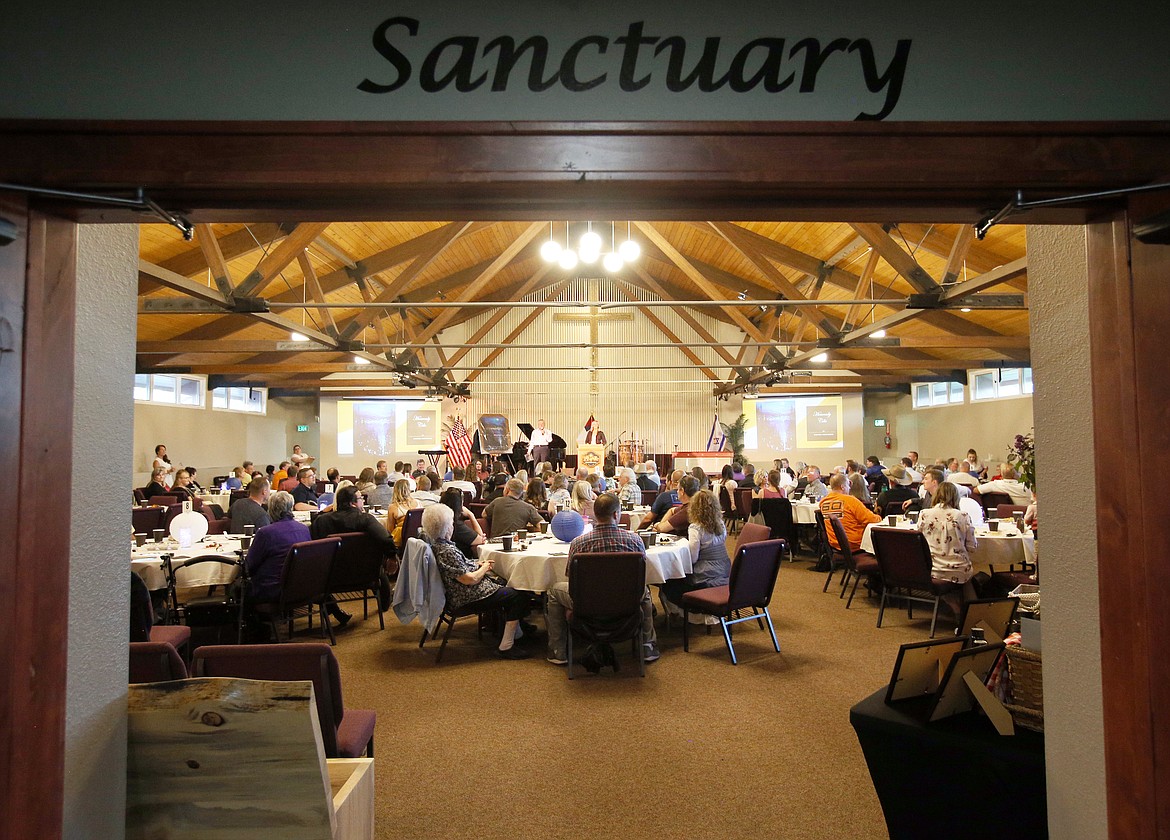 The crowd gathers in the sanctuary of The Altar Church for Friday night's Good Samaritan donor appreciation dinner.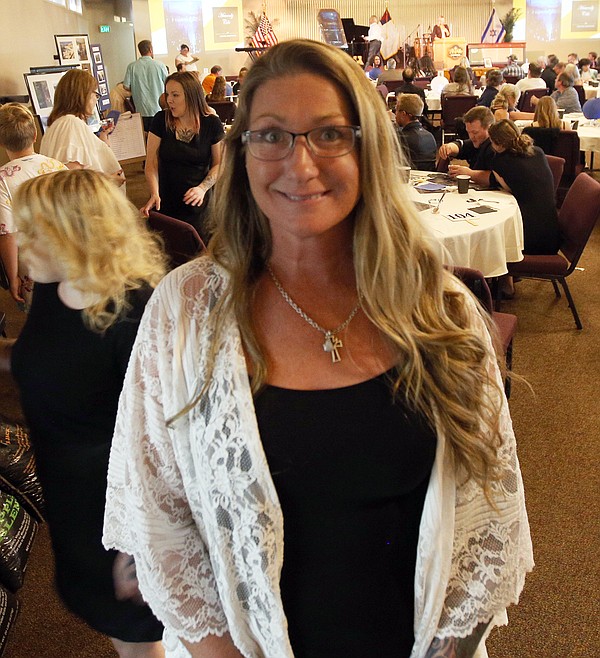 Jaime Scott shared her testimony Friday about how the Good Samaritan program helped turn her life around.
Previous
Next
by
BILL BULEY
Staff Writer
|
May 17, 2021 1:08 AM
COEUR d'ALENE — Before Jaime Scott graduated from the Good Samaritan Rehabilitation program, she was addicted to heroin, broke and feeling hopeless.
After completing a four-month inpatient program, followed by a six-month outpatient program and transitional housing, she is, she said, a different person.
"I have hope now. I have my life back," Scott said. "The Lord has completely and radically made me a new creature and it's from the time at the ranch."
She spoke to a crowd of about 200 people at Friday night's Good Samaritan donor appreciation dinner at The Altar church. It featured prizes, auctions and speakers.
Since 2003, about 3,300 men and women have gone through the Christian-based program that helps them overcome substance abuse and addictions.
According to the program's website, 86% of men who graduate will go on to lead productive, clean, crime-free lives, while 84% of women graduates remain clean and sober. 
It offers a 60-day inpatient men's program and a 120-day inpatient women's program.
The program includes Bible study, studies on self change and relapse prevention therapy "that help people change the way they make decisions and take action."
Destry Randles, an attorney with the Kootenai County Prosecutor's Office, has seen what substance abuse can do to people. They often turn to crime to support their addictions and fall from their roles as parents, husbands and wives.
"In order for our community to do better, we need programs like this," he said.
Randles said Good Samaritan helps people who "don't understand that there's a another world out there" to find a better way
"How can I get this person to the point where they see that they don't have to do this? They don't have to break the law? This is the program that does it," he said.
Randles looked at the crowd and thanked them.
"It's a good feeling to stand here and see people not only willing to share their time, but also their resources," he said.
Ron Nilson, CEO and chairman of Ground Force Worldwide, which builds mine equipment, acted as auctioneer. But before calling for bids for trips, golf packages, firearms and art work, he shared personal experiences and said he has lost family members to drug overdoses. He has witnessed and felt the devastation of substance abuse and what it does to people.
"Our problem is bigger than even we think it is. We can fix it. We, the people" he said.
According to the Addiction Center, almost 21 million Americans have at least one addiction, yet only 10% of them receive treatment. It also reported that more than 90% of people nationwide who have an addiction started to drink alcohol or use drugs before they were 18 years old.
Nilson said there are two things people can do to help: Love on those in trouble and tell them about the Lord, which is what Good Samaritan does.
"We need more people like Pastor Tim (Remington)," Nilson said. "We need people to believe that we can save this world."
Remington is pastor of The Altar Church, which offers Good Samaritan rehab that costs about $52,000 a month to operate.
"Without the community, we wouldn't even be open," he said.
He was happy to see the crowd enjoying Friday's event.
"They all support us. That's what it's really all about," he said. "It really is. We just give them Christ. That's the bottom line."
Shawn Sternberg, senior president of Steel Structures of America, is a donor to the program and a graduate of it.
"I know by personal experience the success rate. It's all about us giving back."
Sternberg said he was not religious going into Good Samaritan and found it "a little bit intimidating."
But he was committed to stay the course - and did.
"I was saved the first day in by the grace of God," he said.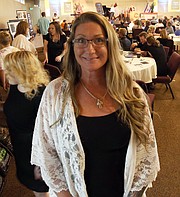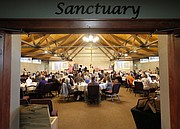 Recent Headlines
---