Ruthie Johnson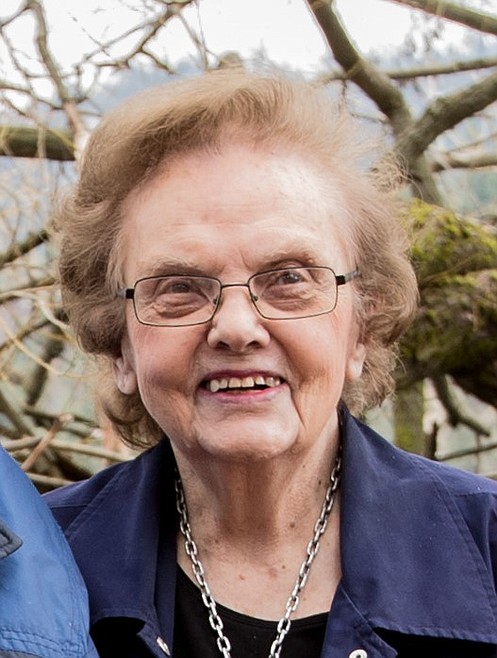 With deep sorrow and yet tremendous love and respect, our family announces the passing of Ruthie Johnson on May 12, 2021 at Hospice House of North Idaho in Coeur d'Alene, Idaho. She was an extraordinary person who touched and benefitted the lives of thousands of people and was greatly loved. Her story is one of repeatedly overcoming incredible trials to triumph while assisting others along the way. As a perfect example of the "Greatest Generation," she helped build the country to which people all over the world risk everything to migrate, in order to experience real freedom.
Ruthie was born in Wallace, Idaho, to Gabriel and Violet Olson, and was the granddaughter of immigrants who came from Sweden and homesteaded 160 acres near Mullan. Her grandfather cut down the trees and built a dairy, placing an ingenious sprinkler system onto all buildings just two weeks before the 1910 fire which ravaged much of North Idaho, thus saving their home and dairy.
Ruthie began work in grade school counting school lunch money in exchange for her and her brother's lunch every day. Though her family was unable to buy her shoes more than once a year and couldn't afford to buy her a winter jacket, she says they never felt poor. "We never felt poor. We just didn't have what some other kids had."
Ruthie's mother worked on the dairy and her father was a miner who unfortunately died of pneumonia when Ruthie was 10 years old. Her family lost the homestead and Ruthie was placed in foster homes for three years while her brother and mother were able to find room and board at the local infirmary, also referred to as "the poor farm." Ruthie was later able to join them, working in the poor farm when she was 14 years old and also had a job at the theater in town as a cashier, where she made $0.35 per hour walking two miles to and from work.
While working as a cashier she met the love of her life, Wayne Johnson, whom she later married. Ruthie and Wayne celebrated their 75th anniversary just months before his passing in 2018.
Born into a Democratic family, Ruthie became interested in politics and later joined the Republican Party because she believed its platform provided the greatest freedom - allowing people born into abject poverty, as she was, to achieve happiness. She feverishly worked for the party to provide others with opportunity.
Her work was noticed by James McClure, for whom she worked for 24 years, staffing his North Idaho congressional office in Coeur d'Alene when he became a Congressman and later a Senator. During that time she was given the opportunity to meet some of the most well-known Republicans in the country, including her favorite, President Ronald Reagan. Ruthie was a delegate to an impressive 13 Republican National Conventions. Nationally syndicated columnist Dave Broder even wrote a column about Ruthie.
Though she was a dedicated Republican she helped countless people in McClure's office as a civil servant, never asking or caring about their political affiliation. She was there to aid others and it was her pleasure to do so. It was a beautiful time in politics when people could respectfully disagree with one another and still be friends.
This year, Ruthie was designated to be the first recipient of an award dedicated in her honor called "The Defender of Freedom Award," which perfectly encapsulates her life's work in politics. Her family knows her as an incredibly loving mother, grandmother, great-grandmother and great-great-grandmother, who constantly was thinking of others and how she could help. Her greatest laughter came when she'd make fun of herself. She was humble, courageous, caring, forgiving, steadfast, sensitive, loving, generous and kind, touching many lives. She will be missed greatly.
She was preceded in death by her parents, her brother, Delmer, who died as a Naval pilot in World War II, and her husband of 75 years, Wayne. She is survived by her three children, Dr. W. Kip Johnson, Linda (Paul) Mahlow, and Dr. Duke (Tracey) Johnson, as well as 18 grandchildren, 27 great-grandchildren and three great-great-grandchildren. She is also survived by her only remaining family relative, Sharon Priebie of Las Vegas.
During the last several decades of Ruthie's life her faith and personal relationship with God grew abundantly, spreading His love to everyone. She worshipped at North Country Chapel for 21 years, which changed her life learning God's Word and visiting with dear friends.
We will have a memorial service celebrating her life and incredible story at 2 p.m. on Sunday, June 13, 2021, at North Country Chapel, 2281 W. Seltice Way, Post Falls, ID 83854, with a reception following. We invite all who knew Ruthie to join us to reminisce and celebrate together. All are welcome.
Recent Headlines
---