THE FRONT ROW with MARK NELKE: A few questions to ponder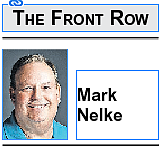 Should this have been the final season of "Grey's Anatomy?"
Were you starting to enjoy "Dead" Meredith more than "Living" Meredith, and her heart-to-heart talks with the other "dead" former cast members on the beach?
But, even with long-standing cast members continuing to leave the show, "Grey's" is reportedly returning for an 18th season this fall.
SHOULD YOU be forced to sit at a red light for a second straight cycle? Seems ridiculous, given the technology available to control traffic flow, However, we're not suggesting you give yourself a green light out of frustration to barrel through the intersection long after the red, possibly slamming into a family of four.
There are advantages to working nights, one being flashing yellows at most intersections up and down U.S. 95 after midnight.
SHOULD IDAHO adopt a shot clock in high school basketball?
We'll get into this more in a future column, but now that the National Federation of High Schools has given its OK for states to use it, the only hurdle now is whether schools can/want to absorb the extra cost of installing shot clocks, and paying people to operate them.
SHOULD THE teams with the best record in league play automatically advance to state?
A reader wondered this after Post Falls, which won the Inland Empire League in baseball, failed to advance to state after losing twice at regionals.
Ditto Lewiston in softball. The Bengals won a league title for the first time in school history, but also got bumped off at regionals and will stay home from state.
In the Boise area this year, the top two teams in the 5A Southern Idaho Conference league standings in baseball (Timberline and Rocky Mountain) automatically qualified for state, and played a best-of-3 series for state seeding.
The other nine teams in the league played a double-elimination district tournament to determine the other state seeds. No. 3 Eagle and No. 4 Mountain View earned the district's third and fourth seeds to state, and No. 8 Kuna advanced to a state play-in game Saturday vs. Lake City.
In softball, the 5A SIC ran the usual double-elimination district tourney, with all 11 teams participating.
No. 1 Rocky Mountain beat No. 6 Mountain View for the top two seeds to state from that district. No. 2 Timberline and No. 4 Eagle also earned state berths, and No. 5 Skyview advanced to a state play-in game Saturday vs. Lake City.
Up north, the top two seeds in the 5A Region 1 baseball tournament — Post Falls and Lewiston — failed to advance to state. Coeur d'Alene, the third seed in the four-team regional, won the regional title, and No. 4 seed Lake City advanced to the state play-in game.
In softball, the No. 3 seed (Post Falls) won the regional title, and the No. 2 seed (Lake City) was in the state play-in game.
For every argument that says the league champ should automatically advance to state because they won the league, there's a counter-argument that says if a team can't get it done at regionals, it shouldn't advance to state anyway.
Mark Nelke is sports editor of The Press. He can be reached at 664-8176, Ext. 2019, or via email at mnelke@cdapress.com. Follow him on Twitter @CdAPressSports.
Recent Headlines
---