THE CHEAP SEATS with STEVE CAMERON: In analytics and on the court, Zags are near the top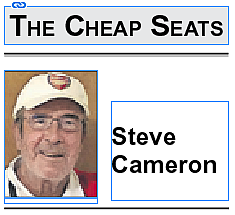 Steve Cameron Cheap Seats bug.
Have you heard of SkullSparks?
Nah, I hadn't, either.
If you'd pushed me for a guess, I might have suggested they were a hip-hop group, or maybe a heavy metal band.
A gang that's way too loud inside a small venue, right?
Actually, no…
SkullSparks is an analytics company, which in this day and age can mean just about anything.
Here's how the firm describes itself…
"We partner with sports teams on digital/design strategy and connect America's largest network of sports design, digital and video creatives."
OK, then.
I'm still confused, obviously, but that word salad from the depths of their marketing department does suggest SkullSparks is simply trying to make some money at the intersection of sports and analytics.
Which, again, can be pretty much whatever you imagine it to be.
I'm not hiring these cats unless I know a little more.
BUT, HERE'S the thing…
SkullSparks is in our conversation today because of some numbers it offered up (for free) on Twitter.
I have no idea why the company even bothered with this, but for whatever reason, it tracked the number of every school's interactions on Instagram, Twitter and Facebook regarding men's basketball — for April, only.
North Carolina's marketing and information folks almost lapped the field with 1.4 million appearances on those three giant social media sites.
The surprise in all this analytic yada, yada?
Gonzaga — yes, little Gonzaga — was second on the list with a whopping 971,000 appearances.
Behind the Zags came Duke, Kentucky, Baylor, UCLA, and Kansas.
The storied Jayhawks program had less than half of Gonzaga's social media interactions in April.
Right away, you can say that Carolina would naturally have swamped the space on your phone and tablet, what with the retirement of Hall of Fame coach Roy Williams.
That's giant news, and when you couple it with the appointment of longtime assistant Hubert Davis to the No. 1 seat…
As Dick Vitale would say: "That's just big stuff, baby!"
THE ZAGS' No. 2 spot is actually kind of logical, too.
Tommy Lloyd broke up his Butch and Sundance partnership with Mark Few to take the Arizona head coaching job — and then Gonzaga landed the top prep recruit in the country, Chet Holmgren.
Chet, you'll remember, is that 7-foot-point-guard-in-his-dreams, the multitalented big man who used to partner with Jalen Suggs in high school.
Holmgren is already projected as the No. 1 selection in the 2022 NBA draft so, yeah, that was headline-level news.
Here's a funny thing, though…
Gonzaga is still flying along atop most of these college hoops billboards, so if we want to check with SkullSparks in a few weeks, we might find that the Zags are first or second in social media interactions for May.
A logical reason there is that Few, one of the more influential voices in the sport, has publicly ripped the transfer portal and its cousin, the new automatic eligibility waiver.
Few has been fairly low-key in stating his objections so far, but now he's ready to tee up the NCAA for a horrible job in being unprepared for this wave of player free agency.
We're going to examine Few's position pretty closely in a special Zags Tracker a week from Tuesday (May 25), but when a coach who has been to the national championship game twice in the past four NCAA tournaments feels the need to sound off, people are going to listen.
THE PORTAL isn't the only reason Gonzaga has stayed up front in hoops news, either.
Few and his staff have landed Nolan Hickman, a 5-star guard from Sammamish, Wash. — an exciting prep talent who recently decommitted from Kentucky.
Hickman is a 6-2, 175-pound point guard who caught everyone's eye at the Iverson Classic in Memphis, a showcase event for the nation's most elite high school players.
Holmgren was one of the stars (naturally), along with Duke commit Paolo Banchero — yet another Seattle-area product.
Scouts and NBA execs who attended the Iverson event, though, came away impressed with Hickman's court savvy, his assured presence running an offense, and his willingness to work all out as an on-ball defender.
Hickman announced he would change his college destination to one of three schools — Kansas, Auburn or Gonzaga.
Meanwhile, his father said Nolan bailed out on Kentucky because he wants to be closer to home.
How far is Spokane from Sammamish?
The recruiting site 247 Sports gave Gonzaga its "crystal ball" nod as Hickman's landing spot — and those calls are almost always correct.
On Saturday, Hickman committed to the Zags.
SO…
Yet another discussion we need to take up soon involves the matter of numbers.
Dana O'Neil, national basketball writer for The Athletic, recently did a story on Gonzaga's top 10 outstanding scholarship players for 2021-22 — with the overview spiced up by comments from Brian Michaelson, who is now Few's No. 1 assistant.
The question that intrigues me is whether yet ANOTHER 5-star freshman means good depth, or someone getting unhappy about lack of playing time.
Few, Michaelson and the entire Gonzaga family have managed to keep players content over the years, even if it means they need to sit for a year.
Or two.
The culture has been built, and generally speaking, players buy in — or they wouldn't come to Spokane in the first place.
In any case, it will be fascinating to see if Hickman chooses Gonzaga (especially since Kansas is desperate for a point guard).
Players, and even longtime coaches, come and sometimes go — but the Zags culture lives on.
"It's about being part of something bigger than yourself," said future NBA wing Corey Kispert.
Now…
Let's see how all this change, and the non-stop recruiting, plays out in real life.
Email: scameron@cdapress.com
Steve Cameron's "Cheap Seats" columns appear in The Press on Mondays, Wednesdays and Fridays. "Moments, Memories and Madness," his reminiscences from several decades as a sports journalist, runs each Sunday.
Steve also writes Zags Tracker, a commentary on Gonzaga basketball which is published monthly during the off season.
The next Zags Tracker will run on Tuesday, May 25.
Recent Headlines
---