Shine on, Cd'A, shine on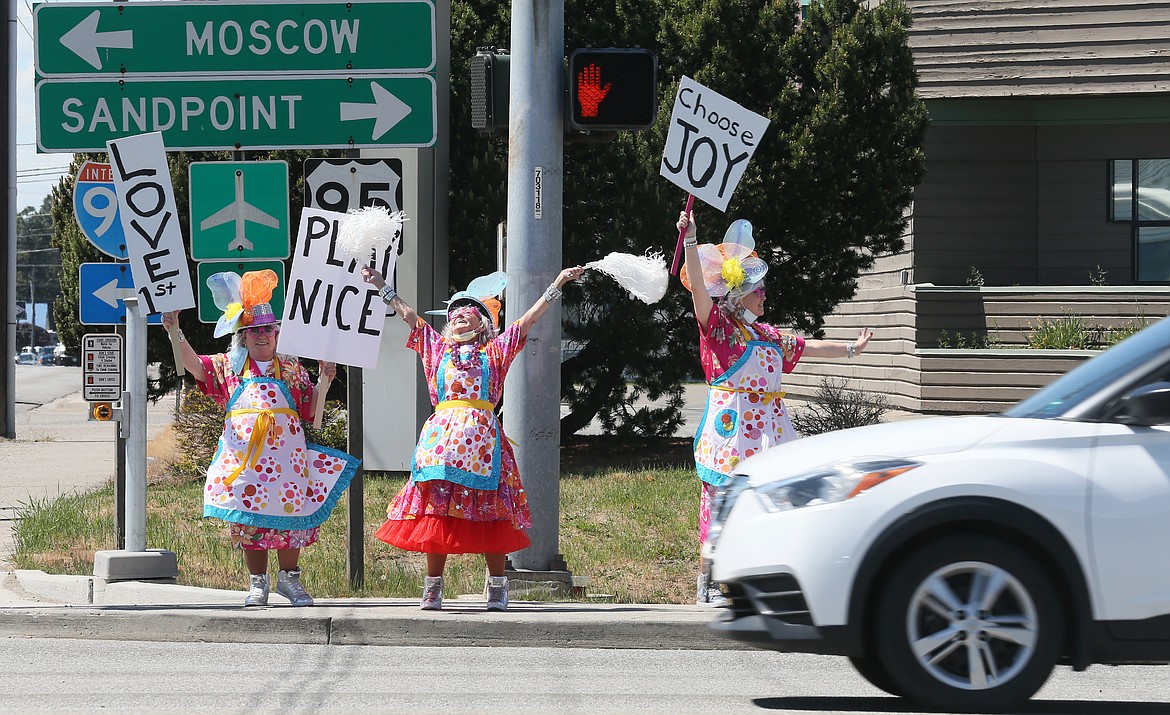 From left, Red Hot Mamas Sheryl Lines, founder Mikki Stevens and Dar Brumley bask in the sunshine while bringing smiles to drivers at the Appleway Avenue and Highway 95 intersection in May 2021. After 30 years, Stevens' health led her to end the nonprofit Dec. 31, 2021.
DEVIN WEEKS/Press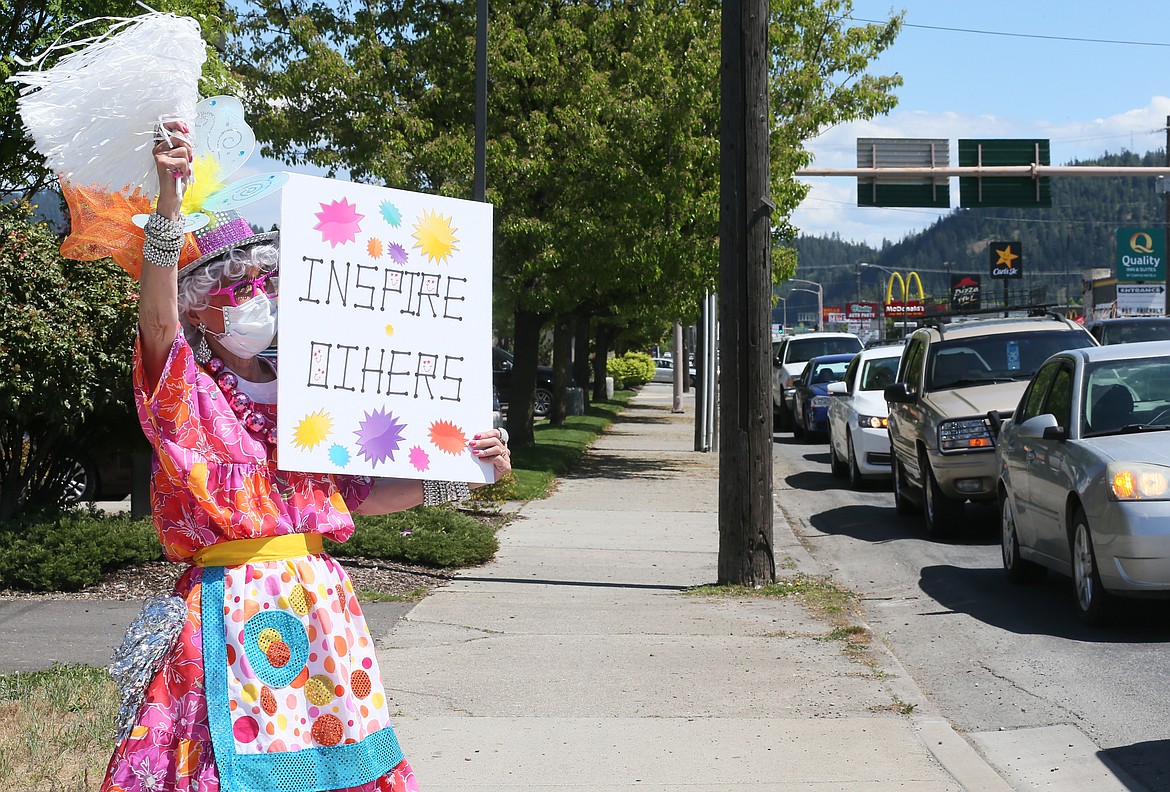 "Inspire others" is the message Red Hot Mama Sarah Parshall sends out into the community Friday as she and Mama colleagues participate in a flash event at the Appleway Avenue and Highway 95 intersection.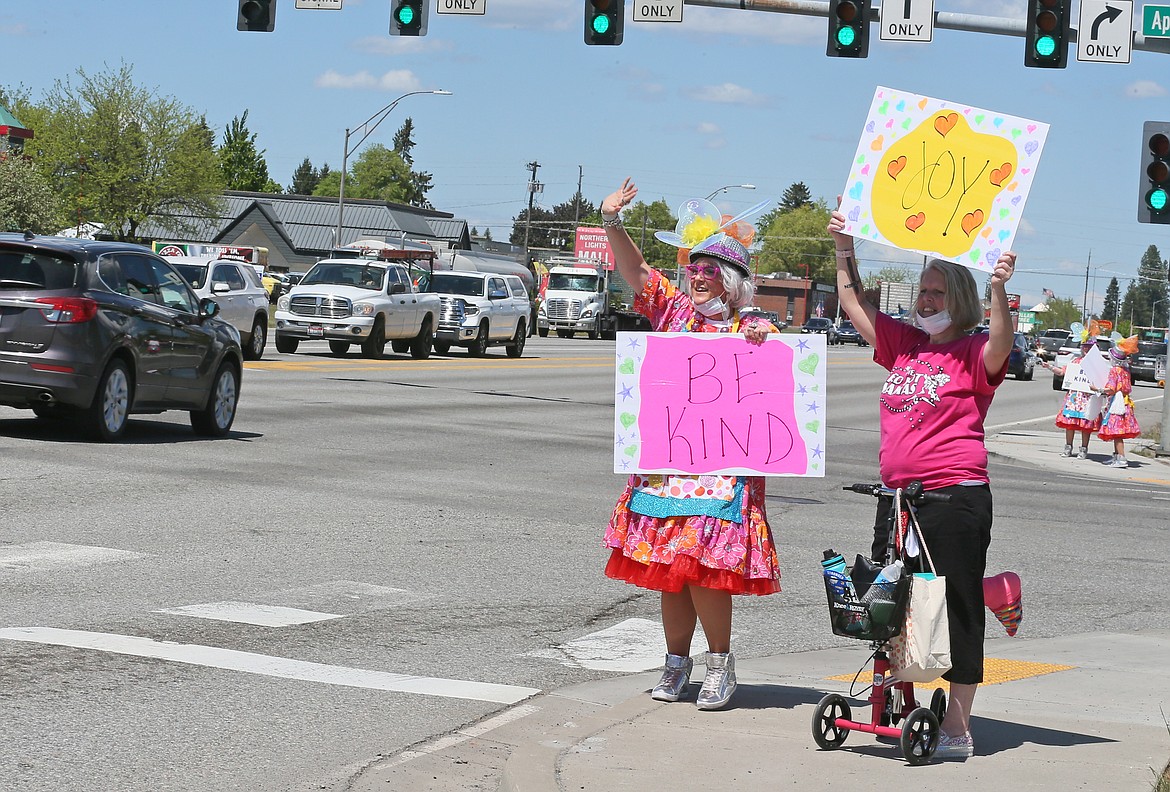 Even with a broken foot, Red Hot Mama Julie Hartley, right, can't say no to spreading merriment as she and Mama colleague Shelli Findley wave at drivers on Highway 95 on Friday afternoon.
Previous
Next
by
DEVIN WEEKS
Staff Writer
|
May 15, 2021 1:00 AM
COEUR d'ALENE — Did you hear all that racket at U.S. 95 and Appleway Avenue around 1 p.m. Friday?
It was a cacophonous chorus of hoots, hollers and honks, and wouldn't you know, the Red Hot Mamas were at the center of it all.
"I'm loving it," Red Hot Mama Sarah Parshall said, holding up a colorful "Inspire others" sign. "We have so many people out there who are honking their horns, and it's a wonderful inspiration as the day goes on, you know, something mid-day. They see all these signs promoting kindness, love. And it's something we need at this moment."
The Mamas, fresh from entertaining guests at the women's conference at the Best Western Plus Coeur d'Alene Inn, wore flashy necklaces of miniature disco balls, magenta glasses with attached eyelashes, frilly hats, glittery curlers in their gray wigs and brilliant frocks and aprons that could easily have been made for cartoon characters.
They gleefully waved white pompoms and held signs that read, "Choose joy," "Love 1st," "Play nice" and "Shine on" as they added a splash of sunshine to an already sunny and warm afternoon.
"We are hot mamas," Rae Miller said, smiling beside her "Smile" sign.
Julie Hartley, with a bright pink cast on her leg, half stood, half knelt on a push scooter as she waved a "Joy" sign at passing drivers.
"I broke my foot dancing!" she said over the din of whoops, honks and revving motors.
"I love being out here," she said. "We're just spreading joy to people and it's awesome. We love getting together and having a good time."
The Red Hot Mamas are a fun-loving, merry-making nonprofit performance group that entertains the community and audiences around the world.
Info: www.rhmamas.com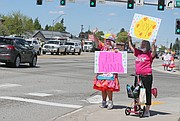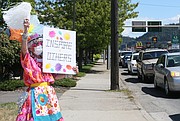 Recent Headlines
---