J.C. Penney's final day is Sunday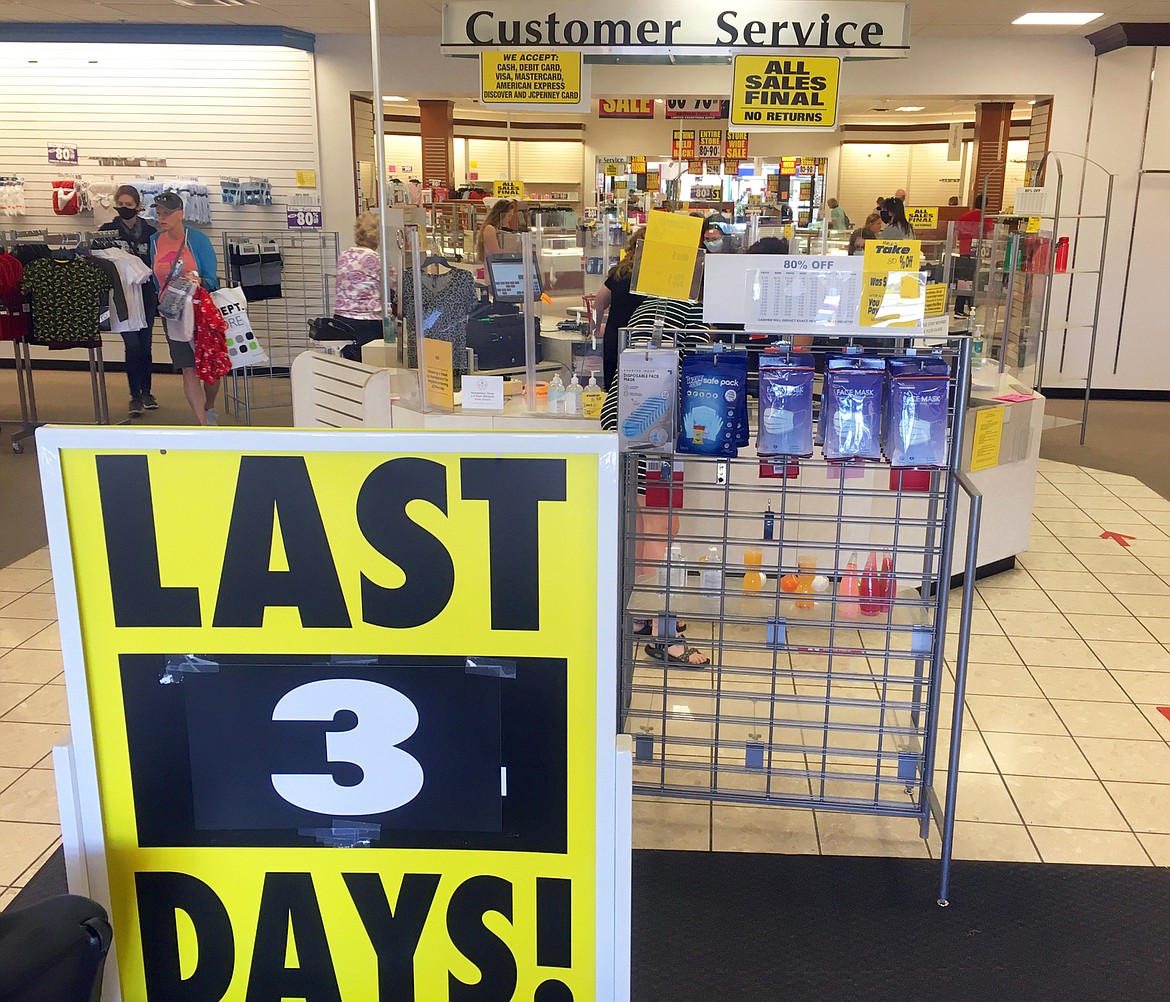 Customers mill inside J.C. Penny at the Silver Lake Mall on Friday. The store will close for good Sunday.
BILL BULEY/Press
by
BILL BULEY
Staff Writer
|
May 15, 2021 1:08 AM
COEUR d'ALENE — The signs are everywhere.
No, not the ones in bold yellow lettering that shout, "ALL SALES FINAL," "NOTHING HELD BACK" AND "STORE WIDE SALE."
It was the empty spaces, the few shelves displaying the last items for sale, and the rack holding a single pair of pants that spelled out the significance of it all.
J.C. Penney, the once proud and mighty retailer of the Silver Lake Mall, will close its doors for good on Sunday. Sales that were 80% off on Friday will by then likely be 90% off.
Shoppers came and went, perusing the last of shirts, sweaters, and shoes, looking over the bed sheets, inspecting the remaining inventory of kids clothing.
A friendly clerk, upbeat to the end, helped customers search for the right sizes. Shoppers continued looking for deals.
Two more days and then, it's done.
The store was on a list of those slated for closure released in December, but a specific date was not given then. In March, the company released the date of May 16.
It has long been one of the mall's anchor stores, along with Macy's. The number of employees the closure will affect was not available.
"Following a comprehensive review of our retail footprint during the restructuring process, JCPenney made the difficult decision to announce more than 170 store closures in 2020," the company posted on its website.
J.C. Penney already closed stores in Bonner County and Lewiston. It will still have Idaho stores in Boise, Nampa, Twin Falls, Idaho Falls and Pocatello.
J.C. Penney filed for Chapter 11 bankruptcy protection last year. It announced plans to close about 240 of its 846 stores.
If you want to take a stroll down memory lane, the store's final hours are noon to 6 p.m. Sunday.
Recent Headlines
---