Love, kindness and compassion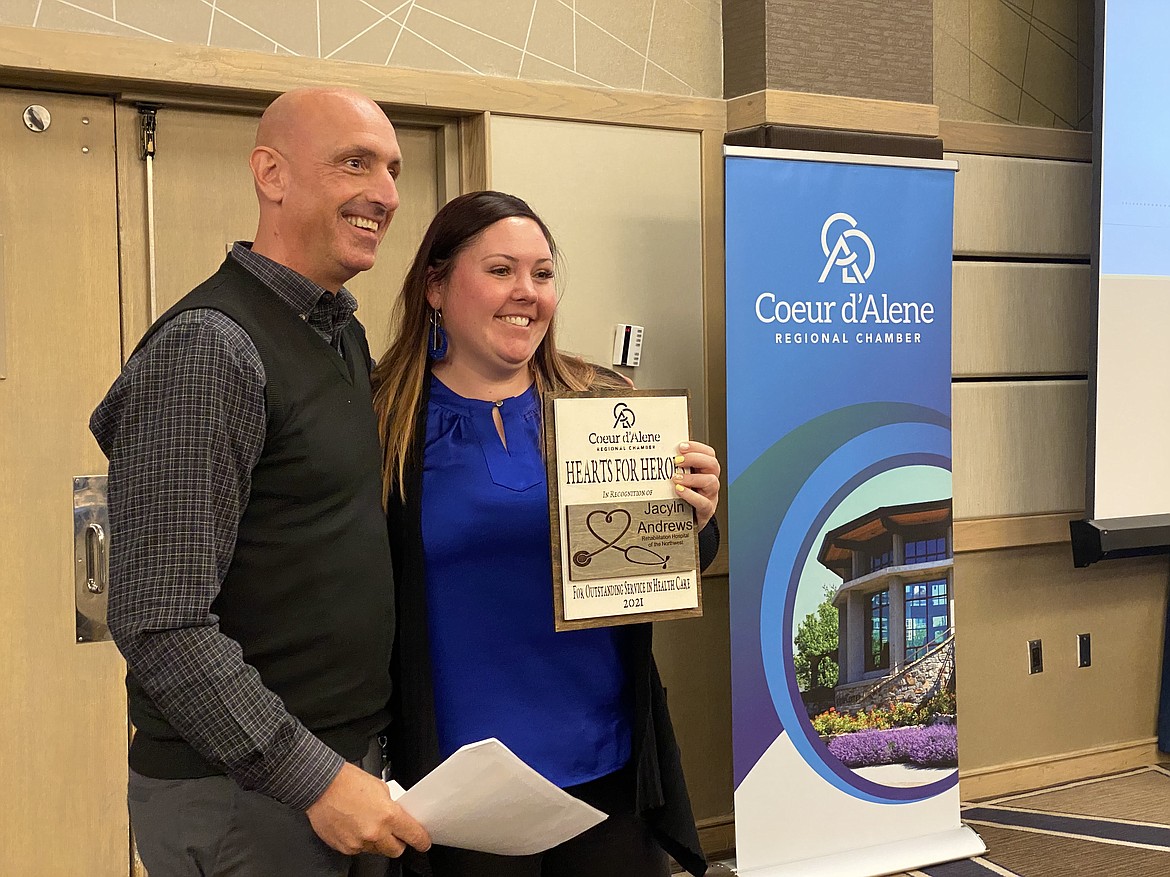 Jaclyn Andrews, right, from the Rehabilitation Hospital of the Northwest smiles with CEO Dave Cox for a photo after receiving an award for her work in the health care field. (MADISON HARDY/Press)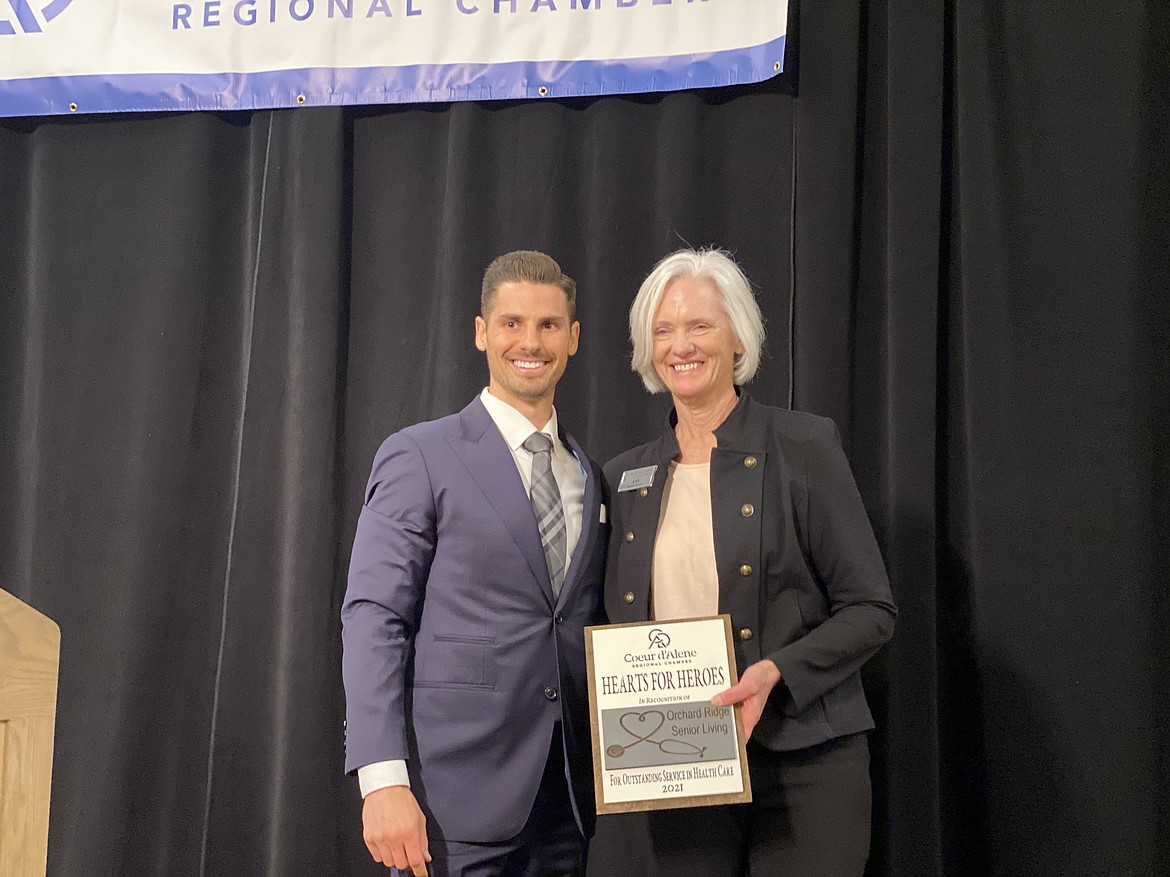 Coeur d'Alene Regional Chamber President and CEO Derrell Hartwick, left, and Orchard Ridge Senior Living Executive Director Ann Johnson stand for a photo at Wednesday's Hearts for Heroes event. (MADISON HARDY/Press)
Previous
Next
by
MADISON HARDY
Staff Writer
|
May 14, 2021 1:00 AM
When officials told the rest of the world to work from home and isolate, medical professionals were on the front line serving their communities with love, kindness, and compassion.
Recognizing the tireless efforts of health care workers in Kootenai County, the Coeur d'Alene Regional Chamber of Commerce hosted the first Hearts for Heroes Awards Luncheon to honor outstanding individuals in the community.
Leaders from the eight health providers and five skilled nursing, long-term care, and home health providers were present at Wednesday's event. Lora Whalen, the director of Panhandle Health District, delivered the keynote address and reflected on what a year it has been for her team and the entire Kootenai health care network. 
"Look around, every one of you has a heart, you have love, you have compassion," Whalen said. "You're all heroes, everyone."
Health care workers significantly stepped up to the plate this year, Whalen stated — from sitting at the bedside of traditional patients, handling COVID-19 cases, and pushing through when their facilities had reached capacity. Touching on the trials faced by PHD, she thanked district staff for their perseverance during the protests, board meetings, and facility graffiti because their "love, kindness, and compassion" is what got the community through the darkest days.
Individual provider award recipients were:
Kootenai Health — Dr. Robert Scoggins
Northwest Specialty Hospital — Leah Davis
Marimn Health — Janice Jordan 
Heritage Health — Kailei Hammond
Northern Idaho Advanced Care Hospital — Jennifer West
Rehabilitation Hospital of the Northwest — Jaclyn Andrews 
Auburn Crest Hospice — Nikki Taylor
Organization award winners were:
Home health — First Light Home Care 
Home health — Advanced Home Health Care & Hospice 
Assisted living — Orchard Ridge Senior Living 
Assisted living — Life Care Center of Post Falls 
Assisted living — Wellspring Meadows 
Throughout the event, administrators described their pride in workers and the health industry for the positive impact on the community. Northwest Specialty Hospital Chief Nursing Officer Denise Fowler noted that, if anything, the last year has served as a learning period for all health care professionals — and one that will forever change the community. 
"This past year in health care, there wasn't one person that I can think of that hasn't made a difference and helped to serve another," Fowler said. 
When the COVID-19 pandemic hit, Marimn Health Chief Executive Officer Helo Hancock described it as entering the "unknown." Medical professionals didn't have the opportunity to shut down like other workers. They had to learn fast what the safest option was for patients and the providers. It was hard, Hancock said, but it was worth every step. 
"I think I speak for many of you in this room when I say that throughout these past 14 months, there have definitely been days where you're putting your clothes on and getting ready for work, and you just feel exhausted — feeling exasperated. You feel deflated," Hancock said. "Knowing that even many in our community aren't taking this seriously. Yet those of you working in health care see this every day." 
To him, the reason health care workers are heroes is that they battle "against all odds," overcome getting knocked down and doing what's right even when it's not popular.
"Probably one of the hardest things in the world is putting a big smile on your face when somebody's screaming at you, threatening you, your family, your friends, showing up in protest. All of these things are very personal," Heritage Health Chief Executive Officer Mike Baker said. "But I never saw health care people lose their cool."
Standing ovations and support were evident throughout the event, and many walked away with a smile and award in hand. 
In quoting one of his favorite verses, owner and administrator of Wellspring Meadows Kurt Neely summed up the source of strength for Kootenai County's health care workers. 
"Perfect love casts out fear," Neely smiled.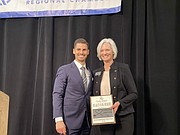 Recent Headlines
---