Fighting the ghosts of decisions past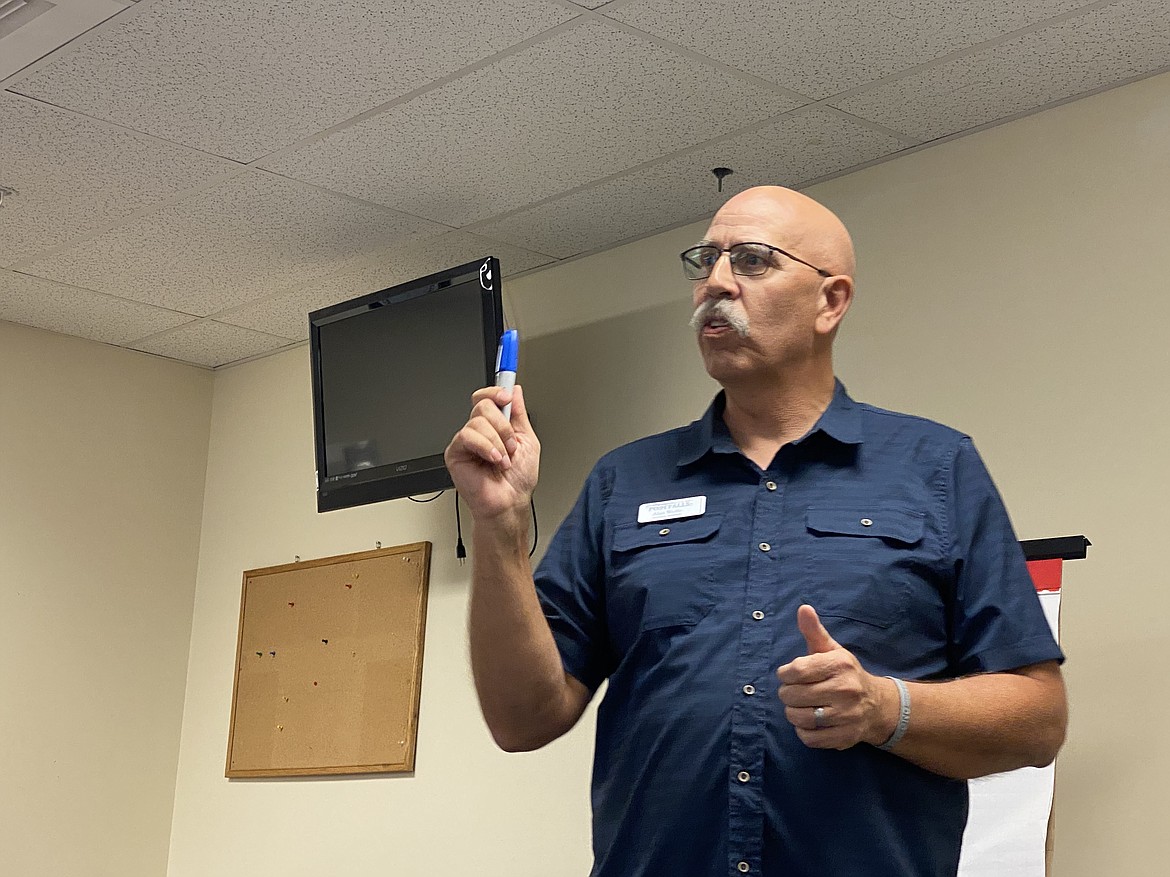 Post Falls City Councilman Alan Wolfe addressed the "lag" of developments residents are witnessing around the River City during a Q&A meeting Wednesday night. (MADISON HARDY/Press)
by
MADISON HARDY
Staff Writer
|
May 14, 2021 1:00 AM
In a meeting with members of the Responsible North Idaho Growth Facebook group, Post Falls Councilman Alan Wolfe answered questions from the community about growth and the city's battle against lag.
Surrounded by a group of 18 concerned citizens at the Post Falls American Legion building, Wolfe opened the floor to residents' comments on growth. 
"When's it going to stop?" Leona Flowers said off the bat.
A quiet rumble of cheers and laughs emerged, but Wolfe's answer did not receive the same warmth. 
"It won't," he stated. 
If there was one word Wolfe said he wanted attendees to remember from Wednesday's conversation, it was "lag." The lag, he explained, is the delayed effect of zoning decisions and approved projects made by past boards coming to fruition decades later. 
"I've asked the same question — Who in the hell approved that? I've been on planning and zoning and the county for 15 years, and I never approved that," the councilman said. "The lag catches up with us, all of a sudden, you drive around, and everything within the city limits already has a zoning definition." 
Wolfe and Rathdrum City Councilman Mike Hill pointed out that the lag can be challenging to resolve as boards cannot implement restrictions on future councils. The issue also delves into property rights and inhibiting developers from proposing construction projects that are allowed under current zoning statutes. 
"If you own a property and you purchased it, and you might have been the property owner that annexed it in whatever zoning, the city doesn't have the right to rezone that," Hill said. "(The property owners) have to apply to rezone."
Wolfe said that part of the reality is that many projects, zones, and factors in developments are long-term decisions — many made before his time on the council or former work on the Post Falls Planning and Zoning Commission. Other provisions are set in state code, Wolfe noted, referring to the Local Land Use Planning Act. 
"There are certain things that as a city councilman, quite frankly we have no power," Wolfe said. "These are already decisions that have been made for years. They're in the laws. They're in the ordinances. They're already established." 
Those rules can't be regulations on a whim, he said, but can be changed through two means — pursuing state legislators to amend code or appealing to court judicial. David Lyons, a retired attorney and Post Falls local, stopped Wolfe and described the Local Land Use Planning Act as a "broad statute about planning and zoning" that allows local governing bodies some "leeway flexibility." 
"It says the city can adopt standards," Lyons said. "So, respectfully, it's wrong to say that changes have to be made at the state. The state deliberately gave municipalities broad discretion to shape things … So I mean we don't have to go to the state and don't have to go to court."
Wolfe noted the city attorney, Warren Wilson, who Wolfe said has "years and years of land use experience," advised the council that while Post Falls could challenge state land-use codes, it could prove fruitless and lead to a lawsuit. 
"I, for one, and I can speak for some of the other councilmen. We don't like to get into lawsuits because it's expensive," Wolfe said. "I'm not saying we can't do what Mr. Lyons is talking about. I'm just saying on the advice of counsel, and they said let's not go down that road." 
Ryan Giarusso, a Post Falls resident, commented that the city might be hesitant to restrict developer land use due to the risk of a lawsuit. Lyons also played into the discussion, stating that he has sensed a considerable amount of "risk aversion" by Post Falls and other city legal departments. 
"That's probably what drives all this, there is a lot that could be done, but people just don't want to get sued," Lyons said. "The developers know that there is this (fear) of litigation, and you get pushed around." 
Recent Headlines
---