Fingers, fingers, everywhere
If it wasn't so annoying, it might be funny — the stiffening middle finger on Diana Witherspoon's right hand.
The Post Falls woman insists it isn't from overuse while trying to negotiate the traffic on U.S. 95. And her hand doctor concurs. The specialist says plain old arthritis is causing Diana's problem.
Seems the top joint of The Digit Also Known as The Finger is twisting and stiffening.
For those who wonder, the answer is "yes" — Diana has given the finger before, in a very public place to a very public official. The Flying Fickle Finger of Fate, that is.
Old-timers, of course, remember the FFFF from "Rowan and Martin's Laugh-In," a comedy show of the late '60s and early '70s. Hosts Dan Rowan and Dick Martin awarded the Fickle Finger to those who deserved dubious honor, such as Congress, the Pentagon, General Telephone, and the drug industry.
At the 1972 North Idaho College graduation, Diana stunned college president Barry Schuler and the audience by giving him a wooden Fickle Finger replica. Diana was part of the school choir that day. After the singers performed, Diana asked for the microphone.
Diana had been editor of the student newspaper that clashed with Schuler.
The Cardinal Review had angered Schuler by publishing a cartoon of fish canoodling, along with the caption: "Don't Drink Water, Fish Screw in It." At the time, the student paper was battling water quality issues on Lake Coeur d'Alene.
"They seized all of the copies of the paper and refused to let us deliver them," Diana told Huckleberries. "Some copies escaped and may be in existence today."
Diana describes the crowd's "shock and awe" at her unauthorized presentation as "palpable."
Schuler accomplished much in his 18 years (1968-86) as president. He oversaw the construction of 12 campus buildings and is credited for saving NIC beach from development.
But his attempt to control the student press would haunt him.
In 1986, he resigned his position after receiving an overwhelming vote of no-confidence from the Faculty Assembly. Among other grievances, the faculty questioned Schuler's hiring and firing policies. Schuler miffed the faculty by refusing to renew journalism instructor Nils Rosdahl's contract. In a grievance, Rosdahl said Schuler had wanted him to muzzle his editor and staff.
A decade later, NIC trustees honored Schuler by naming the Boswell Hall auditorium after him. The controversial 3-2 vote upset the faculty. And cemented Schuler's mixed legacy.
Gookin's salute
That wasn't a Fickle Finger that Dan Gookin displayed in a photo for his 349 Facebook Friends. It was Big Bird. The One-Finger Salute. And the Coeur d'Alene councilman appears to be holding a blank COVID-19 Vaccination Record Card in his left hand while extending the digit. "Got my card," he crows. "Guess I'm sitting in the vaccination section from now on." Did you mean to do that? asks a follower about the protruding finger. The councilor, who voted in the 4-2 minority against the city's mask mandate last fall, responds rhetorically: "Would I do that on purpose? Moi?" However, he isn't completely ignoring the CDC and hundreds of local doctors who advocate for masks and shots. "I just got my (first) shingles shot last month," he comments. "My doctor has been bugging me for 10 years about it. I figure it's safe. If I want the COVID vaccine, I'll wait 10 years to ensure that it's safe." Better late than never.
Huckleberries
• Poet's Corner: Some vampires now prowling,/it seems fair to note,/care less for your blood/than they do for your vote — The Bard of Sherman Avenue ("Very Scary Creatures").
• Patients exiting from the exam rooms of Jim Robson's old Avondale Dental digs, adjacent to the Hayden Lake Country Club, are greeted by this upbeat wall sign: "A Smile Is the Prettiest Thing You Can Wear." Now there's something maskers and anti-maskers can agree upon, right? Right?
• Here's a prediction published in The Press on this day in 1996: "Kootenai County's Fighting Creek landfill will be filled up in the year 2007, a decade earlier than originally projected." For our wallets' sake, we should be glad this prophecy didn't come to pass.
• Did You Know: The Kootenai County Transfer Station on Ramsey Road was 96 percent complete in May 1991 when county officials learned the three doors into the garbage pit were too small. Three of four local garbage trucks used then were too big to fit through them. D'oh!
Parting Shot
Overheard (at a Coeur d'Alene Albertsons checkout stand): Male Customer with lettuce, a tomato and a dozen white roses: "The flowers will keep me out of the doghouse." Female Clerk: "Well, a lot of men around here are in trouble then. Or there's a lot of good men in this town. We sell a lot of flowers." Let's hear it for the good men in this city of ours who have loving hearts.
• • •
You can contact D.F. "Dave" Oliveria at dfo@cdapress.com.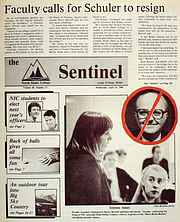 Recent Headlines
---