Youth soccer: Back on the turf: HOTSHOT tourney returning this weekend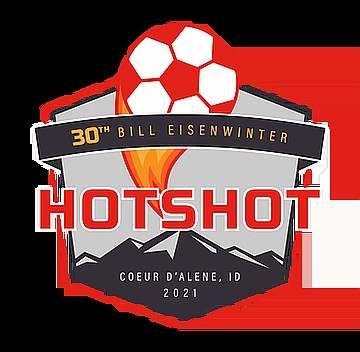 2021 Bill Eisenwinter HOTSHOT logo
By JASON ELLIOTT
Sports writer
It's a good problem to have for the Timbers-Thorns FC soccer program.
The indoor facility at West Prairie Avenue and North Huetter Road is now complete, and fully functional for practices.
Due to COVID-19, the work on putting in the three turf fields around the complex are still some time away.
"I think COVID hurt a lot of people," said Heidi Jump, the tournament director of the HOTSHOT Soccer tournament. "We've been able to finish the indoor complex and are continuing to work on Phase 3 for the outdoor fields. We're still continuing to find sponors that are looking to be involved with that."
Still, with the The Fields at Real Life being available, teams are able to play year-round.
"It's been so nice to have that available to us," Jump said. "Real Life has been wonderful neighbors and friends of the community. It's provided us a place to play outdoors in the winter since you can't play on the school fields, and the ability to play year-round. Being able to play games there, we've been able to continue our league play year-round. We really appreciate their partnership with us. It's been great for our soccer club as we continue to work on our complex."
The soccer club will host its 30th annual Bill Eisenwinter HOTSHOT Tournament starting Friday at seven different locations in the surrounding area.
Jump added that 162 teams, spanning from Bozeman, Mont., to Blackfoot and Twin Falls are scheduled to compete.
"In 2019, we had 138 teams," Jump said. "Last year, everything had to be canceled. We were hoping for 140 teams, and even had to turn away some teams, but were still adding teams that wanted to play."
Facilities include: The Fields at Real Life in Post Falls, Lake City High, Coeur d'Alene High, Woodland Middle School, Canfield Middle School, Hayden Meadows Soccer Complex, Skyway Soccer Complex and Coeur d'Alene Soccer Complex.
The tournament, typically held on Mother's Day weekend was pushed back a week.
"There's five weekends in May this year, but we'll be back to the same weekend next year," Jump said. "A lot of people have made that a yearly tradition and were a little disappointed that we moved it, but it will be back to the same time next year."
Tournament games resume on Saturday and Sunday at 8 a.m., with championship games anywhere between 1 and 3 p.m. on Sunday.
"Our volunteers and families really make this tournament successful," Jump said. "Everyone has been real cognizant of the different clubs and organizations to make sure everyone is prepared and ready to go. We're all in this together and looking out for each other."
Eisenwinter was the men's and women's soccer coach at North Idaho College when he was killed in an accident near Pocatello in 2003.
"People love coming here for this event," Jump said. "Over the last year, so many things have been canceled, so it's exciting for our club to community to have this back again."
Recent Headlines
---