Good food, good community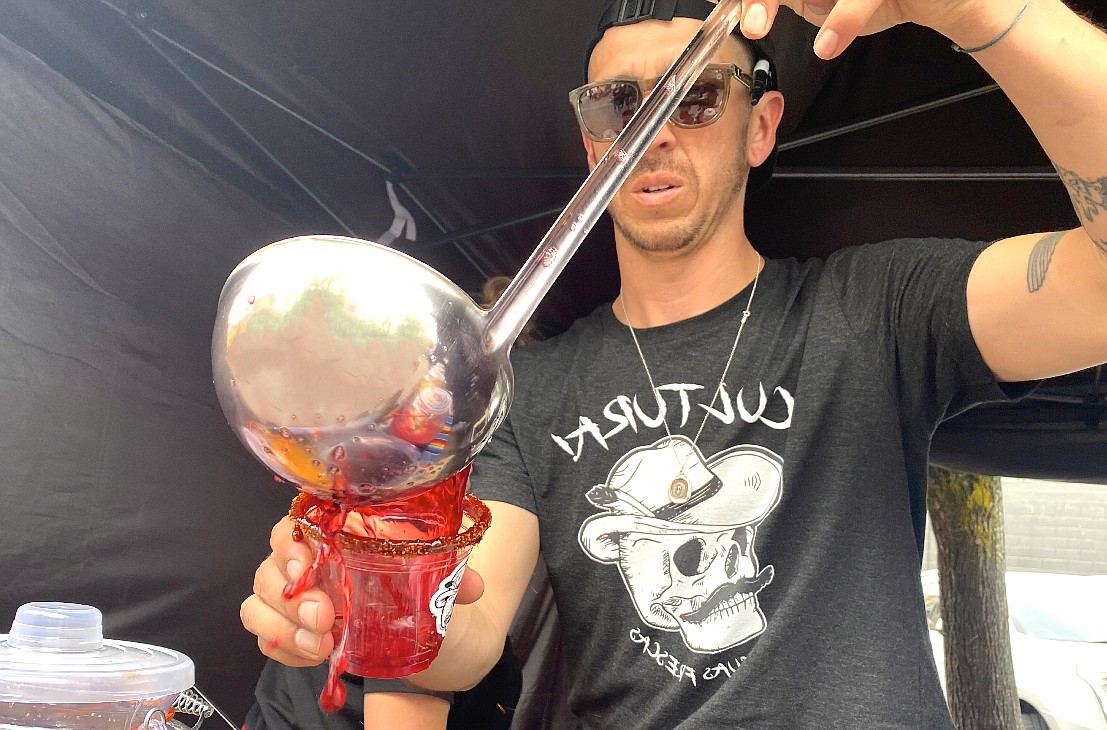 First year vendor and Cultura CDA owner Steven Sanchez pours up a cup of Jamaica Agua Fresca at the Kootenai County Farmers' Market Wednesday afternoon. (MADISON HARDY/Press)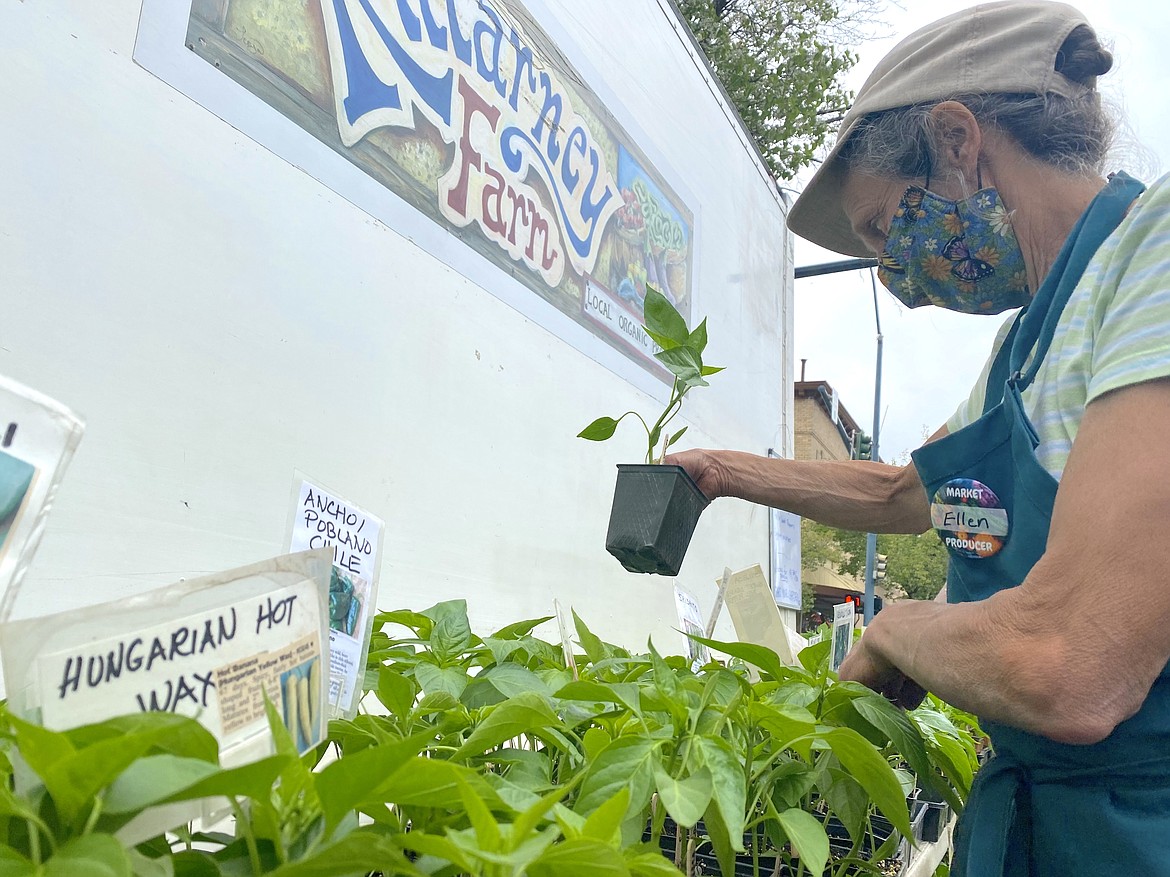 Adjusting one of the 50 crops she tends to, Ellen Scriven from Killarney Farm sets up the first Wednesday market booth of her 25th season. (MADISON HARDY/Press)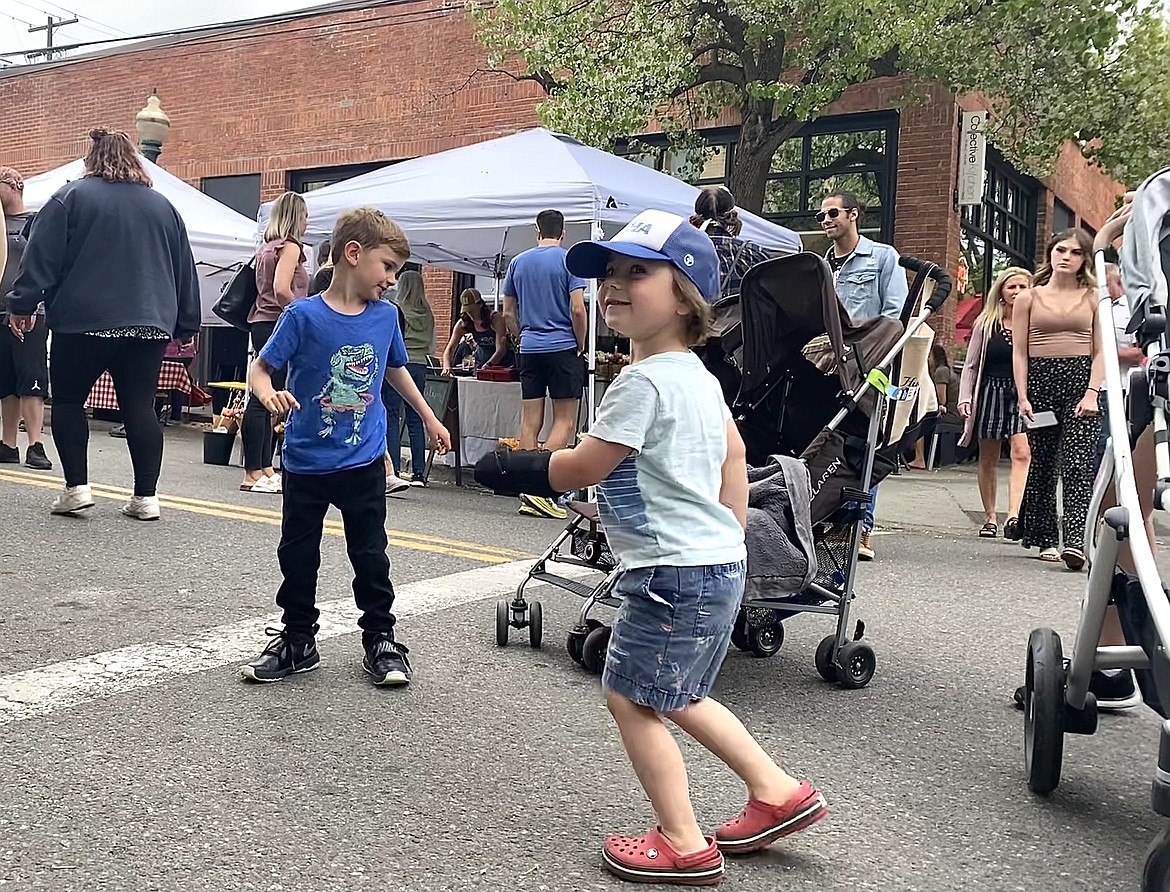 Finn Livingston, right, and his friend Harry show off their dance moves at the Wednesday farmers' market as community members walk by. (MADISON HARDY/Press)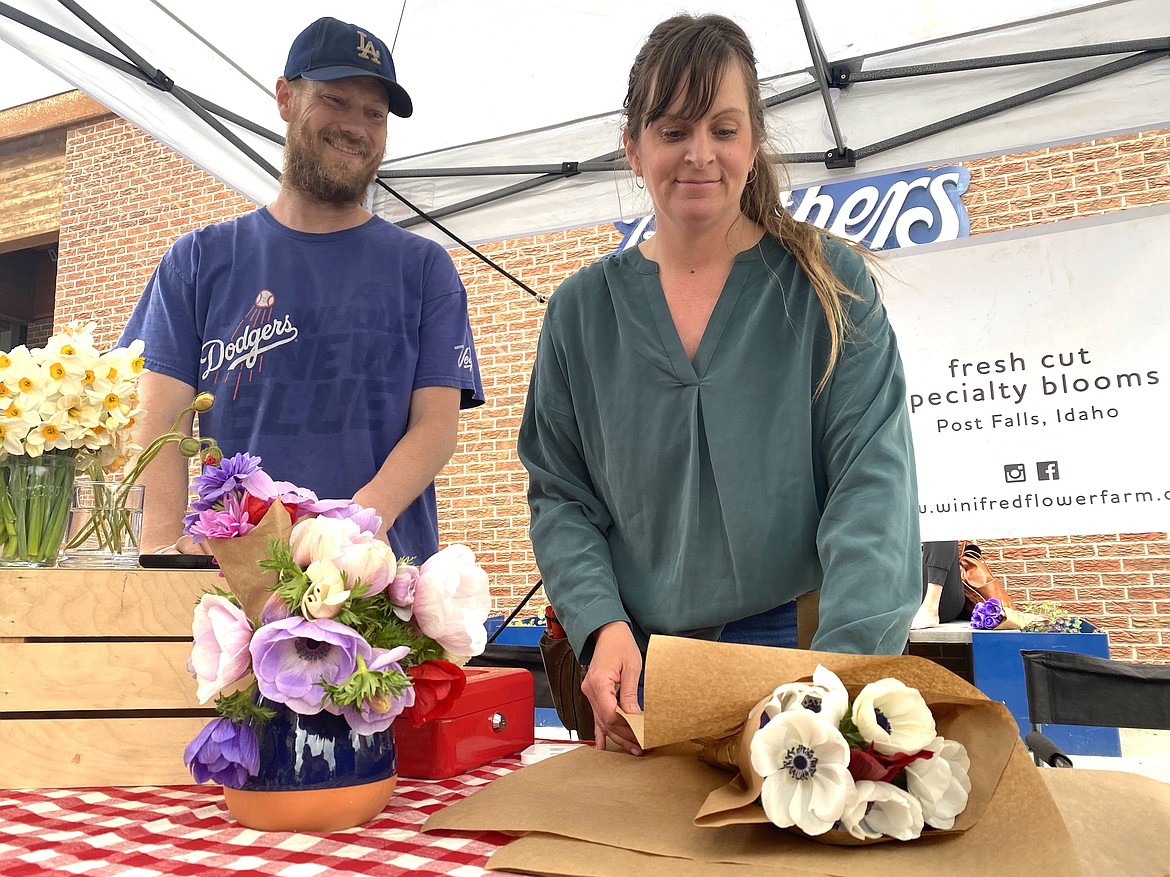 Kendra, right, and Adam Boots, grin ear-to-ear while wrapping up a bouquet of their Winifred Farms heirloom flowers at the farmers' market Wednesday afternoon. (MADISON HARDY/Press)
Previous
Next
by
MADISON HARDY
Staff Writer
|
May 13, 2021 1:08 AM
Downtown Coeur d'Alene was filled with music, vendors, and people Wednesday night at the Kootenai County Farmers' Market Association's first midweek market.
What was playing? A cover of Chris Stapleton's "Tennessee Whiskey." The crowd? Finn Livingston and his friend, Harry, dancing the afternoon away. 
April, Finn's mother, was happily standing by, smiling at her young son and enjoying the festivities. They live close by, so the Wednesday market is the family's go-to. While she loves the music as much as Finn, her favorite item was something different. 
"The falafel," April said with absolute surety. "From Hazy Petals."
In line, waiting for the April Livingston-endorsed falafels, were Lilian Smith, Alexi Wilson, and McKenzie Mattis. They had heard the buzz that Hazy Petals had "the goods" and were ready to give it a shot themselves. 
For Smith, it's the lemonade that draws her in. In her opinion, it is almost addictive. The girls, full of laughter, agreed that they were happy to be out with the town. 
"Just walking around the community and stuff like that. It's a central place that you see a lot of people you wouldn't normally see," Smith said. "I like how many people are here." 
Vendors shared the enthusiasm, including first-year participant "Cultura CDA" and owner Steven Sanchez. A San Diego native, Sanchez, and his wife brought the flavor of their culture to Kootenai County through a spin on the traditional Mexican Agua Fresca. 
"It's just a Mexican-style fresh fruit juice rimmed with Chamoy," Sanchez said. "Which is a plum sauce and sprinkle with a heat, Tajin." 
From watermelon to piña, horchata, and an enticing hibiscus flavor called Jamaica, Cultura CDA had the juice. If he had to describe it, Sanchez said fruit juice — with a kick.
The Kootenai County Farmers' Market Association hosts two weekly markets on Wednesday and Saturday. Heading into their second year, Kendra and Adam Boots, the owners and growers of Winifred Farms, were confident that Wednesday markets are supreme. 
"I feel like Saturday people have a little more of an agenda," Adam said. "Whereas Wednesdays people are just walking downtown, they see a market is going on and decide to see what is here. There is more ebb and flow. It's more social."
Kendra agreed. It's all about the people. 
"It's a really good market with really good people," she grinned. "I really like the people we work with too. The vendors around us want to help each other. We learn from each other, which is fun."
Their rainbow of heirloom blooms don't come easy, Adam joked, as the temperamental buds have to battle the hot days and cold nights of North Idaho weather. From crafting a "hoop house" and "Caterpillar tunnels" for growth, Kendra pointed out that growing flowers is simply like farming any other vegetable or crop. 
"It's been a good season, but we're still learning," Adam said. "There is always a learning curve, but the best part is we're getting better."
Ellen Scriven from Killarney Farm has had a long time to learn the tricks of the trade. A seasoned veteran of the Kootenai County Farmers' Market, Scriven has set up a booth every season since 1996. She simply loves to grow her goods and have people enjoy them, Scriven said, which is evident through the 50 different crops she tends.
"Flowers, fruits, berries, apples, pears, plums, lettuce, lots of greens, squash, potatoes," Scriven listed. "I just love giving people good food, nutritious food, the labors of my love, and the love of everybody working on the farm."
The most challenging part of last year, Scriven said, was seeing vendors, her friends, drop out of the market. Having participated in the event for 25 years, she has seen the market, the vendors, and families change. 
"Some of these people I've seen grow up. Parents who have kids, then many years go by, and those kids bring their kids," Scriven said. "People we associate with, people who love to see our stand didn't come back. But, we also see a lot of new things, new faces." 
Though the season had only just begun, Scriven was confident that the 2021 market would be strong with help from the love of the community.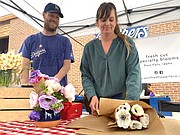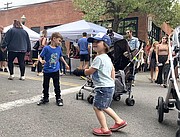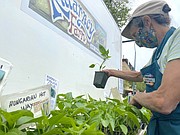 Recent Headlines
---