THE FRONT ROW with MARK NELKE: 'You're OK' mom; Timberlake High freshman Casey Whaley is back playing following a kidney transplant — thanks to her mom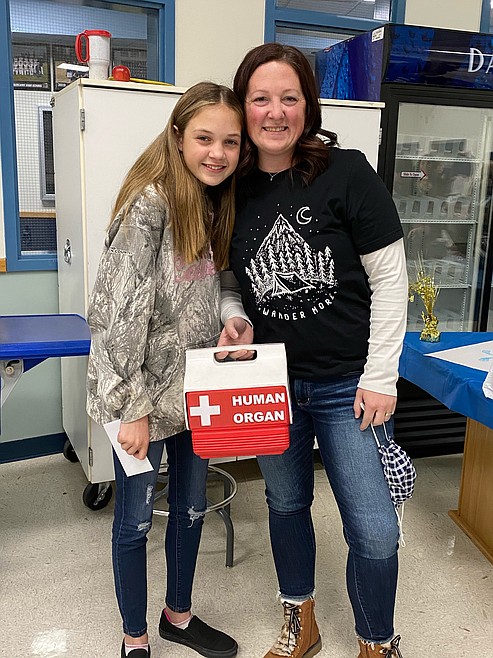 Photo courtesy JENNY WHALEY Casey Whaley, left, and her mom, Jenny, were honored at a good luck party put on by Timberlake High teachers before they headed to Seattle for Casey's kidney transplant last November. Jenny, a history and English teacher at Timberlake, was the kidney donor.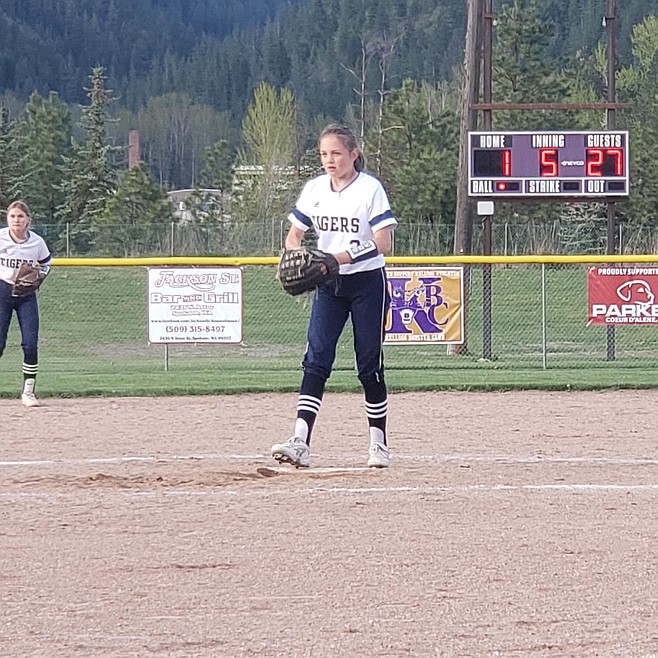 Photo courtesy JENNY WHALEY Timberlake High freshman Casey Whaley, who was recipient of a kidney transplant from her mother in November, pitched a scoreless inning with three strikeouts against Kellogg last Tuesday in her first outing with the Tigers' varsity softball team.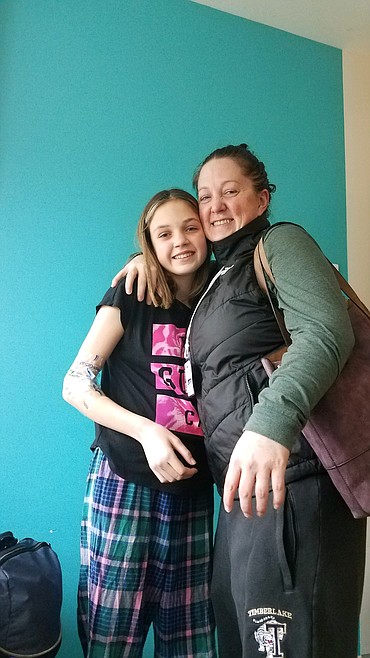 Photo courtesy JENNY WHALEY Casey Whaley, left, and mom Jenny embrace after seeing each other for the first time following their surgeries in November in Seattle.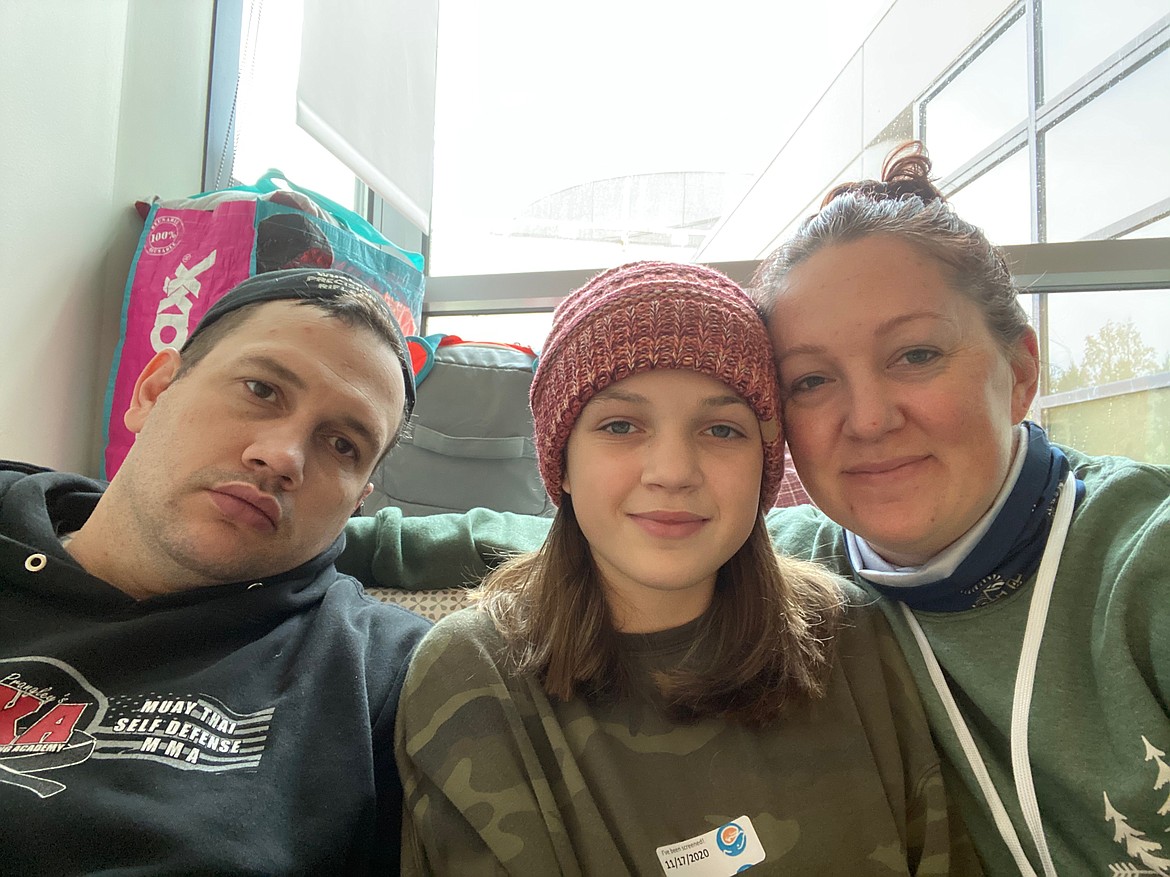 Photo courtesy JENNY WHALEY From left, Matt Whaley, daughter Casey and wife Jenny at the hospital in Seattle the night before Casey's kidney transplant in November.
Previous
Next
At first, they thought Casey Whaley was just suffering from the flu.
The next time, they thought maybe it was heatstroke.
But the then-13-year-old, two-sport athlete kept getting sick.
One time, she reached base in a softball game and turned up pale.
Well, maybe it's just stress, they were told.
Her mother, Jenny Whaley, had a hunch it wasn't stress, it wasn't the flu, it wasn't heatstroke.
She asked the doctors to check something else.
So in a whirlwind few days in early July 2019, Casey went from Kootenai Health to Sacred Heart Medical Center in Spokane to Seattle Children's Hospital, where she eventually got the word ...
She needed a kidney transplant.
And who became the donor?
Her mom.
A few months before her transplant Casey, a freshman, played setter last fall for the junior varsity volleyball team at Timberlake. A few months after it, Casey was called up to the varsity softball team after being the No. 1 pitcher on the JV.
This past week, she saw her first varsity action — one inning in the circle to close out another Tigers victory — and it was a memorable and emotional outing.
Casey Whaley, now 15, doesn't want to be known as "the kid who had the kidney transplant."
She just wants to be known as a normal kid, who loves to play sports — and also loves to go hunting.
When it comes to describing what it means that, of all options, it's her mother's kidney that is inside her body, Casey gets a little emotional, searching for the right words to thank her mom — who coaches her in both sports.
But her mom — an athlete and a coach as well — knows how she feels.
She has the notes from her daughter to prove it.
"I think she knows that I would do anything for her," Jenny said.
"You can't do it for Avery," Casey said with a giggle, referring to her younger sister, 11, a fifth-grader at Bryan Elementary in Coeur d'Alene.
"She doesn't need to say words," Jenny said. "Her going out there and being a kid, and being able to do all the stuff she loves, that's thanks enough."
CASEY WHALEY was born at Kootenai Health, and has lived in the same house in Coeur d'Alene her whole life.
She attended Bryan Elementary and Lakes Middle School.
With her mom in her fifth year teaching at Timberlake High, Casey opted to go to high school in Spirit Lake — also, some of the girls she's played club softball and volleyball with go to Timberlake.
As Jenny tells the story, Casey was playing for Idaho Impact at a club volleyball tournament in February in 2019 and came down sick, which lasted about a week.
The doctor said it was the flu.
A few months later, Casey and Jenny were at a softball tournament. Casey, playing for the Post Falls Blast, pitched in the championship game, then woke up sick the next day.
Heatstroke, the family thought.
The next weekend, Casey's team won a softball tournament, and a couple days later she got sick again.
"And I took her into the doctor," Jenny said, "and they said 'Well, if it's heatstroke, it stays around for a couple of weeks, so just rest,' and they pushed Gatorade, bananas, all this good stuff."
After a week off, the team headed to Boise for a tournament on the last weekend of June.
Casey pitched a few innings that first night, but was so shaky she had to sit down. She was sick the next morning.
By Sunday, the team was on its seventh game, and the other pitchers were tired.
Casey pitched a little bit, then went up to bat.
"And luckily drew a walk," said Jenny, who was coaching first base, "and when she got to first base, she was just white. I'm like, 'OK, you need to be out.'"
When they got back to town, they took her back to the doctor, on a Monday.
Maybe it's just stress, they were told.
"And I'm kinda like, at that point, it's not stress," Jenny said. "She's a really good student, plays tons of sports, it's summertime, she's not stressed."
Will you test her blood? Jenny asked the doctors.
Casey went to Kootenai Health to get her blood work done. Several hours later, the edict came back — you need to go to Sacred Heart, tonight.
"They thought she had leukemia, that's what they were worried about," Jenny said.
At Sacred Heart, they sat in a room filling up with family members for several hours.
The tests finally came back — her kidneys were enlarged.
Doctors decided to do a biopsy, and Casey mentioned she had also been coughing up blood.
"And they found out her kidneys were in complete failure," Jenny said, "and the antibodies that were attacking her kidneys had now turned on to her lungs."
They got the biopsy results back the following night with the instructions — Casey needs to go to Seattle Children's Hospital.
They took a plane to Seattle that night.
"I thought we were going to go by helicopter; I was so excited," Casey said.
The doctor in Seattle told the family ...
"When she got the flu, instead of the antibodies going away, they didn't have anywhere to go, so they just attacked her kidneys," Jenny said. "So we didn't know that, basically for four months, her kidneys were being attacked every day."
Casey (and mom) spent the next two months in Seattle, in and out of the hospital, getting tested, until they got the word — Casey is going to need a kidney transplant.
Jenny Whaley is in her fifth season as assistant softball coach at Timberlake, under head coach Casi Lupinacci — who remembers July 1, 2019 for a different reason.
"Well, it was actually the day before I went into labor with my son," Casi recalled. "My husband (Vinny) and I were at our last 'date' without having a child. (Jenny) texted me and said 'You better call me as soon as possible.' It was pretty crazy. We knew there was something going on, and at that time it was pretty scary. It all kinda happened real quick."
CASEY HAD to wait a year for the transplant, to make sure her body could take it.
Her disease is called "rapidly progressing glomerulonephritis" ... or RPGN for short.
The antibodies were still attacking her body, so Casey received treatments throughout the summer — essentially, what used to be a chemotheraphy treatment for cancer that doctors found is effective in stopping these antibodies.
"She had four 'chemo' treatments to stop that, so they needed to see for one year that it would lie dormant, that way they wouldn't just give her a new kidney and it wouldn't immediately attack and kill the next kidney," Jenny said.
Treatments ran through mid-September. This 'chemo' destroys a person's B cells, which produce antibodies. Doctors had to wait to see if the B cells would come back.
"Luckily, she is in full-blown remission," Jenny said.
Jenny said had her daughter's kidney issues not been detected until later, Casey might have needed a lung transplant as well.
Casey's recollection of that hectic first week in July?
"I knew the Spokane hospital was a cancer hospital, so I assumed they thought I had cancer, and I was more nervous than scared," she said.
And when she got to Seattle?
"I was kinda relieved that it wasn't cancer," she said. "I didn't like Seattle from the beginning because it's always rainy … but I was excited at the same time."
Excited?
"Because there were good doctors over there … "
"She just didn't like it (Seattle) because of what it represented," Jenny interjected.
After coming home in mid-September, Casey and Jenny went back to Seattle every month for checkups until the transplant. A couple times Casey had infections, which necessitated more trips over there.
Friends and relatives came over to visit Casey in Seattle from time to time.
Casey's sister and dad, Matt, a former wrestler and football player at Coeur d'Alene High who is now retired from the military, also came to visit, when they weren't holding down the fort in Coeur d'Alene.
"Yeah, they went hunting without me," Casey noted.
JENNY WHALEY has played softball all her life.
As Jenny Edington, she graduated from Lake City High in 2004, playing for Darren Taylor, where she was all-league three years — each year at a different position.
"I loved defense; that was my favorite thing," Jenny said.
Colleges were interested, but shied away following shoulder surgery between her junior and senior years.
"I used to have a cannon, and now, I can throw from third to first," she said.
North Idaho College was interested in her as a designated hitter, but she said no, thanks.
Eventually, she was an assistant softball coach at Lake City under Laura Tolzmann, and has been coaching Casey's softball, volleyball and basketball teams.
These days, Jenny plays coed softball in Coeur d'Alene, anywhere from one to five nights a week.
"The athlete in me ... I'm a very much, 'rub some dirt on it and get back in the game,'" she said. "When I dislocate my shoulder (in coed softball), we have to pause the game and have somebody pop my shoulder back in, and then I go back out there. I've played with broken fingers, foot, through having pneumonia … "
"Through a blizzard," Casey said with a laugh.
"OK, that's not hard," Jenny said. "To me, it was a combination of, I loved that game, I'm incredibly competitive, and I'm there for a team. So, of course I empathize, and as a coach and a player, when you're not feeling well."
But ...
"As a mom, I sit here and kick myself — did I miss four months that she was sick?" Jenny said.
"And I wasn't mad at them … when you're in the doctor's office and they're telling you it's this … you're not mad at them because they don't know your kid at all, you're just sitting there wondering, why would you immediately say it's stress? Look at her …
"Right now, she looks great, but I have a picture from the day we went into the doctor's office, and she's just pale as a ghost. She looked anemic, she hardly would eat, losing weight … something is not right … do a blood test, let's see if it was that."
ASKED IF, while Casey was in the hospital in Seattle, she was ever worried she wasn't going to play sports again, or even live ...
"Not really," she replied. "Even if I couldn't play, I for sure would have practiced."
In the year between the treatments in Seattle and the kidney transplant, Casey was hooked up to a dialysis machine for 10 hours a night, with a long tube connected to a port inserted into her body.
"I could take off one night every month, and that was it," she said of dialysis. "The only thing I really couldn't do was go swimming in lakes and rivers. I could go in chlorinated pools."
And continue to participate in sports.
"She needed to take it easy, and that's a really hard thing to let her do," Jenny said. "And I know she's sitting here saying it didn't affect her, but it really did affect her, but she was so tenacious, like, 'I'm still going to do what I want to do.'"
Casey wore a belt, of sorts, to protect her while she played — often times diving after the volleyball.
"It (the belt) was more so she didn't yank the port out," Jenny said. "Because at this point her kidneys are not functioning, so you can't hurt them."
One interesting note about kidney transplants ...
"They don't remove your kidneys, they sit back here," Jenny said, pointing near her lower back area. "My kidney sits up front (to Casey's right) and she has a belt to protect it."
THERE WERE two options for a kidney transplant — from a living person or from a deceased person. Generally, kidneys from living donors last longer than kidneys from deceased donors, and kidneys from living family members last longer than ones from non-family members.
"Our decision was always, what is going to give her the best outcome, moving forward," Jenny said. "As soon as I heard it was kidney, I said, 'Test me right now. What do I need to do?'
"There was no hesitation."
Why not?
"It's your kid," Jenny said. "If you could take away all the suffering, it doesn't matter if they have a scratch, or need a kidney transplant, you want to take away what causes them pain."
The kidney transplant took place Nov. 18, 2020 in Seattle, a Wednesday.
Mom was discharged four days later. Casey was discharged the following Wednesday — the day before Thanksgiving.
Casey was told she would have to stay in Seattle another three months — for blood work at the hospital every other day.
But she was in good enough shape to be released to go home after slightly less than two months.
"You wouldn't know, by looking at her and I, that any of us went through this — her especially," Jenny said.
WHILE SHE was away from North Idaho, Casey kept up on her schoolwork through online learning.
She was released from the hospital on Jan. 14 of this year.
"She got back on a Thursday night, went to school the next day, went to volleyball practice that Saturday, went to softball open gym on Sunday," Jenny said. "She would have probably tried to practice sooner, but there was nowhere to practice in Seattle."
What does that say about her daughter?
"I used to like to joke that I'm pretty tough … and I was," Jenny said. "You play through broken stuff, things hurt … I don't know if I could have done what she did. And I say I'm tough. She continued to do as much as she could, even having to do 10 hours of dialysis every night. She got down to 84 pounds (after 6 months)."
Right now, the 5-foot-4 Casey has gotten her weight back into the 1-teens.
MEDICAL BILLS, along with the cost of staying in a hotel and then a rental house in Seattle, add up.
Matt's insurance through the Army has been helpful.
So was the generosity of the North Idaho community, when Casey was first diagnosed.
"We have an amazing group of friends that immediately put together a benefit for her, and raised about $80,000 last year," Jenny said.
Matt builds guns for a living; those were among the auction items, which included a free hunt in Africa.
Even while on dialysis, Casey would get up at 3 in the morning, and they would hunt for elk, or bear.
"They hunted everything," Jenny said. "Avery just got a mountain lion, couple months ago."
Casey qualified for the Make-A-Wish program, and her request is to go fishing in Costa Rica.
"I don't get emotional," Jenny said of the goodness of her community. "Just the fact we have that many people, whether they are friends, or strangers, that come in and did that kind of stuff ... "
AFTER BEING the No. 1 pitcher for the junior varsity team this season, Casey joined the varsity when the JV season ended.
Last Tuesday, in the fifth inning of the second game of a doubleheader at Kellogg, with Timberlake well ahead, Casey, wearing her kidney shield, made her varsity debut in the circle.
She faced four batters, striking out three — all looking — and yielding only a squib single.
"It felt good," Casey said.
"And I told her, of course, that it was my kidney that did it," Jenny joked.
"It was just like, I guess, a relief to go in and play, to just get it out of the way before districts and state," Casey said.
"My dad (Wade Edington) is also an assistant coach, so he was right there while I was calling pitches for her," Jenny said of that inning. "He's emotional. He cried the whole time.
"As a coach, you're proud of your player. Super proud, because of all the stuff you go through.
"As a mom, there's no words to describe it. You go out there and give her a hug, you sit there and try not to cry in front of people … but on the way home, she got to hear my play-by-play of how she pitched, and how amazing it was."
Casey rode home with her mom, rather than on the team bus, because mom had a coed softball game in Coeur d'Alene that night.
"It was awesome," Lupinacci said of her freshman's varsity debut. "We weren't sure how she was going to bounce back, if softball was going to be an option for her. But Casey's a pretty stubborn kid; she wanted to be back, and she was. It was pretty cool.
"She's tougher than me, that's for sure. She's tougher than a lot of people. She's working her butt off, and she's got a bright future in softball, that's for sure."
A COUPLE days later, at practice, Casey is pitching to a hard-hitting Timberlake varsity lineup of her teammates, and is more than holding her own — inducing grounders, striking out the occasional hitter.
"That's my kidney!" chimes in her mom, playing second base at practice, and handling the occasional grounder.
"That's pretty amazing," Lupinacci said of her assistant coach, and friend. "Jenny's pretty selfless anyway. And I know she would do anything for both of her kids."
Earlier that afternoon, daughter and mother are sitting in an office at Timberlake High, telling their story — daughter, with her three kidneys (though only one is functioning), and mom, with her one remaining kidney enlarged to help pick up the slack from the one she donated to her daughter.
With Mother's Day approaching, Casey is asked what does she think of her mother, what she's done for her daughter, and what the two of them have been through for the past nearly two years.
Casey thinks about it for a few moments, then turns to her mother and smiles.
"You're OK," she says.
Mark Nelke is sports editor of The Press. He can be reached at 664-8176, Ext. 2019, or via email at mnelke@cdapress.com. Follow him on Twitter @CdAPressSports.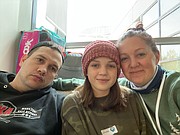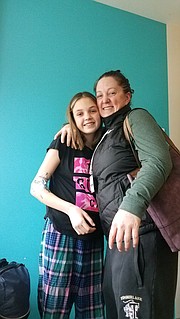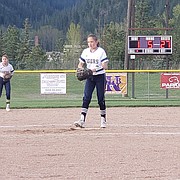 Recent Headlines
---