Mosaic magnificence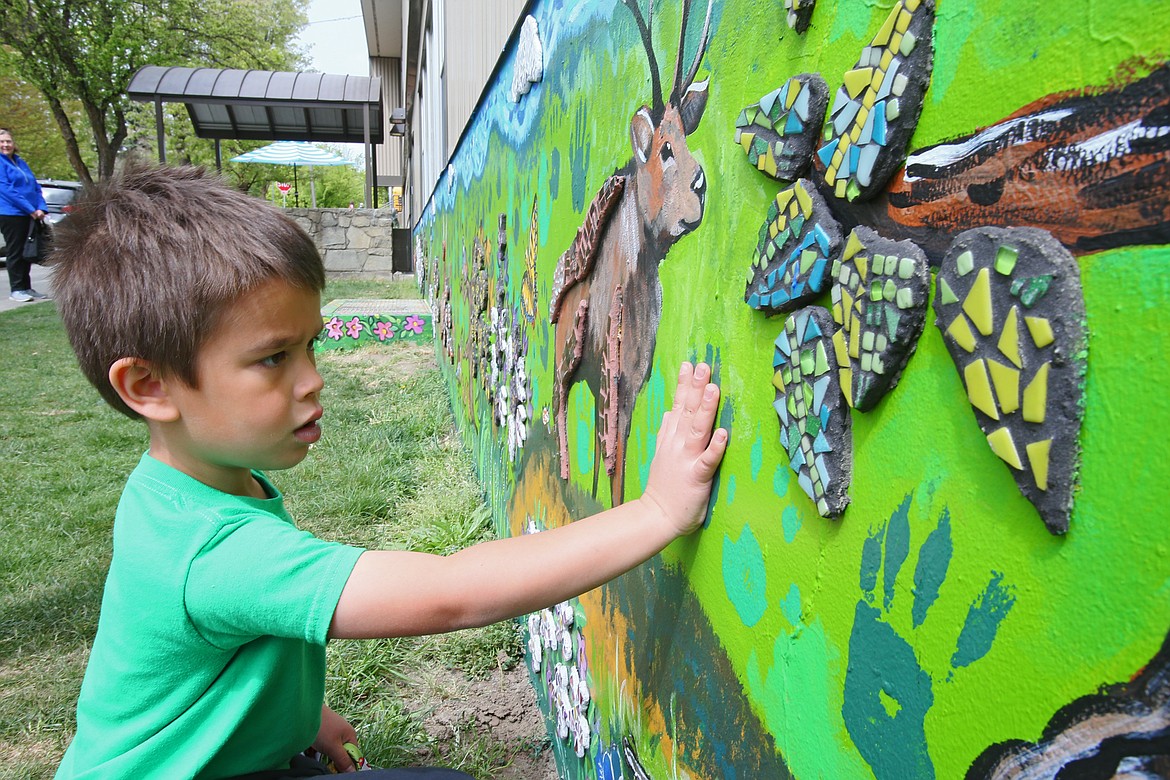 Kindergartner William Brookholtz on Friday finds his handprint in the mural he and his schoolmates contributed to on the western wall of Sorensen Magnet School. The all-school mural was completed under the guidance of artist-in-residence Melissa Cole.
DEVIN WEEKS/Press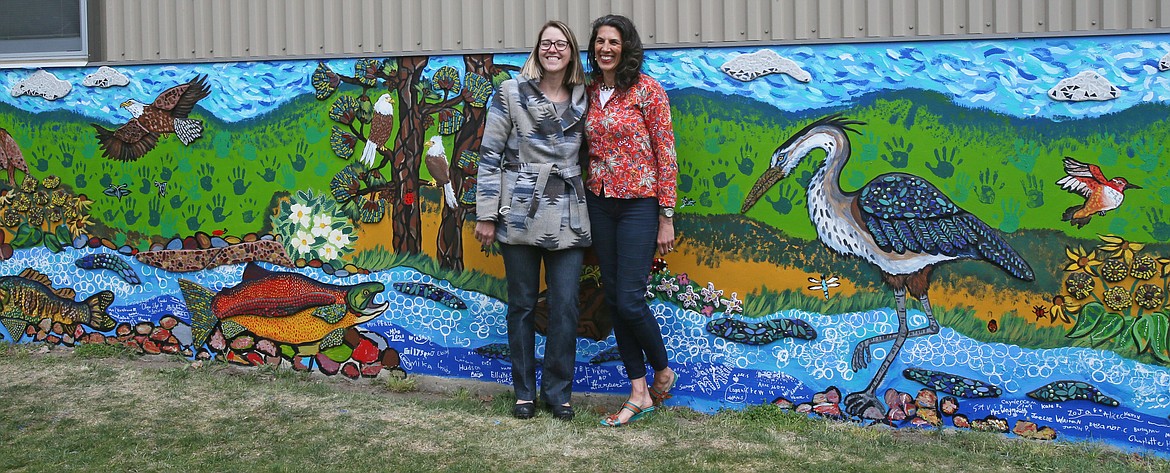 Sorensen art director Jill McFarlane, left, and Spokane artist Melissa Cole, who served as the school's artist-in-residence this spring, smile for the camera Friday in front of the newly completed mural that students worked on under Cole's guidance.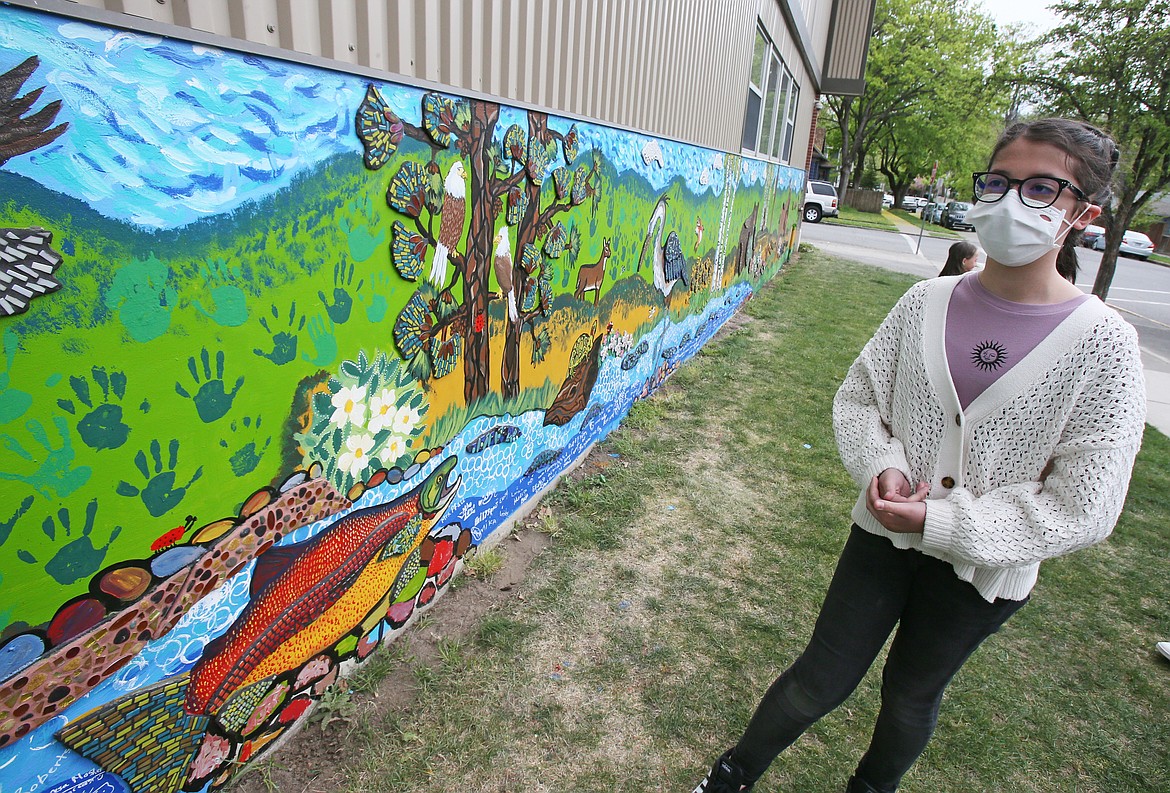 Sorensen Magnet School fifth-grader Gabriella Johnson on Friday discusses what she enjoyed about working on the new mural outside of the school, which was finished on Thursday.
Sorensen fifth-grader Milo Cord on Friday shows off the eagle with a mohawk he painted on the new mural on the school's outer western wall. All kindergarten through fifth grade students took part, contributing their talents to a legacy piece that will last for years to come.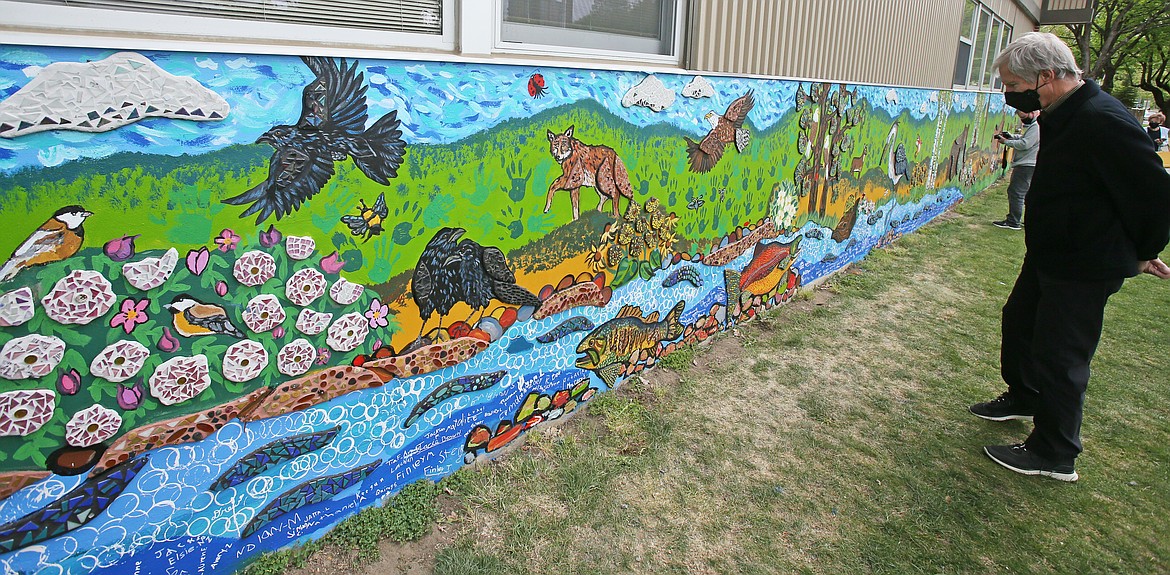 Steve Moss inspects the new mural outside of Sorensen Magnet School while waiting for his granddaughter on Friday. "It's really impressive," Moss said.
Previous
Next
by
DEVIN WEEKS
Staff Writer
|
May 8, 2021 1:08 AM
COEUR d'ALENE — While waiting for his granddaughter to get out of school, Steve Moss took a moment to enjoy the feast for the eyes outside Sorensen Magnet School of the Arts and Humanities.
Stretching 120 feet is a brilliant mural, a colorful collection of ravens, salmon, wildflowers, eagles, skunks, elk, pine trees, butterflies and other wild and wonderful things found in North Idaho's diverse natural world.
This mural is brought to life by the 3D mosaic pieces that add texture and sparkle throughout the scenery.
"It's really impressive," Moss said Friday. "When you get out of a car and up close, it's got the depth, 3D aspect and the tile. It's pretty cool."
Every Sorensen student crafted mosaic pieces and contributed to the painting.
Their handprints have also been immortalized in the paint of this mural, as well as their signatures.
"I did that eagle, the one with the mohawk," fifth-grader Milo Cord said, pointing to the raptor he painted on a pine bough. "It was really fun."
Fifth-grader Molly Kuhns said the whole thing was awesome.
"It was really cool to see how the mosaics came together with the painting," she said. "It's super cool."
The project launched in March when students were given individual mosaic pieces to complete under the guidance of artist-in-residence Melissa Cole, a Spokane artist with a colorful, nature-oriented background and extensive experience in public art installations. The painting took about two weeks, and Cole put on the finishing touches Thursday afternoon.
"I'm really happy with it," Cole said. "It's kind of amazing that a concrete wall can bring so many people together. It's just a simple thing, but to involve K through 5 in so many different areas of it, and to have the parents pick the children up and the kids running all over to find where their handprints are and where their names are on the bottom, and the neighbors walking past every day to see the progress, it just brings everything together. It's really sweet."
Principal Brett DePew said this project was a long time coming, as Cole was supposed be artist-in-residence last spring, but COVID canceled school.
"There couldn't be a better way to finish the school year," he said. "I think that every one of us has a sentimental story that we experienced this school year, and this is a symbol of this last year together."
Sorensen's art director Jill McFarlane said it was a "very ambitious project" beautifully handled by Cole.
"She took on more than she even needed to," McFarlane said. "She just saw the vision for this project and said, 'Yes!' and we're so glad that she did."
It beautifies the school, McFarlane said, but it matters to Sorensen that its programs don't just stay inside, but spread out into the community.
"This is such a beautiful example of that," she said. "Our community just feels so divided with all of the stuff we're going through, and this project felt so unifying for our school. I'm seeing it and I'm hopeful it will bring more unity to our community, and what better way than art to make that happen?"
Recent Headlines
---