THE FRONT ROW WITH JASON ELLIOTT: Food and a good run toward the finish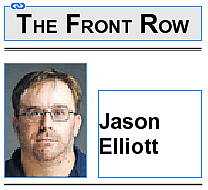 Track runners, whether it be distance or sprints, are a different breed of athlete.
To do it successfully takes a lot of time and dedication, not just the skill on the track.
It takes more than the casual fan might notice.
ASK ANY athlete, and they've got a routine when it comes to competing. From a particular workout, brand of shoes or even a good luck charm, it happens more than you realize.
"The day before a meet, I've got a specific food that I'll eat at a specific time," Lake City High senior Angelyca Chapman said. "Doing that doesn't necessarily help with the races physically, but it helps with my mindset and getting ready for the meet."
On the day before a meet, it could vary from a simple breakfast to something to drink during the day.
"Usually for breakfast I'll have a smoothie and a muffin," Chapman said. "And then at lunchtime, I'll have a pre-made sandwich from either WinCo or Safeway. The night before the race, I'll eat pasta. At the meet, I'll have honey sticks, pretzels and raspberries. It really helps me. With my body, it knows if I'm eating muffins, that means it's game time."
IN THE fall of 2019, the Post Falls High boys cross country team qualified a full team to the state 5A meet for the first time since 2005.
Seniors Brycen Kempton and Alex Peters, who will run at NAIA Lewis-Clark State and NCAA Division III Whitworth next fall, have been key reasons for the program's turnaround.
"I think it's just the environment we have on the team," Peters said. "We've got guys being guys. We're hanging out and competing with each other every day and having fun at practice. It's just a good time working together."
On Thursday at the District 1 All-Star Meet, Kempton was the top seed in the 3,200, Peters in the 800.
Both could be among the top finishers in that event during the state 5A meet in two weeks at Eagle High.
TAKING NOTHING away any other athlete, what they put themselves through at times is something that might make some quit.
When it comes to track, whatever happens — good or bad — is on the individual to make things happen.
Then again, the athletes up here have done so a lot in recent weeks.
They're just a determined breed.
Jason Elliott is a sports writer for The Press. He can be reached by telephone at (208) 664-8176, Ext. 2020 or via email at jelliott@cdapress.com. Follow him on Twitter @JECdAPress.
Recent Headlines
---