Woman charged with DUI after head-on crash
RATHDRUM — A woman is being held on $50,000 bail after police said she caused a head-on crash while driving drunk with a child in the car.
Corina R. Larabee, 36, of Rathdrum, is charged with aggravated DUI, a felony, and injury to a child, a misdemeanor.
Deputies with the Kootenai County Sheriff's Office responded around 5:30 p.m. Wednesday to a two-vehicle crash in the area of Meyer Road and Wyoming Avenue.
Larabee was reportedly traveling northbound on Meyer Road with her 13-year-old child in the passenger seat when she crossed the center line and hit another car.
The driver of the other car was identified as 50-year-old Coeur d'Alene resident Michele Mahn.
Rathdrum resident Lee Gibson said he was sitting on his back porch with family when the crash occurred. The vehicles collided in the street near his home.
"We heard and felt the impact," he said. "We felt the concussion in the air."
His brother, John Gibson, said he rushed to check on the people involved in the crash while others called 911.
"The two cars were decimated," he said.
Mahn was unresponsive when Gibson reached her.
"I'm praying for her," he said. "I hope she pulls through."
First responders reportedly had to remove the doors of both vehicles to extract the passengers.
Mahn was transported to Kootenai Health via Life Flight with life-threatening injuries, police said. She reportedly sustained multiple broken bones and severe internal injuries.
Larabee, who was not injured in the crash, reportedly provided breath samples of 0.17 and 0.16 — about twice the legal limit.
She allegedly told police she had a margarita at lunch.
Police arrested Larabee at the scene.
Judge Anna Eckhart ordered Thursday that Larabee be held on $50,000 bail.
Larabee has no previous criminal history, according to court documents.
In Idaho, aggravated DUI is punishable by a maximum of 15 years in prison.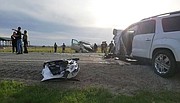 Recent Headlines
---