THE CHEAP SEATS with STEVE CAMERON: Who needs an app when watching M's try to hit puts you to sleep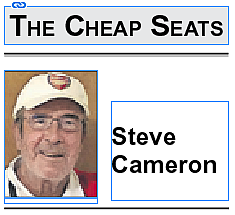 Steve Cameron Cheap Seats bug.
OK, Mariners fans, you have a new word.
Use it as your mantra.
In case you're not into new-age thinking, a mantra in this case means you never let the word out of your skull.
Now, your word is…
Calm.
Yep, that's it. That's all.
Pretend I'm whispering…
Calm.
You can actually buy an app with that name, and listen to soothing harp music or have some gentleman talk you to sleep.
Although to be fair, the Mariners can do a pretty good job of making you doze off all by themselves.
They just can't hit.
Against Baltimore's John Means on Wednesday, they LITERALLY couldn't hit, as Means flirted with a perfect game.
Let's go to the box score from that no-hitter, just for fun.
Batters Nos. 4 through 8 in the lineup sported the following batting averages…
Kyle Lewis, .184; Tom Murphy, .140; Evan White, .140; Dylan Moore, .129; and Sam Haggerty, the big stick at .213.
In fact, there was no average higher than .254 in the rest of the lineup.
Sorry to repeat myself, but this bunch can't hit.
WHAT YOU might consider a minor miracle is that the Mariners will begin a road trip tonight in Texas with a record of 17-15, still within sniffing distance of first place in the AL West.
That record seems even more puzzling when you consider that, just a month into the season, half of Seattle's planned six-man pitching rotation has been stricken by injury.
James Paxton is out for the year, and will need Tommy John surgery.
Staff ace Marco Gonzales is said to be missing "at least a couple of starts" with an ominous forearm strain (the same complaint that Paxton made before learning that he'd need surgery).
Finally, lefty Nick Margevicius is aching, too, with no timetable for a return in place.
So…
The rotation at the moment features four healthy pitchers (knock on wood): Chris Flexen, Yusei Kikuchi, Justus Sheffield and Justin Dunn.
The Mariners are still over .500 because that group has been pretty darn good — and the bullpen has been even better.
Sensational, in fact: the third-best in all of baseball if you judge by ERA.
Generally speaking — because nothing in baseball can be written in stone (except Mike Trout) — you can win games with a few reliable starters and a deep, excellent bullpen.
Now then…
The reason this odd examination of the Mariners comes up today is that minor league baseball finally has started selling popcorn.
And that, of course, means that plenty of those kids you've heard will lift Seattle into regular playoff contention will now be getting at-bats and innings.
They're facing live competition, which sadly had to be shelved last season due to the pandemic — leaving so many players a year behind at a critical time in their development.
SOMETIME soon, you're going to start hearing about Jarred Kelenic and Cal Raleigh at Class AAA Tacoma, or Julio Rodriguez at High-A Everett, and sure enough…
A trick of logic will kick in that suggests they couldn't do any worse than the gang that kept swinging and missing against John Means.
Maybe (only maybe)…
That could be true.
But unless one or more of the prospects proves he's outgrown the minors for an extended period of time, it's dangerous to throw any of them in at the deep end.
The Mariners want a guy like Kelenic to reach the majors, play with a swagger, and stay — not start off with a 1-for-22 nightmare, and get into a head funk that rips the confidence out of him.
That exact scenario is costing Evan White, the Gold Glove first baseman.
White WILL hit in the big leagues, but he's struggling with his stance and moving his hands and all sorts of gimmicks — for one reason.
He's not getting into the batter's box with confidence.
At the moment, White is overmatched — and he actually had more meaningful minor-league ABs than Kelenic.
It's a delicate balance.
I wouldn't be surprised if Dipoto and Scott Servais decide White could use a few weeks in Tacoma, just to have fun again.
Look, so far GM Jerry Dipoto has handled this "step-back" thing almost perfectly.
It's time to trust that the Mariners organization will get it right.
I think they've got a heck of a shot at it, but…
We're probably talking 2022.
Email: scameron@cdapress.com
Steve Cameron's "Cheap Seats" columns appear in The Press on Mondays, Wednesdays and Fridays. "Moments, Memories and Madness," his reminiscences from several decades as a sports journalist, runs each Sunday.
Steve also writes Zags Tracker, a commentary on Gonzaga basketball which is published monthly during the offseason.
Recent Headlines
---