Where kids will grow strong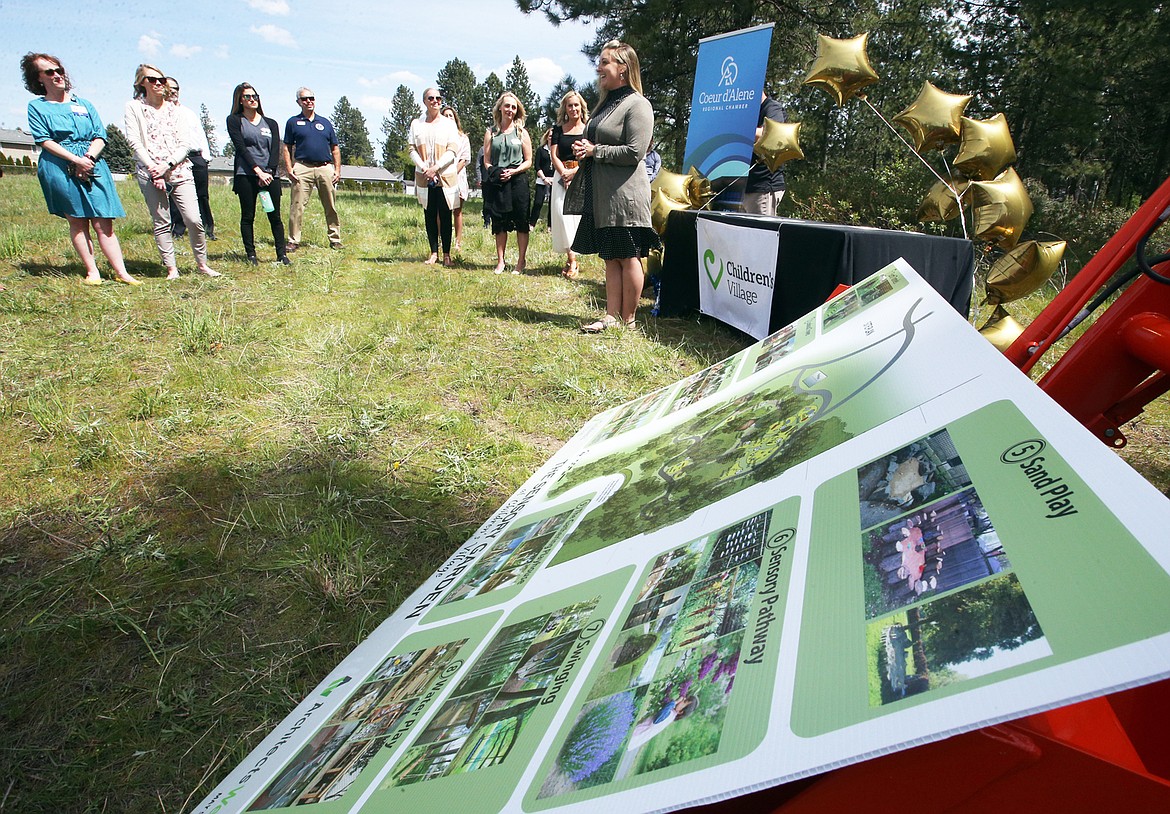 Vanessa Moos, director of charitable giving at Children's Village, addresses the crowd at Wednesday's groundbreaking of The Sensory Garden.
BILL BULEY/Press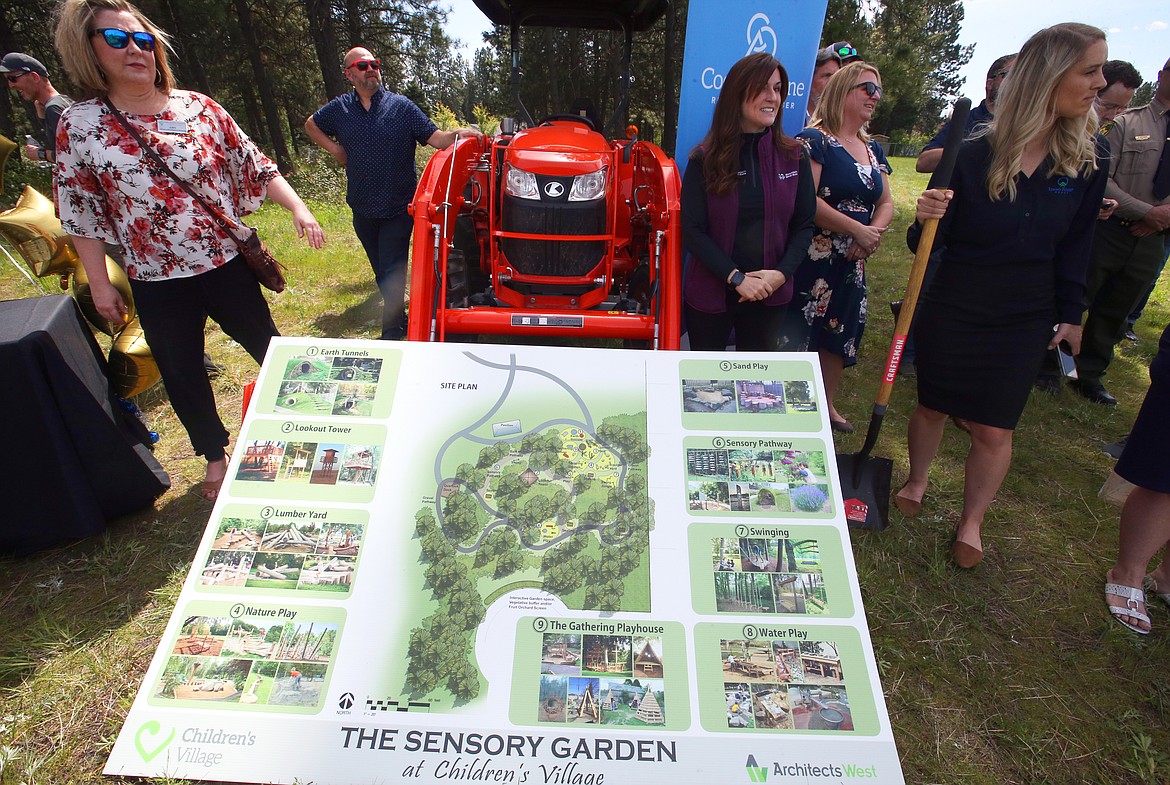 Some of those who attended Wednesday's groundbreaking of The Sensory Garden at Children's Village gather near the site plans created by Architects West.
Previous
Next
by
BILL BULEY
Staff Writer
|
May 6, 2021 1:08 AM
COEUR d'ALENE — Monday was a tough one for Vanessa Moos at Children's Village — before she went outside with the "littles."
Then, it became an unforgettable one.
They walked in the field where a "Sensory Garden" is planned. It had been explained to these 6 and 7-year-olds this would be a special place where they ride a bike, play in sand, swing, crawl into tunnels or climb a tower.
Almost like an enchanted forest.
The children were overflowing with joy and excitement.
"They all ran to me saying, 'Thank you so much for doing this,'" said Moos, director of charitable giving at Children's Village in Coeur d'Alene. "It made me cry."
She looked at the crowd of about 50 gathered at the future Sensory Garden for a groundbreaking ceremony on a sunny and warm Wednesday.
"I'm so grateful to all of you for trying to help these kids," she said.
Behind the efforts of The Coeur d'Alene Regional Chamber's Leadership Classes of 2020 and 2021, the project aims to help children who have been abused, neglected, or are in severe family crisis and temporarily live at Children's Village.
The Sensory Garden will have a winding bike path and nine sensory stops for the kids. One offers earth tunnels for exploring. The next, a lookout tower to climb higher. Then a lumber yard. There are stops for playing in sand, water, swinging and a "Gathering Playhouse."
It will be a peaceful place of calm and assurance.
"There's a lot of different tools that we can help these kids with, and that's what this is," Moos said.
The hope is to install the permanent bike path and have some of the stops completed in The Sensory Garden by August.
It's about more than just children playing.
"In treating trauma, the sensory approach promotes self-regulation and teaches children positive ways to deal with stress, anxiety, and mental health symptoms," said a flyer.
Derrell Hartwick, Coeur d'Alene Regional Chamber president and CEO, said they wanted to do the project last year, but couldn't due to the coronavirus. So both classes combined their talents and spirit to take it on this year.
They organized, planned and fanned out to compile resources, line up sponsors and rally donors of labor, material, and money.
Ryan Johnson, leadership class president, thanked all those involved for "driving me to be better and your willingness to kick in some money to make this happen."
It was a great effort that made Hartwick proud. Already, asphalt, lights, lumber and more have been contributed.
"I think it's just a great showing of what our future leaders can do," he said. "That's exactly what this class is about — people who are going to be investing in our community and leading our community."
Moos said the sensory integration is important for children of trauma who may not have had loving parents like many of those at the groundbreaking on Wednesday.
"Things we take for granted," she said.
Children's Village therapists work with the kids through sensory integration, Moos said.
"This path is going to be crucial for them," she said.
Rebekah Johnson, director of community relationships for Mountain West Bank, said they were glad to be part of it.
"It is amazing to see the impact that our community partners have had here today," she said.
"If you look around today, see how many businesses are standing here, there are so many people. I tell everybody in our community, from our kids to our elders, collaborations are where it's at."
Bridget Sundahl with CDA Paving and Concrete Specialities said helping create The Sensory Garden was a project they wanted to do.
"It's something for us to latch on to and be proud of, and for everyone to be proud of," she said.
Sundahl added that it was a great opportunity "to support and protect the vulnerable."
"This is a project of such magnitude, it creates a lot of pride," she said.
Johnson said each themed pod will cost several thousand dollars.
"With the people who are building them, it's up to their imagination," she said.
Another $25,000 to $50,000 would help complete The Sensory Garden.
Keith Dixon, principle with Architects West, led a site tour where trees, stumps, flowers and shrubs remain in a grassy field.
He called it a "native North Idaho landscape.
"One of the things we're trying to do is maintain what we've got here and have minimal impact," he said.
It will be a sensory zone for the kids, Dixon said, but also, a "natural zone, where it's not contrived. It is what it is."
Recent Headlines
---