Post Falls OKs impact fee plan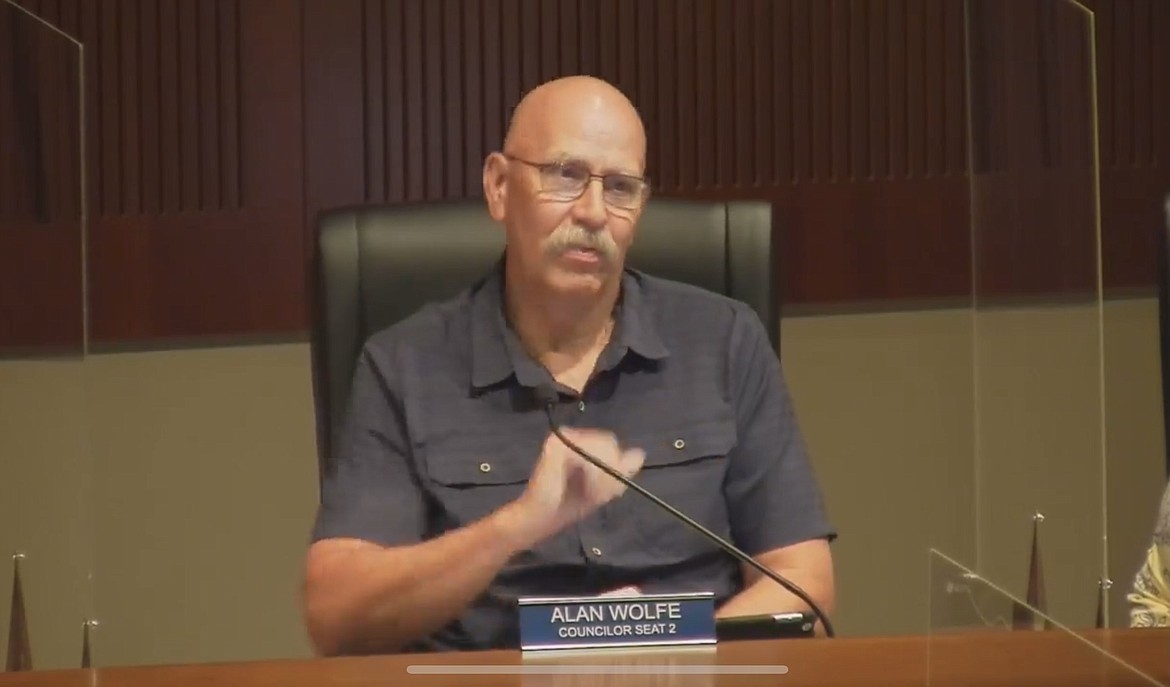 Councilman Alan Wolfe encouraged city staff to get a jump on reviewing the city's improvement plans during Tuesday's city council meeting. Photo courtesy City of Post Falls Government Facebook page.
by
MADISON HARDY
Staff Writer
|
May 6, 2021 1:00 AM
POST FALLS — After almost a decade, Post Falls approved the city's Capital Improvement Plan and Impact Fee schedule, but the long wait left many council members feeling behind the curve.
Included as part of the Post Falls Capital Improvement Plan, impact fees are one-time fees paid for by developers when a building permit is approved to assist the cost of city growth. Within Post Falls, the city has consistently charged impact fees on public safety, parks, transportation — and this year, staff added multimodal paths, which expands the city's pedestrian infrastructure.
"It's not technically a revenue-raising mechanism, but a regulatory tool to meet growth-related infrastructure," Julie Herlands, a consultant with Tischler-Bise, said during the City Council meeting Tuesday night. "They typically are system-level improvements and therefore have a larger service that benefits the area."
Since the last study was approved in 2019, Herlands noted that there had been significant growth within the city that could benefit from an updated capital improvement plan.
Pointing to parks and recreation fees, Herlands estimated there would be about $30 million worth of capital improvement needs that directly result from growth.
In total, she said a single-family unit would be responsible for $6,552 in impact fees — more than a $2,000 increase from the current fee schedule cost of $4,263.85.
However, council members worried that the $2,000 jump and predictions set by the impact fee plan weren't a good reflection of what improvements the city will need 10 to 20 years down the road.
"These numbers are scary. They're scary big," Councilman Alan Wolfe said. "I think we're a couple of years behind. You know, if we wait another 10 years or whatever, the numbers are going to be super scary. From my point of view, I'm encouraging you — let's get this done."
City Engineer Bill Melvin recognized this, saying the drawn-out study was significantly delayed by COVID-19 and the need to revamp the city's various improvement plans.
"We really need to look at just updating our master plans and come up with new levels of service, a new list of projects, and new costs for those associated projects," Melvin said. "That's a couple of years off to get all of that together."
Doug Eastwood, a resident of Post Falls and representative of the North Idaho Centennial Trail Foundation, spoke in favor of the impact fees. He said parks and pathways are taken for granted too often and not given the respect they deserve.
Recognizing Post Falls' rapidly growing population, Eastwood noted the toll increased foot traffic has taken on the city's existing infrastructure — namely the parks and trail system.
"New growth increases the use of parks and trails. That increased use will at some point begin to wear them out faster than you may anticipate," Eastwood said. "New growth can and should share the burden of offsetting that wear and tear. One way to do that is through the impact fees you are discussing tonight."
The council unanimously approved the capital improvement plan and impact fees Tuesday night. Agreeing that 10 years was too long a wait, the council also asked staff to bring forward the city's transportation, parks, and public safety plans for review in an upcoming meeting.
"I'm for almost starting this tomorrow," Councilman Steve Anthony said. "I think we're behind the 8-ball. We were going to approve this almost a month ago, but it was delayed, so we're 30 days behind now."
Recent Headlines
---