Silda May (Wilson) Pollard, 98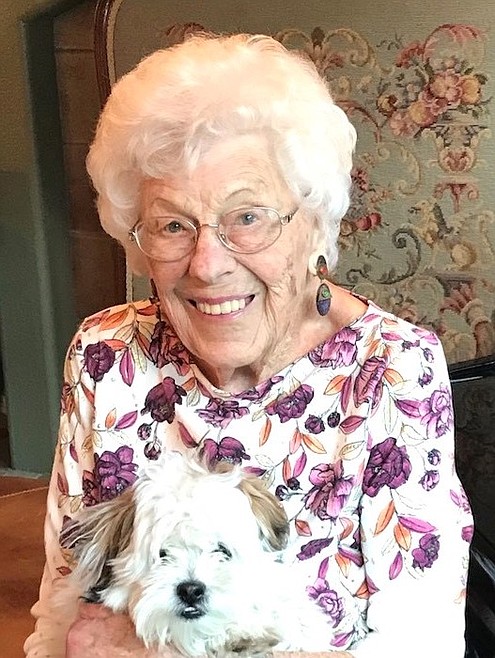 Aug. 27, 1922 – March 26, 2021
Heaven's gardens just became more brilliant and immense! Silda May (Wilson) Pollard, diagnosed with lung cancer merely three weeks prior to her passing, died peacefully in her daughters' home where she had been living since the onset of the pandemic.
Silda was born on Aug. 27, 1922, in Helena, Mont. She was preceded in death by her husband, Leonce Edmond Pollard; parents Harry and Abbie (Pendroy) Wilson; sisters Abbie "Betty" Vifquain and Harryette Peterson; nephew Auer "Pete" Peterson and son-in-law Gary Bartoo. Silda is survived by her children, Steven Pollard, Harry (Merry Gorremans) Pollard and Amy Bartoo; her precious grandsons, Jimmy Pollard and Trey Bartoo; and nieces Diane (Vifquain) Barut and Abbie (Peterson) Persall.
Silda grew up in Long Beach, Calif. She attended college at the University of La Verne and became a teacher in a one-room school house in Quartz Hill, Calif.
At the end of World War II, Silda was introduced to the handsome Navy sailor Leonce Pollard by one of her student's parents and they were married on Dec. 21, 1947.
Silda and Leonce moved to Coeur d'Alene in 1967 after purchasing one of the most beautiful pieces of property on Fernan Lake. Silda was a stay-at-home mother who spent her days working her hands in the soil of her beautiful gardens. Her outstanding yard was featured in several Garden Club Tours over the years. Nothing brought Silda more joy than to invite a few friends over on a gorgeous warm afternoon to sit on her front porch, overlooking the lake and gardens, and share hors d'oeuvres and cocktails and the view.
Silda joined the 3Cs (Community Cancer Charities) in 1968 and always maintained that she met her best friends through that organization. Within that group she was a member of the bowling league, golf league and garden club. Silda was an avid bridge player and a member of many bridge clubs over the years, most recently at Garden Plaza.
Friends of Silda describe her as one who grew beautiful gardens of not only flowers but also friends. She was one-of-a-kind. She was kind, loving, generous and yet straightforward and had grit; was smart with a wicked sense of humor and yet humble. When you spent time with her, you had her full attention. Silda was fiercely independent and always a wonderful example to her children.
In 2016, Silda moved from her home in Fernan to Garden Plaza where she enjoyed her new friends and the staff of that community. While living there, she cultivated a "continuation" of a craft group known as the "Do Dahs." The Do Dah ladies had been meeting at Silda's house for 20-plus years creating knit, crochet, beaded, buttoned, embroidered, painted hand work. A most certain throw back to the "sewing circle" of yesteryear. Many of the original Do Dahs would now venture to Garden Plaza where Silda welcomed newcomers who enjoyed each other's company immensely. She treasured the ladies' friendship and looked forward to Tuesdays each week.
For our family, the pandemic had its' silver linings. In April 2020, out of fear of lockdowns and no visitation, Silda moved in with her daughter Amy. What a wonderful final year it was. At one point, both of her grandsons (Jimmy and Trey) were living in the same house. How many kids will be able to say that they lived with their 98-year-old grandmother? The house was blessed with laughter filled moments, dinners together, "Jeopardy" and "Wheel of Fortune" programs watched, card games played and 4:30 p.m. highball cocktails served. The memories of her final year will long be cherished.
Special recognition of her dear original Do Dahs; Kathy Le Francis, Sherrie Cazel, longtime friend Jean Sage, Wanda Ballou and Patrice Quinn. Sunday afternoons spent with friend Carol Vasilof were the highlight of Silda's week.
The lessons that Silda taught each of us regarding strength, patience, hard work, loyalty and love will permeate lifetimes.
There will be a special private ceremony held in Silda's yard on Fernan Lake in the coming weeks.
In lieu of flowers, our mother would prefer a donation in her name to the 3Cs Cancer & Community Charities Garden Club, P.O. Box 1274, Coeur d'Alene, ID 83816.
Recent Headlines
---