Audubon Spring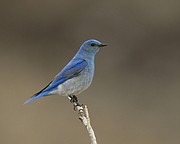 Are you hearing a little music in the air nowadays? If not, stop and listen. It is spring and the migrating songbirds are arriving from their 1,000-mile journey from Mexico and Central America. Swallows, warblers, bluebirds, tanagers, waxwings, hummingbirds and others will be coming soon to your neighborhood. They will be singing and looking for love, or, at least, an opportunity to mate and raise a clutch of chicks.

Birdwatching — "birding" — is an activity that can be enjoyed by people of all ages, backgrounds, and levels of expertise. It is usually a social activity that takes you out-of-doors, focusing on nature. All you need is a bird identification book and a pair of binoculars. You will observe nature around you in greater detail and learn a little bit of natural science in the process.

The mission of the Coeur d'Alene Audubon Club, a chapter of the National Audubon Society is: to promote, perpetuate, and protect Idaho's wildlife, particularly birds and endangered species, while preserving their habitat through environmental education and activism.
The club engages in a wide variety of activities including a monthly meeting for social time and a presentation on some aspect of bird life and conservation. In recent weeks our Audubon Chapter has conducted four field trips to nearby areas to record the migrating activity. Experienced birders and beginners together identified the variety of birds, from eagles to hummingbirds.
We visit Mica Bay monthly and note the comings and goings of each bird species. Each summer we monitor the 50 birdhouses in Hoodoo Valley for nesting of bluebirds and swallows. (Providing nesting sites, particularly for bluebirds, is an important conservation activity). These field trip observations are reported into a national database and are part of an effort to use citizen science to monitor the changes in bird populations.
Our next meeting, on May 11, will feature Shelly Austin, the new executive director of Kootenai Environmental Alliance. This will be our first face-to-face meeting in over a year. Masks are required and social spacing will be observed. The meeting will be at 7 p.m. at Church of the Master (Lutheran) on the NE corner of Ramsey and Kathleen. Come and join us. Visit our website at www.cdaaudubon.org, or call 208-659-0357 for information.
Recent Headlines
---