THE CHEAP SEATS with STEVE CAMERON: Seahawks mull whether Sherman 2.0 would be a good fit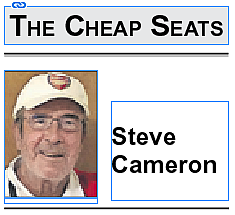 Steve Cameron Cheap Seats bug.
Imagine it's NFL opening day this fall.
There's a very good chance that the Seahawks' two starting outside cornerbacks will be 49ers discards — D.J. Reed on the left side, Ahkello Witherspoon on the right.
If it seems ironic that Seattle will try to repeat as NFC West champion with ex-49ers at both corners, well, how about if they added Richard Sherman to the mix?
Although…
Sherman's three-year tour in San Francisco is almost incidental resume info in this discussion.
The brilliant, ball-playin' and undeniably brash Sherman — among the loudest voices from those Legion of Boom days — is a free agent looking for one more professional home.
Or perhaps to go BACK home.
Sherman is 33 now, and says he wants to play two more years (for a contending team) and then retire.
If you've heard anything at all about conversations between Sherman and the Seahawks, you almost had to have thought something like this…
"Wait, this is the guy who was exploding on the sidelines, fighting with his own coaches, trying (at least once publicly) to humiliate Russell Wilson, and who finally left Seattle in a steaming huff."
NOT SO, claim Pete Carroll and John Schneider — the Seahawks brain trust.
Both insist that the so-called rift between Sherman and the club has been overblown, and each claims to be in regular communication with the former cornerback.
Sherman agrees, and during an ESPN interview with Stephen A. Smith, said that he'd been talking to his ex-bosses all along.
As for Wilson, Hawks fans may have been amazed to see Russ and Sherman hugging — then exchanging jerseys — after a Seattle-San Francisco game two seasons ago.
Now…
Sherman will always be a competitor.
He's not out selling Girl Scout cookies.
He wouldn't be making a missionary visit to the Seahawks locker room.
There is a big, big, bossy personality under that new mature demeanor.
But the five-time Pro Bowler sounds like a more sensible version of the loud, angry, always-something-to-prove player we saw in Seattle.
If we are to take Sherman at his word, he's even exceptionally calm about his place in the job market, claiming to understand that the draft process had to play out before teams would seriously think about a 33-year-old cornerback.
"It doesn't matter what accolades you have, what you put on tape, the numbers — it's just age sometimes," Sherman said.
"So, I've just got to continue to stay in shape, continue to stay ready. I'm being patient."
WE CAN assume there are three issues at play if the Seahawks are to entertain the idea of returning Sherman to their secondary.
One: Do they need him?
Two: Can he still play at the level they'd need?
Three: Could he fit in comfortably enough that his teammates would welcome him as a no-stress guy who's simply helping them win?
OK, starting at the top, with need…
Seattle does not have an established NFL corner to replace Shaquill Griffin on the right side.
Witherspoon has talent, but he was available because of wild inconsistency – something Carroll hopes to coach out of him.
Beyond Witherspoon, there's Tre Flowers (who was burned way too often as a starter on the other side), converted safety Damarious Randall, seven-year vet Pierre Desir — a career backup who has been with five organizations — and recent draftee Tre Brown.
Carroll insists that the 5-9 Brown will compete for an outside spot rather than covering the slot, but honestly, no one truly believes that.
Reed is a lock starter on the left, and he's also 5-9.
Carroll has never fancied short cornerbacks, so imagining 5-9 guys on both sides?
Hard to get there.
PETE WAS among the first head coaches to look for tall corners almost exclusively.
Ah, serendipity…
That brings us perfectly to the 6-3 Sherman.
The Seahawks know how their former cornerback plays, and he fits the style Carroll is hunting — assuming he still has enough in the tank.
During the draft, Carroll seemed to suggest Sherman could still be an elite corner.
Given the current roster make-up, you can imagine a reunion would be worth trying.
Issue No. 3, however, is a little fuzzier.
Sherman might only be interested in signing with a team that guarantees him a starting job — if an offer like that is available anywhere.
Maybe Carroll could bring him aboard as the starter while doubling as mentor to Witherspoon — which they've done in San Francisco — and simply see how it works out.
One potential hurdle is that Sherman has always been a natural leader, a role which now belongs to Jamal Adams in the Seattle secondary.

FEEL FREE to picture Carroll, Schneider or both having a word with Adams to take his temperature on the matter of adding another big voice to the crowd.
Sherman admits he wouldn't be shy at his next gig.
"I think I still have a lot to give to the game," he said.
"I still have a lot that I want to accomplish, and I think I can go out there and help a defense come together like it should, and reach its potential -- reach the heights that the defenses that I've played on have reached."
So, should the Seahawks take the shot? Call down the echoes of 2013 and 2014?
Should they offer pen and paper to Richard Sherman, serial winner?
Pete?
John?
Email: scameron@cdapress.com
Steve Cameron's "Cheap Seats" columns appear in The Press on Mondays, Wednesdays and Fridays. "Moments, Memories and Madness," his reminiscences from several decades as a sports journalist, runs each Sunday.
Steve also writes Zags Tracker, a commentary on Gonzaga basketball which is published monthly during the offseason.
Recent Headlines
---