Forms of government group about to get going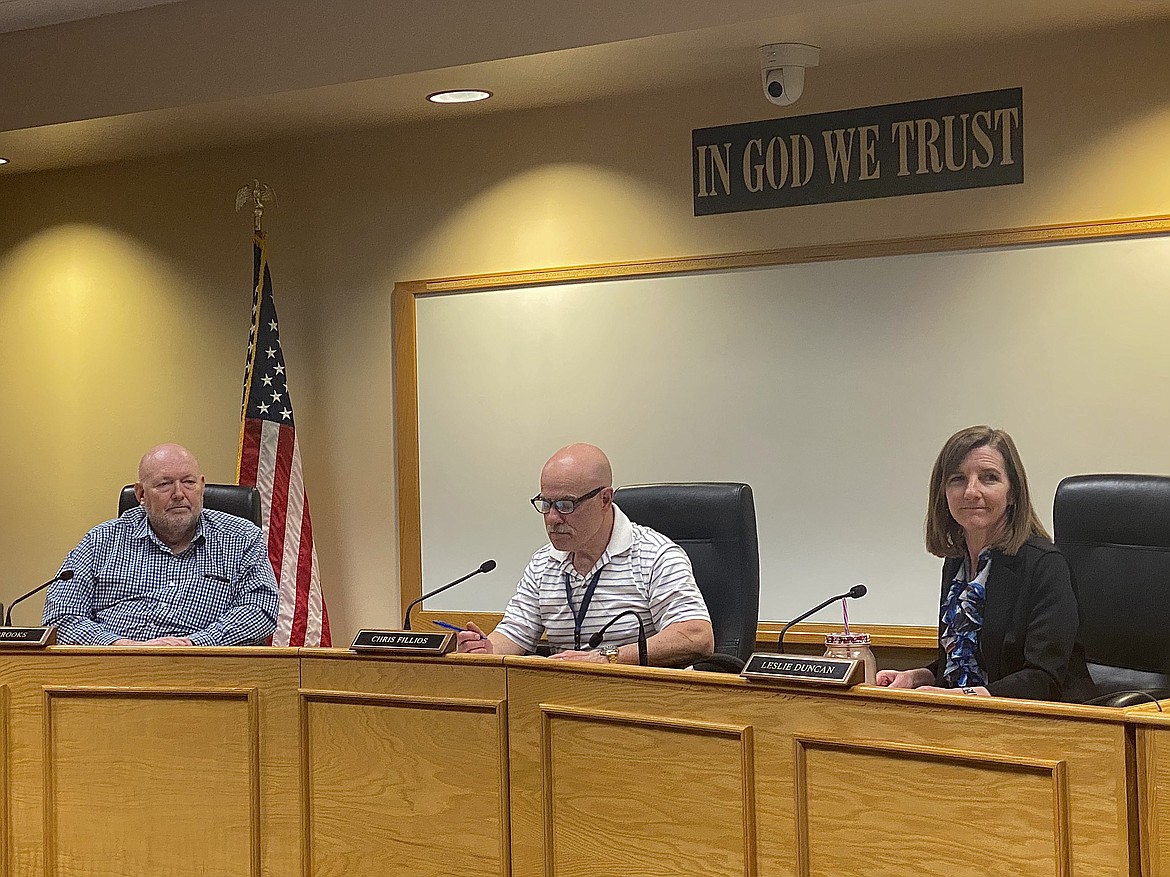 Kootenai County Commissioners Bill Brooks, left, Chris Fillios, middle, and Leslie Duncan received updates on the optional forms of government study and public transportation during Monday meeting. (MADISON HARDY/Press)
by
MADISON HARDY
Staff Writer
|
May 4, 2021 1:00 AM
The optional forms of government study committee will have its first training session May 11 at 5 p.m.
County Communications Manager Nancy Jones said during the commissioners' meeting Monday that the session will primarily be informational.
"We will go over open meeting laws, public records laws, a little bit about the history of this topic in the county. I've printed off some historical documents for them," Jones said.
Committee members will be presented a binder with statutes and contact information for county personnel. They will also set a date for the first official meeting to start the study's investigative purpose.
Jones expects the meeting to be no longer than an hour. It's open to the public and will be broadcast online through the county YouTube page.
"We're working very hard to make this as transparent as possible," Jones said. "We are adding the videos of all the applicable meetings to the page that has been created for that group. The contents of the binder will be on that webpage as well."
The online page is available: www.kcgov.us/970/Optional-Forms-of-Government-Study-Commi.
During Monday's meeting, commissioners also received a transportation update from the county's transit services department, including the Strategic Service Planning Project, which began last month.
The plan aims to reach the greater Kootenai County area, Resource Management Office Director Jody Bieze said. Within the project is a look at where transportation should be, goals and objectives to achieve, and strategies for a routine, efficient and effective mobility system.
Included in the plan will be:
Nonmotorized transportation options
Improving service to meet current and future ridership demands
Increasing bus operation efficiency and effectiveness
Reducing overall operating costs
The Kootenai County Public Transportation Strategic Service Plan Working group met April 21, Bieze said, and features officials from the city of Coeur d'Alene, city of Post Falls, city of Hayden, city of Rathdrum, and the Kootenai Metropolitan Planning Organization.
Data found throughout the planning process will not only be used by the county's transit services, Bieze said, but will influence roadway construction.
"The idea behind this coordinated, collaborative effort is to bring it all together so that public transportation, in particular intermodal multimodal systems, will be integrated," Bieze pointed out. "This will make a huge difference in terms of when they design roads."
Recent Headlines
---