East Sherman pocket park to get another push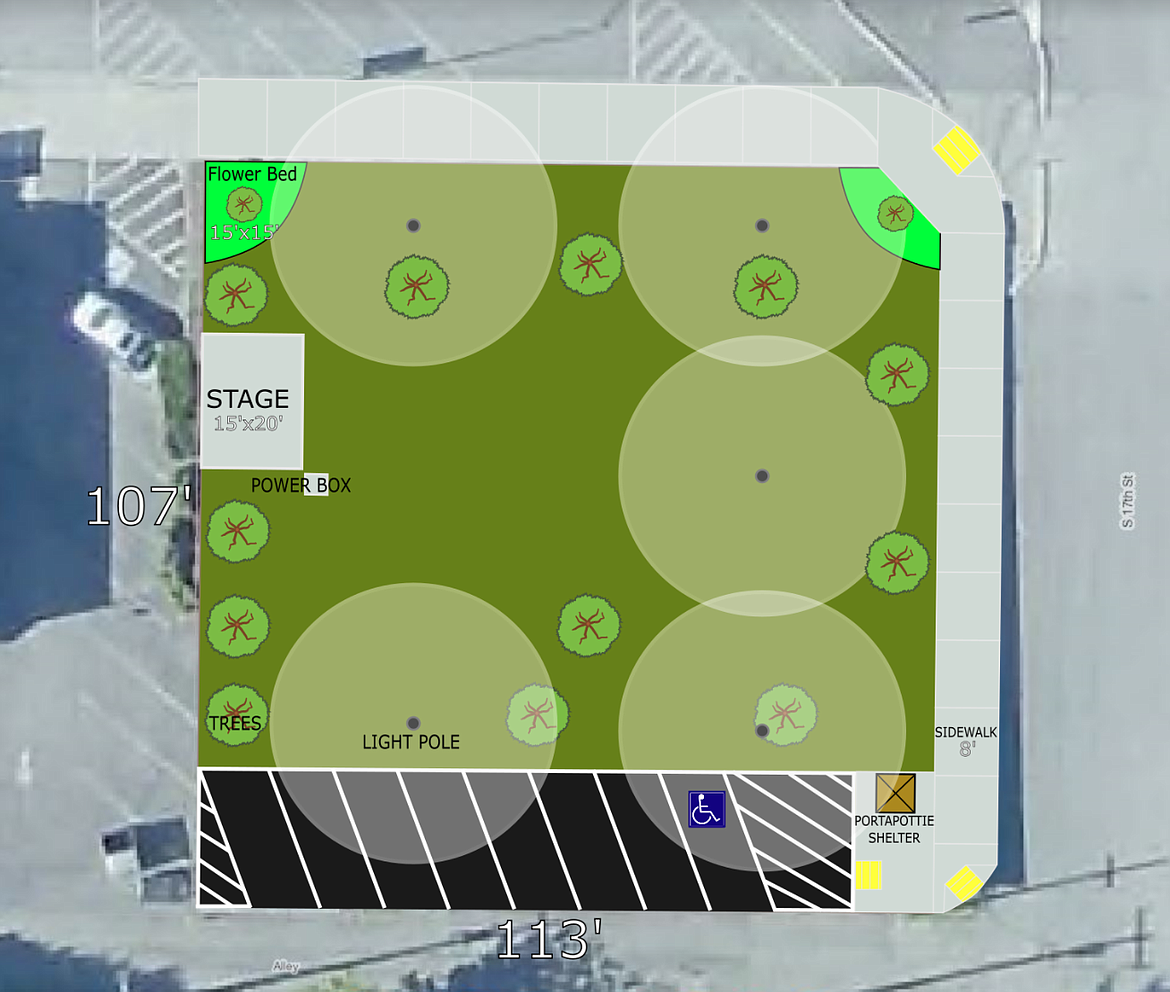 A proposed pocket park at the corner of 17th and East Sherman, where the Sandman Motel once sat. Council will consider a proposed multi-use pocket park at tonight's city council meeting. (Courtesy city of Coeur d'Alene)
by
CRAIG NORTHRUP
Staff Writer
|
May 4, 2021 1:09 AM
The Coeur d'Alene City Council will hear plans to convert a piece of East Sherman Avenue where transitional housing once sat into a pocket park.
The city's planning department will ask council for $24,300 to develop the now-demolished sites of the Sandman at 1620 E. Sherman into a multi-use park. The city acquired the Sandman, as well as the Star Haven in a 2019 land swap with St. Vincent de Paul. The empty motels once used as transitional housing before they closed became training grounds for Coeur d'Alene public safety, after which they were eventually demolished. The council had debated what to do with the properties back in August, with pocket parks leading the staff recommendations but never coming to a final decision.
Community planning director Hilary Anderson said Monday afternoon she hopes the pocket park plan will move forward, should council approve. Asked whether she thinks council will warm to the idea, she said she is optimistic.
"I certainly hope so," she told The Press. "I think there's been enough evidence brought forth for them to consider. Even when we went back into the property exchange, when we got support from the leadership committee, and from emails from locals, I think there's been overwhelming support."
Those emails will be part of the presentation Anderson will make to council tonight, including one from Gail Hewett, who said the addition of green space and additional parking to a multi-use park would be a great benefit to the East Sherman neighborhood.
"I am in support and (total) agreement in this vision to help achieve and move the East Sherman movement and revitalization to the next step in helping make this a reality," Hewett wrote. "This will not only promote additional and existing businesses to thrive and to prosper, but knowing their city is also committed to this area's future."
Under the design, the pocket park would come with micro-clover green grass, trees, shrubs, ornamental grasses and decorative rocks to accentuate a concrete stage, complete with ADA ramps, lights and power. The 1620 E. Sherman property, for example, would include 11 new parking stalls and stormwater access.
One of the points Anderson highlighted to council about the benefit of a pocket park back in August included the fact they were inexpensive to install.
The Star Haven property at 1516 E. Sherman was not quite suitable for a pocket park, so it will sit empty in wait for future development, with the city simply adding green space, installing some light landscaping and keeping it tidy.
"I'm just excited to see the vision of East Sherman come to life," Hewett said. "I'm really excited to see the support the community expressed. I think they would give a bit more confidence for property owners and businesses in the area, too."
Tonight's council meeting begins at 6 at the Coeur d'Alene Public Library's community room.
Recent Headlines
---