Jazzed about Reading is on the move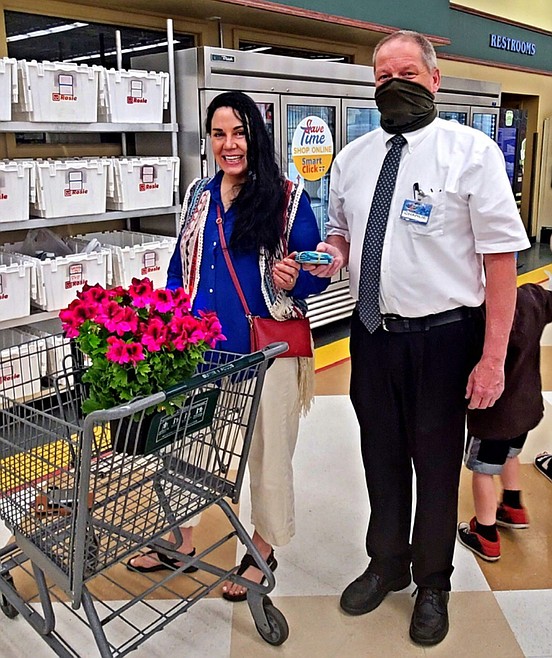 Jazzed about Reading founder Annie Winston on Thursday receives coupons for free ice cream cones from Rathdrum Super 1 Foods store manager Charlie Lynch. JAR and Rathdrum Super 1 have teamed up to provide the coupons to Lakeland kids as rewards for reading.
Courtesy photo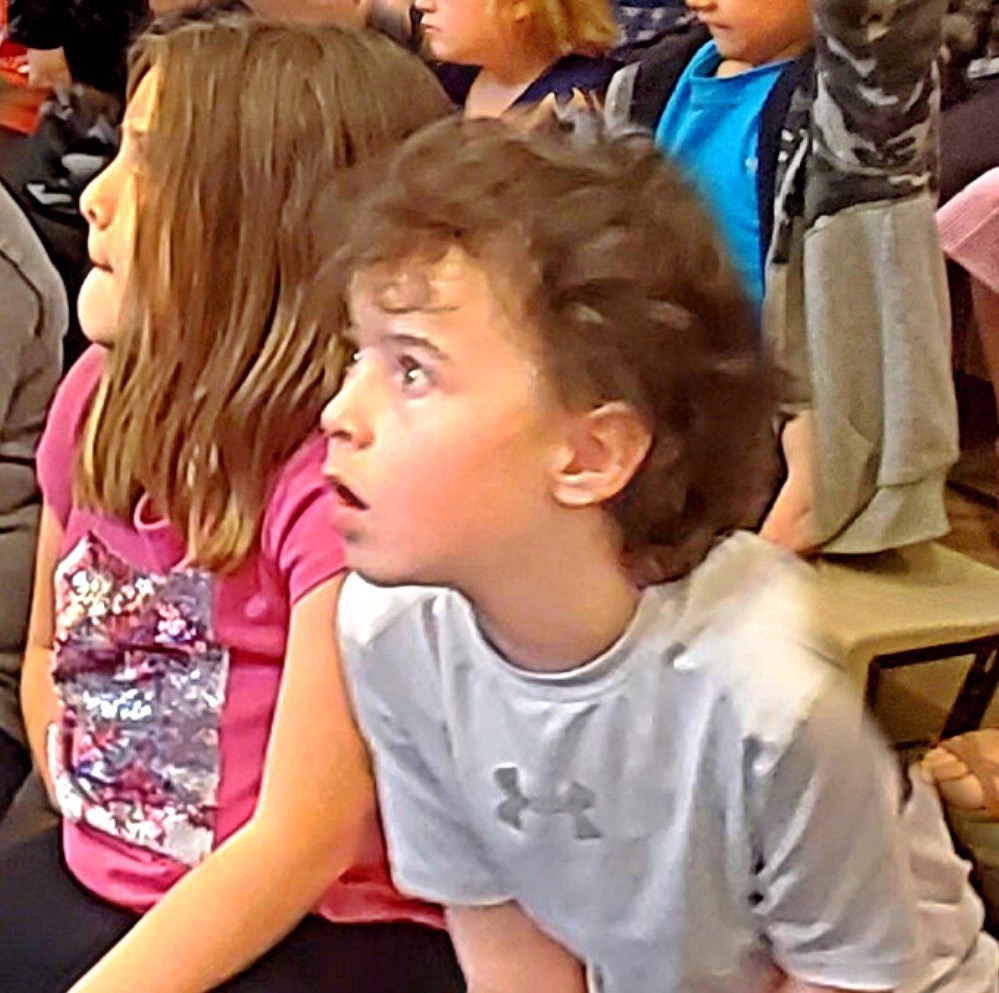 First-graders Brooklyn Score and Emmitt Massey get excited for literacy during a Jazzed about Reading assembly at Twin Lakes Elementary on Thursday. Jazzed about Reading will present to more Lakeland schools this month to encourage students and reward them for reading.
Previous
Next
RATHDRUM — Minds, books and parachutes have something in common: They function best when open.
Jazzed about Reading, a local nonprofit that celebrates literacy and cultural enrichment, is encouraging students in the Lakeland School District to open those books and minds and land themselves in the wonderful world of reading.
"It's fantastic, absolutely fantastic," JAR founder Annie Winston said Friday. "I am so grateful to have the opportunity to challenge kids with great books."
JAR visited Twin Lakes Elementary on Thursday to ignite literacy-loving sparks in first-graders during an assembly that students were jazzed to attend.
Winston read aloud from her newest book, "Ivan Von Penguinsky," a tale of a reading-challenged penguin who discovers the power of reading to achieve his dreams. Digital artist and philanthropist Alan Golub accompanied Winston, sharing the message that "reading is fun, but most importantly, it opens up your mind to a life-long love of learning."
During the assemblies, JAR offers free books, bookmarks and rewards for reading achievement.
Winston follows the model of former brain surgeon Ben Carson's mother, a struggling single parent whose son was flunking fifth grade. One day she threw out the TV, gave her son a library card and told him to read a book and write a report on it. The son did what he was told and later began to academically excel.
That same challenge is given to the students who attend JAR's assemblies. Free books are placed in their hands and book report forms are provided. Students are encouraged to read the book, write a report and receive a free ice cream cone from Rathdrum Super 1 Foods. They also receive raffle tickets to win a cruise with their whole family on Lake Coeur d'Alene Cruises.
"When we have the opportunity to have an author come in and share their love of the writing process and how it becomes a book, it can hook any kid," Twin Lakes Principal Tiffany Melton said. "I would support anything that helps kids read and find a love of reading."
Winston said JAR has now been to two Lakeland schools and will visit two more by the end of May.
Info: jazzedaboutreading@gmail.com or www.jazzedaboutreading.org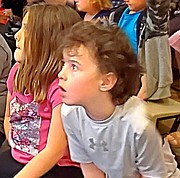 Recent Headlines
---