THE CHEAP SEATS with STEVE CAMERON: Seahawks hope wheels don't fall off this pick at slot receiver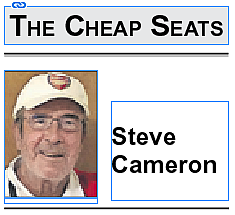 Steve Cameron Cheap Seats bug.
Let's talk body parts.
You want glamor, there's Bette Davis' eyes.
If you need something handy in the fog, how about Rudolph's red nose?
And of course, there are parts that can cause a problem, like Edward's darn Scissorhands.
But now let's move on to critical body parts — the ones that relate to the success of the Seahawks.
Like…
Phillip Dorsett's foot.
Dorsett was signed prior to last season, tasked with being the small but speedy third receiver that could give Russell Wilson that extra target alongside DK Metcalf and Tyler Lockett.
Unfortunately, Dorsett turned up at camp with a foot problem.
He was listed as day to day, then week to week.
Finally, Dorsett and his bum foot hit injured reserve on Sept. 22.
Dorsett never played a snap for Seattle, and now he's landed in Jacksonville as a free agent.
Good news for Florida podiatrists.
The Dorsett saga, however, didn't end with his departure.
The Seahawks still want that quick and dangerous slot receiver, so they tried another route.
Seattle jumped at a possibility in the draft on Friday — when No. 56 in the second round rolled around.
SAY HELLO to D'Wayne Eskridge.
The wide receiver and kick returner from Western Michigan might be just what Pete Carroll was hunting — first with the luckless Dorsett and now with Eskridge.
Some similarities in terms of speed and size are unavoidable.
Eskridge is 5-9 and 190 pounds, Dorsett goes 5-10 and 192.
Just like Dorsett, Eskridge is an explosive runner who turned in a hustling 4.38 in the 40-yard dash during his pro day.
He's always been able to go.
Eskridge won the Indiana state 100- and 200-meter dashes as a senior in high school.
Even better, D'Wayne put that speed to use at Western Michigan.
Eskridge had 121 catches for 2,244 yards and 15 touchdowns over five years.
He was granted a medical redshirt after breaking his collarbone early in 2019.
He also filled in at cornerback for a while, which gives you an idea of his athletic ability.
Assuming he can match route running with his burst, Eskridge would give Seattle something like a relay team at wide receiver.
Remember that Metcalf has turned in an almost-spooky 4.33 and Lockett has run 4.40.
Eskridge, by the way, seemed to know exactly where he was going to land.
He posted an Instagram photo before the draft announcing that he wanted to be drafted by the Seahawks, and the caption read…
"It is already written."
AS THE names began popping up in the second round, Eskridge claims that he was sure it was a done deal.
"As soon as I saw the Seahawks (on the clock), I instantly knew," he said during his first Zoom call with the Northwest media.
"It was some type of energy that came over me. And then once I saw the Washington (phone) number, I instantly stood up. I was so joyful."
Wait.
He stood up?
On both feet, with no pain?
That's a terrific start for Eskridge's Seattle adventure.
Although…
You can bet that the Seahawks checked his wheels pretty closely — given the Dorsett experience.
The new kid on the block will have to battle holdover slot receivers Freddie Swain, John Ursua and Penny Hart for playing time.
AS A kick returner (with a 100-yard TD to his credit) and effective special teams cover guy, however, it's likely we'll see a lot of Eskridge in the fall.
By the way, Seahawks GM John Schneider gave us all something to laugh about when describing how they settled on Eskridge.
"I know you guys get tired of us saying, like, 'the best available player' and all that, but it was. He was the guy,"
Schneider said.
For the record, we do get tired of it.
But what else can the GM say?
Meanwhile, John, check Eskridge's feet again — maybe one more time.
Are those bunions?
Nah.
Email: scameron@cdapress.com
Steve Cameron's "Cheap Seats" columns appear in The Press on Mondays, Wednesdays and Fridays. "Moments, Memories and Madness," his reminiscences from several decades as a sports journalist, runs each Sunday.
Steve also writes Zags Tracker, a commentary on Gonzaga basketball which is published monthly during the offseason.
Recent Headlines
---