'A beautiful tribute'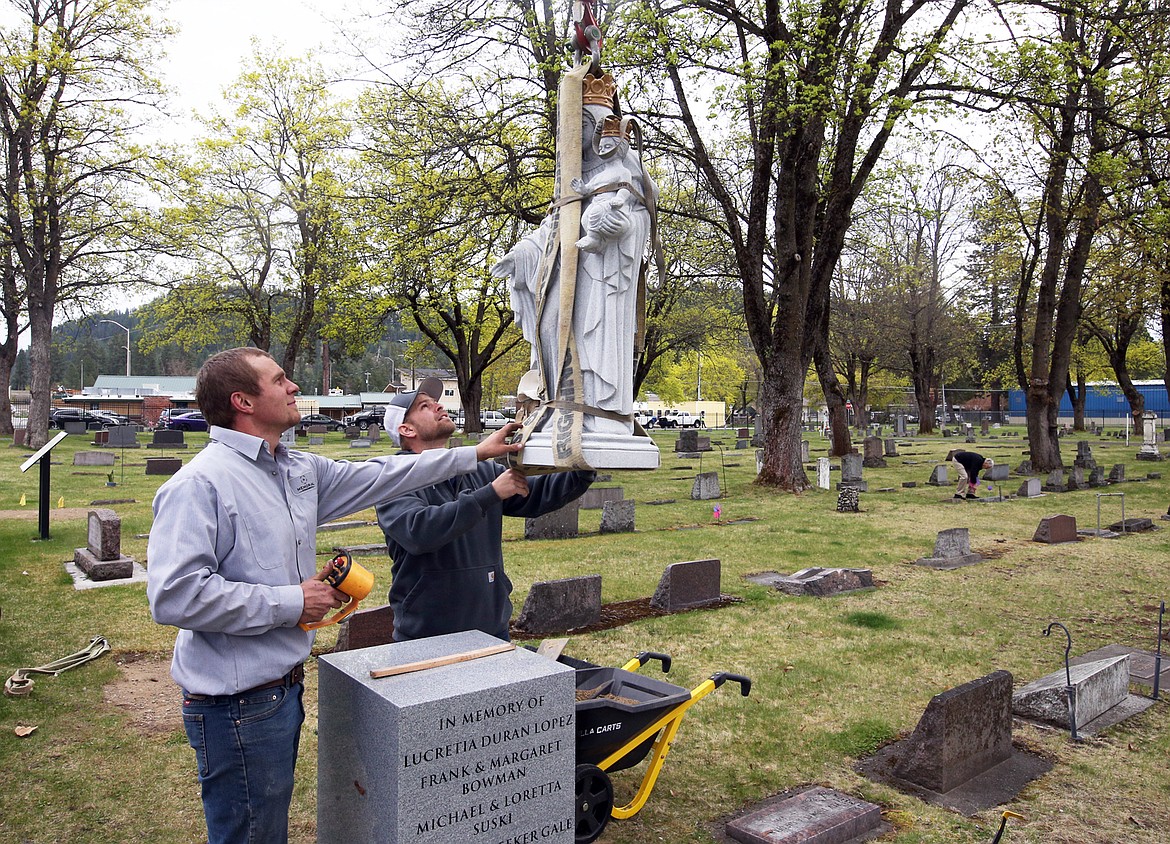 Brandon Mitchell, left, and TJ Harris with Memorial Monuments lower the new statue of Mary and Baby Jesus into place at St. Thomas Cemetery on Friday.
BILL BULEY/Press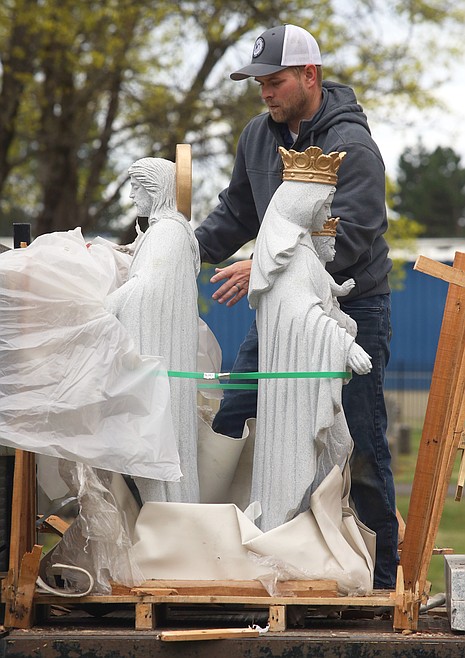 TJ Harris unwraps the new statues for St. Thomas Cemetery on Friday.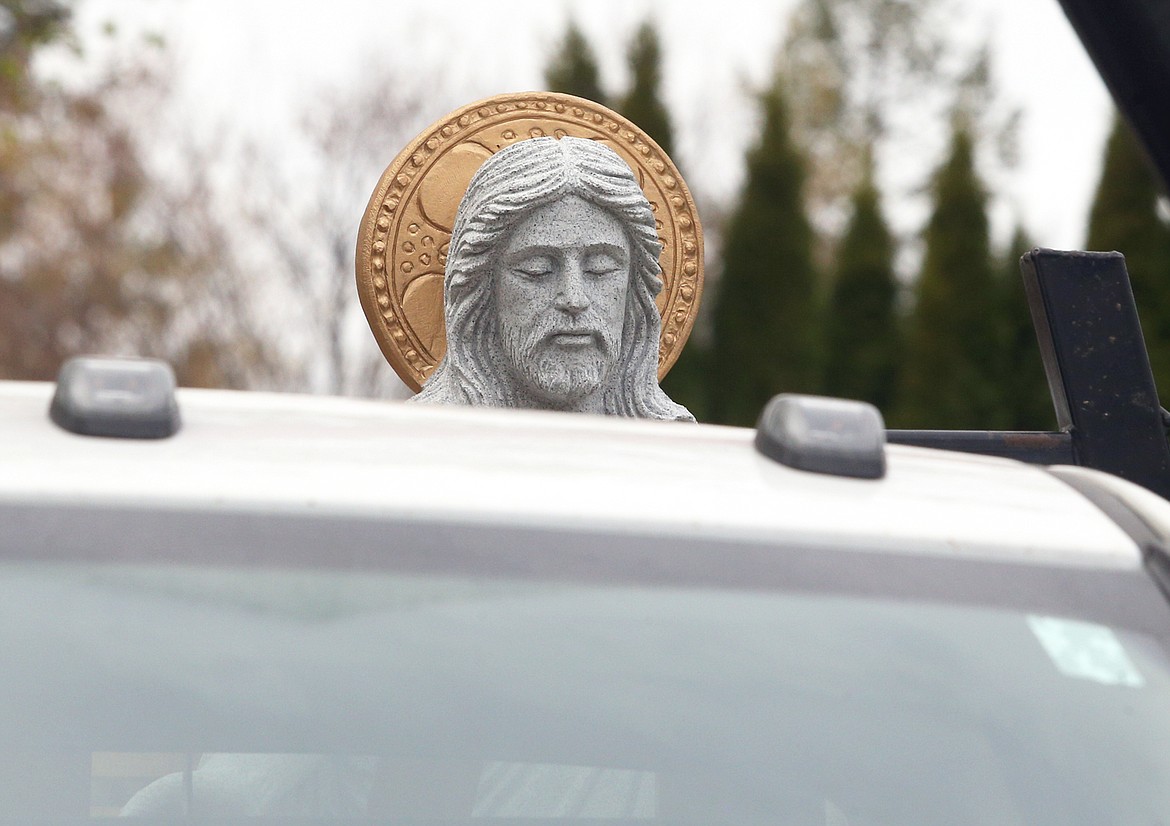 The statue of the risen Jesus waits to be put in its new home at St. Thomas Cemetery on Friday.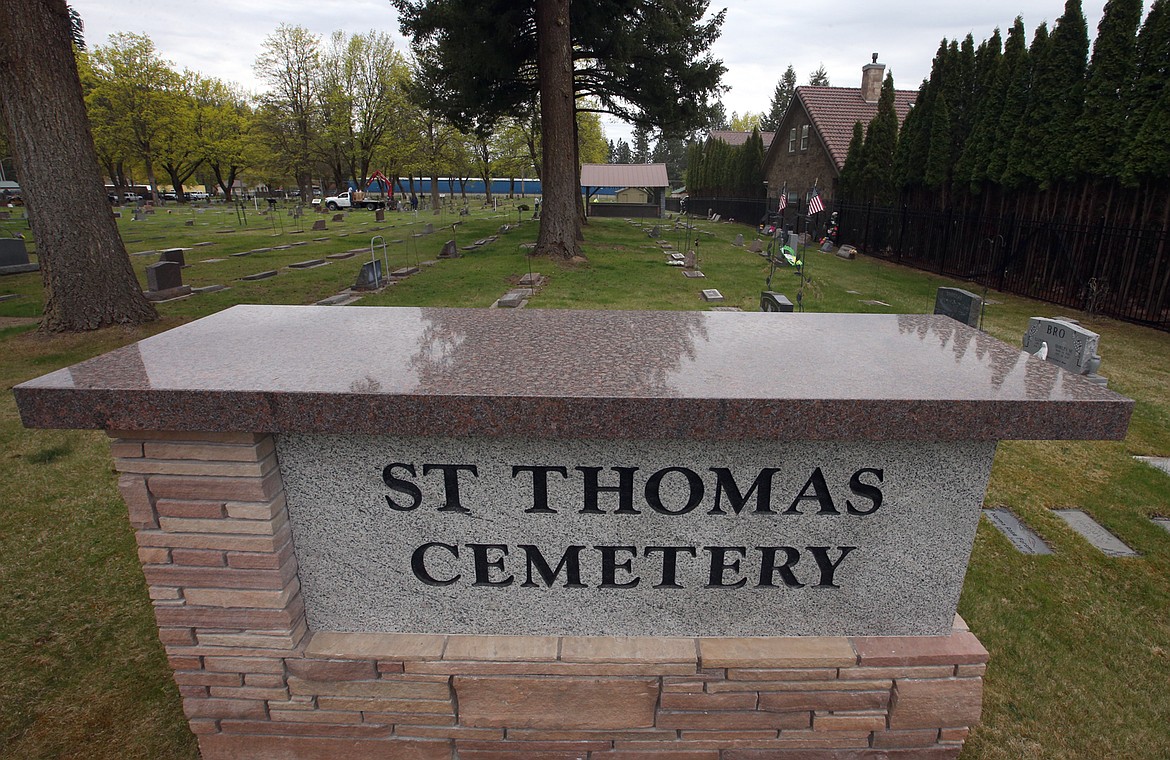 The new sign at St. Thomas Cemetery.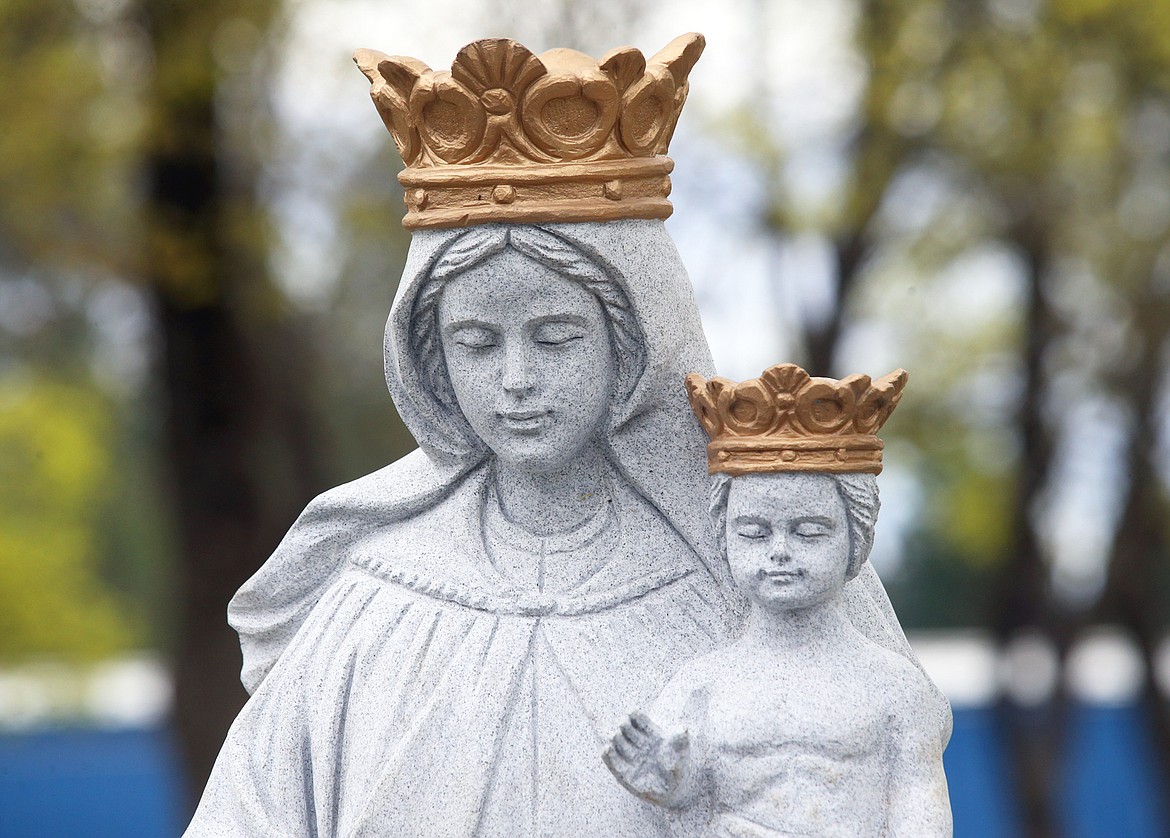 The statue of Mary and Baby Jesus put in on Friday at St. Thomas Cemetery.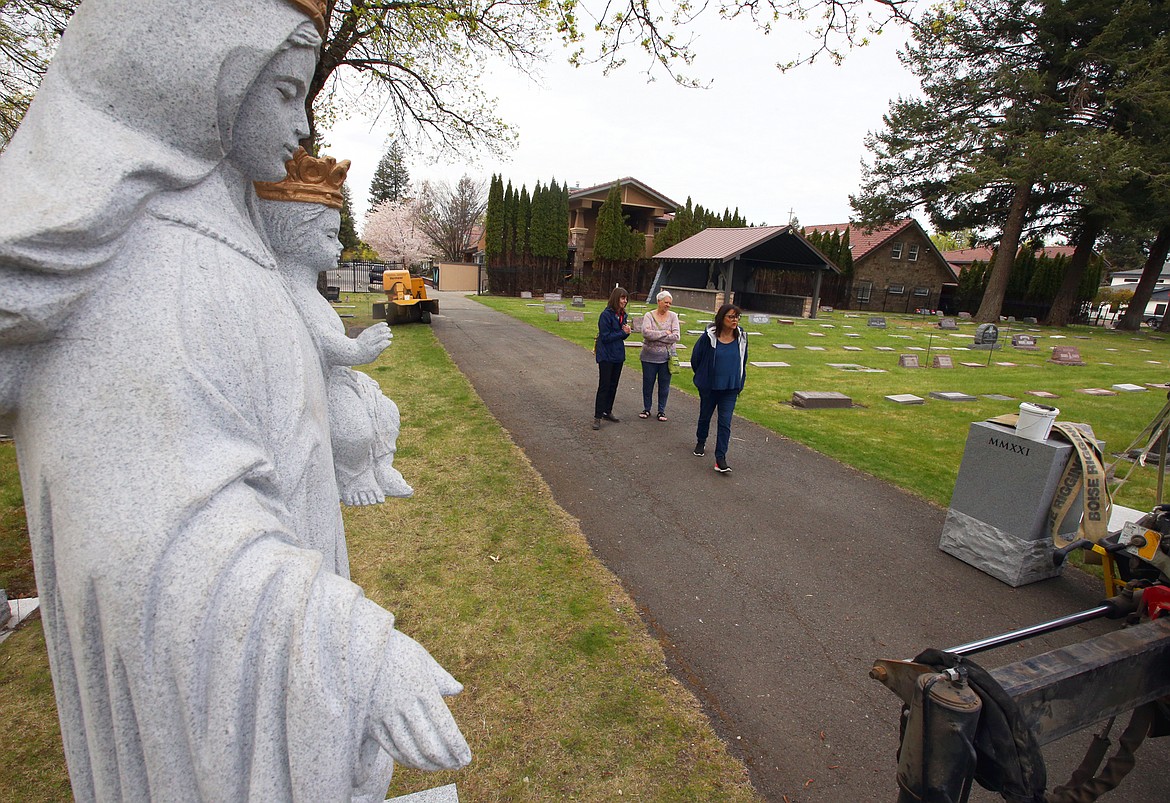 Tina Johnson, Williene Gagnon and Annemarie Lander chat as they watch the new statues being put in place at St. Thomas Cemetery on Friday.
Previous
Next
by
BILL BULEY
Staff Writer
|
May 1, 2021 1:00 AM
COEUR d'ALENE —  As Tina Johnson watched a statue of the Virgin Mary and Baby Jesus being lowered into place at St. Thomas Cemetery, she beamed with joy early Friday afternoon.
"Look at that," she said, holding her hands to her head. "It just makes me want to cry. This is so beautiful. I was just telling my husband, if you didn't see what was here before, you don't have an appreciation of how special this is."
From base to golden crowns, the new granite statue of Mary and Baby Jesus stands 7-feet tall and weighs a ton. A statue of the risen Jesus just across the pathway has the same dimensions.
Two solid granite benches were also put in on the cool, cloudy afternoon by Brandon Mitchell and TJ Harris with Memorial Monuments.
"Going good so far," Mitchell said after careful adjusting the statue on its base while a small crowd watched.
Johnson formed a committee at St. Thomas Catholic Church with the goal to bring new life to the three-acre cemetery at the east end of Sherman Avenue.
They have done well, raising more than $70,000.
Several of those committee members were on hand Friday to witness the statues on their sacred grounds, including Williene Gagnon, who has called Coeur d'Alene home since 1947.
Both sets of her grandparents, her parents and other relatives are buried at St. Thomas Cemetery, where tall trees act as sentries and where Gagnon is a frequent visitor.
"The statues we had were in very bad shape and it didn't do well for the cemetery and it's a beautiful cemetery," she said. "So putting these statues in has just made it more beautiful."
Annemarie Lander, cemetery committee member, said she was in awe of the detail in the statues and marveled at the technology that made it happen.
"This granite looks so absolutely lifelike. It's gorgeous," she said.
Nearby, crews also removed two trees as efforts to spruce up the cemetery continue.
A new fence was already installed and a new "St. Thomas Cemetery" sign facing Sherman Avenue recently replaced the older, weathered one.
Signs with QR codes were added that make it easier for people to find their loved ones.
The committee has led fundraising efforts. The statues and benches cost $33,000. The marble sign off Sherman, $5,000. Plans call for placing a statue of Jesus in the tomb, unwrapping his shroud, atop that sign.
That statue is estimate at $17,000, and so far $3,000 has been raised.
The statues of Mary and Baby Jesus and risen Jesus were purchased at Coeur d'Alene Memorial Gardens.
The shrine, built in 1991, is being renovated, too, for its 30th anniversary. Some painting has been done and a summer makeover includes granite on top of aggregate concrete and granite on the top of the altar, adding seven granite cubes for seating, artwork for the altar, and adding a chandelier.
All told, that's projected at $40,000.
A Memorial Day observance will be held at St. Thomas Cemetery, where the earliest burial was in 1890. A Civil War veteran, Frank Genett, born in 1812, died in 1910 and is buried there.
St. Thomas has two paths that lead through it and is where some locals take walks, reflect, and pray. Friday, a man delivered colorful pinwheels to two gravesite, pausing over each.
Johnson said there are 3,045 people buried at St. Thomas Cemetery. The statues are "a beautiful tribute to the people who are buried here," she said.
Info: cemetery@stthomascda.org and 208-664-9259, Ext. 3
Recent Headlines
---