Tornado season ramping up in the U.S.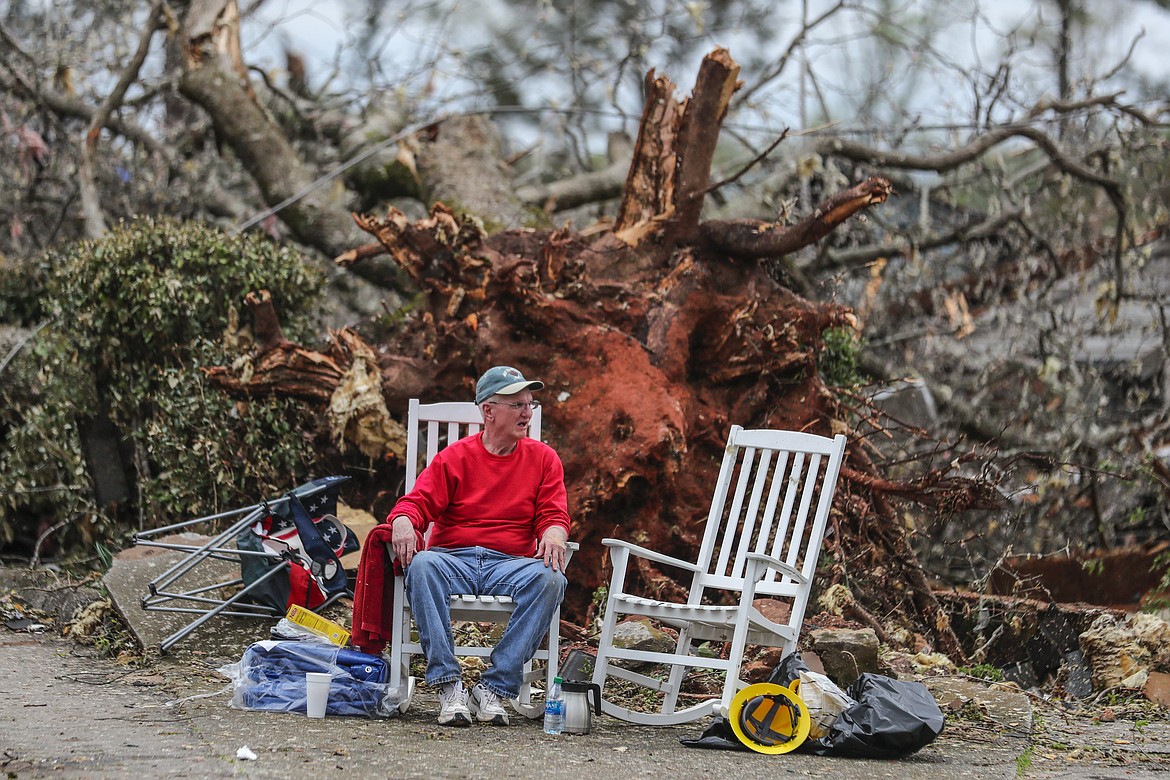 Steven West rests in front of a large tree that fell between his home and his relatives home next door to him, Friday, March 26, 2022, in Newnan, Ga., the day after a dangerous tornado moved through the area, (John Spink/Atlanta Journal-Constitution via AP)
by
RANDY MANN/Weather or Not
|
March 29, 2021 1:10 AM
We're into the early days of spring and the chances for thunderstorms and severe weather start to increase. Last night's storm was expected to produce very strong winds across the region. However, later this week, conditions are looking calmer and temperatures will be warming up into the 60s in the lower elevations.
We did get more snow in late March in Coeur d'Alene and the rest of the Inland Empire. As of Saturday, Cliff measured 4.5 inches of snow in March, for a total of 58.2 inches for the season. Considering we had very little snow in the middle of winter, it's a decent total.
Depending on Sunday's storm and another system we're watching in the first 10 days of April, it's possible that we could end up at or above 60 inches for the season. Unless there is a big surprise in April, we should be below the 69.8-inch seasonal normal in Coeur d'Alene.
At the Spokane International Airport, it will be an above-normal snowfall season as 50.1 inches was measured. Their seasonal normal for snow is around 45 inches. It's very unusual to see Spokane have an above-normal snowfall season when Coeur d'Alene's is below average.
For the upcoming spring season, it does look like we'll have temperatures near normal levels between now and early June. Precipitation should be a little below normal levels.
Cliff and I still see a pattern with periods of extended dry and wet weather, very similar to what we've seen. For example, the first three weeks of March were the driest and most snowless in history. Recent storms have pushed our monthly March precipitation total to just over one inch. The normal for this month is 1.94 inches.
As I've reported earlier, there is a huge drought pattern in the western U.S. that recently expanded into the central portions of the country. Not much moisture is expected in California as their rainy season is coming to an end, so, unfortunately, it looks like another rough fire season ahead.
North Idaho seems to be on the edge of this weather pattern, but we do see the big high pressure ridge weakening from time to time over the next three months to allow some moisture into the region during the spring season.
In the meantime, most of the rain and thunderstorm activity has been over the eastern third of the country, especially in the Deep South. Since the middle of the month, there have been two outbreaks of tornadoes with Alabama being hit the hardest.
The first outbreak was from March 16-18 as 48 twisters were reported. The strongest was an EF2 as most of them were in Alabama. The second outbreak occurred on March 24-26 as there were 12 confirmed tornadoes in the Deep South. The strongest was an EF4 which hit Newnan, Georgia.
January and February had a below-average number of twisters in the U.S. In March, there are an average of 80 tornadoes each year. For the first three months of 2021, there have been 101 confirmed tornadoes in the U.S., but the National Weather Service states there are 162 preliminary reports of tornadoes, so the confirmed total may go up.
In an average year, there are about 1,250 tornadoes sighted in the U.S., more than any other place in the world. In 2020, there were a below-normal 1,022 twisters that resulted in about $4.4 billion in damage. More than 60 percent of all U.S. tornadoes each year occur in what is called, "Tornado Alley," which stretches from Texas and Oklahoma northward through Kansas and eastern Colorado into Nebraska and Iowa.
April of 2020 was a very active and destructive month for tornadoes. On April 12-13, there were 140 tornadoes that formed from Texas to Maryland. EF4 twisters, the second highest on the Fujita scale, were seen in Mississippi and South Carolina. It was the deadliest outbreak since late April in 2014. The following week, April 19-20, more violent tornadoes were reported in the southern U.S. The next outbreak occurred on April 22-23 as 45 confirmed tornadoes were seen across the South.
Most years, May is the most active month for tornadoes in the U.S. with an average of 276. Texas has the highest total with 43. In Idaho, Washington, Oregon and California, the average number of twisters in May is one.
Fortunately, in the calmer Inland Northwest, the Cascade Mountains to the west and the Rockies to the east usually protect us from the extremely powerful thunderstorm activity. But, every spring season, and sometimes during the hot summer months, we do see an occasional period of extreme weather conditions, even during drought patterns.
The average number of days when North Idaho sees severe weather is less than one. However, in April, we normally see one day with a thunderstorm. May is the highest month with 5 days with thunderstorms.
• • •
Contact Randy Mann at randy@longrangeweather.com
---