You want it? You got it: Panhandle Health opens COVID-19 vaccine to all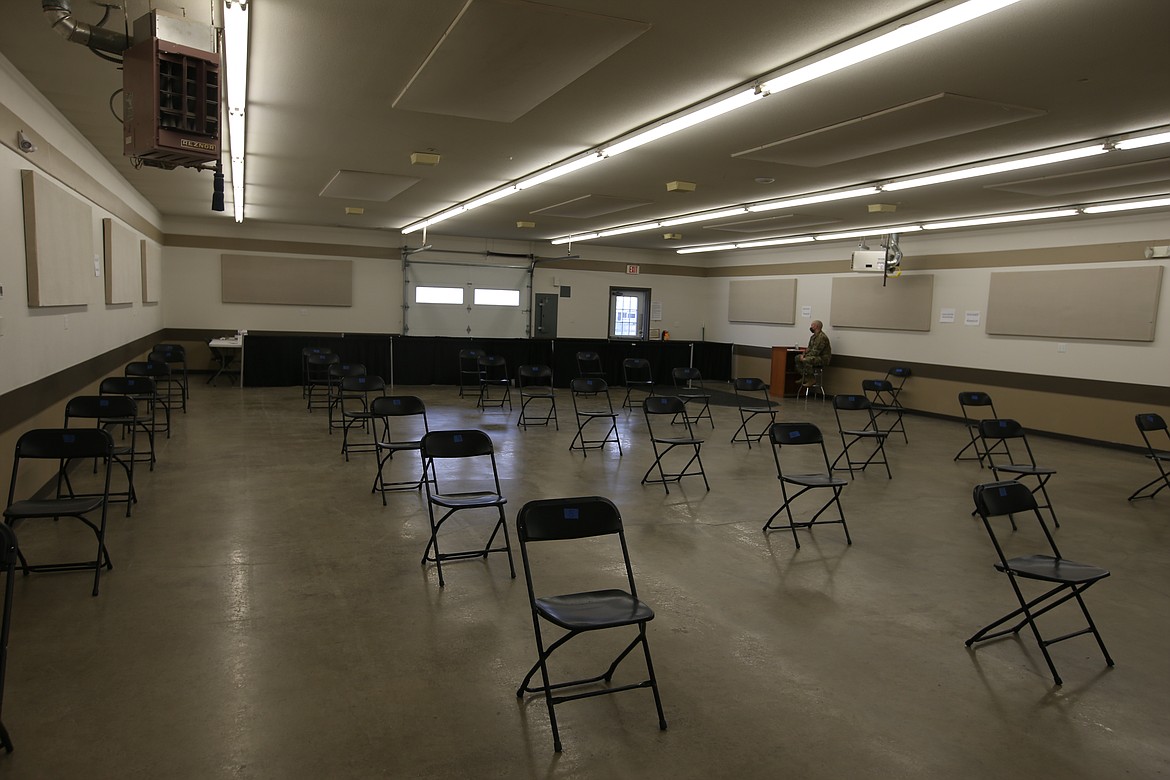 Sgt. Cory Pinque of the Idaho National Guard waits patiently for patients who scheduled their COVID-19 vaccine Wednesday at the Kootenai County Fairgrounds. With demand diminishing drastically, Panhandle Health announced it has opened up vaccinations to anyone 16 and older. (CRAIG NORTHRUP/Press)
by
CRAIG NORTHRUP
Staff Writer
|
March 25, 2021 1:09 AM
The steady supply and waning demand of local COVID-19 vaccines have led local health officials to open up the doses to anyone who wants it, regardless of age or health condition, effective immediately.
In a statement released Wednesday afternoon, Panhandle Health officials said the initial targeted rollout of the vaccine led to a slowdown in appointment slots, leading to the decision to open up vaccinations to anyone other than children.
"After assessing the situation with our enrolled vaccine providers, we made the decision as a group to move forward in the phases," said Panhandle Health Services Division Administrator Don Duffy. "We have the supply and available appointments, but have continued to see a decline in demand. At the end of the day, we just want to get people vaccinated who are choosing to receive a vaccine."
At 1:27 p.m. Wednesday, the moment Panhandle Health released the statement, the health district's vaccination station at the Kootenai County Fairgrounds in Coeur d'Alene was nearly empty of patients. While on-site officials said the lull in demand was a temporary blip, they added that the slowing number of residents looking to get vaccinated represents a trend.
Kootenai Health announced on its website and through its social media platforms Wednesday affirming that claim, as the community hospital will close its mass vaccination site. Kootenai Health will continue to issue second doses to those who already received their first shots, but effective immediately, new vaccinations will no longer be scheduled through the hospital.
"Thankfully, vaccine supply is increasing rapidly and more and more locations, including common retailers like Walgreens and Walmart, are now equipped with the resources and staff to be able to administer this essential vaccine for our community," Kootenai Health's statement reads.
Many retailers have said they'll follow Panhandle's newest guidelines, but some added that technicalities might prevent everyone eligible from getting a dose right away.
A spokesperson for Albertsons and Safeway, for example, told the Coeur d'Alene Press that, while the grocers' seven locations will gladly abide by Panhandle Health's decision, logistical concerns will only limit the companies' ability to vaccinate to North Idaho adults 18 and older, at least for the time being.
"Something to keep in mind is, the vaccine available at our locations right now is Moderna," said Tarisa Worman, public affairs manager for the grocery stores. "That vaccine is only authorized for people 18 and older. A week from now? That could change, but right now, those seven stores only have Moderna, which means we can't vaccinate someone younger until we get Pfizer [doses]."
Wednesday's moves represent the fastest eligibility waiver since the vaccine was first introduced to North Idaho in December. When the sun rose over North Idaho on Wednesday, only those 55 years of age or older in the five northernmost counties qualified for the vaccine, with residents 45 or older and diagnosed with an underlying health condition waiting patiently for their eligibility next Monday.
But Gov. Brad Little announced Wednesday morning that his Department of Health and Welfare was accelerating the timeline dramatically, approving any Idahoan 16 or older with a health condition to become eligible on Monday, with all Idahoans 16 or older — regardless of their health — becoming eligible April 5.
"Folks, with each passing week, as more and more Idahoans choose to get vaccinated, we get closer to returning to normal," Little said. "The COVID vaccine really is our best shot at protecting jobs, saving lives and keeping our kids in schools."
Less than three hours later, Panhandle Health opened up eligibility to anyone 16 and older. Moments after the announcement, this reporter was offered a dose by the idle staff and National Guard support at the Fairgrounds vaccination site — twice.
On March 11, President Joe Biden called for all states to open eligibility to anyone 16 and older no later than May 1. At least 40 states are looking to outpace that deadline.
Katherine Hoyer, public information officer for Panhandle Health, said she expects an increase in local demand with the new policy, but demand will eventually die down.
"Well, we know that we need to reach 70 to 80 percent to reach herd immunity," Hoyer said. "But we would expect that demand would wane before that as, hopefully, more people are vaccinated."
According to social scientists, demand will also fade as the remaining unvaccinated population percentages reflect a larger slice of those skeptical of both the vaccines and COVID-19, a population Little recommended should seek advice from medical experts.
"If you are still unsure about the vaccine, I encourage you to talk to your doctor or health care provider," Little said. "There are good reasons most of them did not hesitate to receive their vaccine weeks ago."
Little wasn't alone. Master Sgt. Stephan Asher of the Idaho Air National Guard was at Panhandle Health's Fairgrounds site Wednesday to help facilitate dose administration. He said the sooner Idahoans get vaccinated, the sooner life will return to some semblance of normal.
"Just get it done," he said. "Let's get this whole COVID thing behind us so we can move forward."
If you'd like to schedule an appointment to get vaccinated, visit panhandlehealthdistrict.org and schedule at any of its clinics nearest you.
You can also view a map of all enrolled providers from Panhandle Health's website, as well, if you wish to schedule with another provider.
For those without internet access, please call 877-415-5225.
---