Cd'A theater stays dark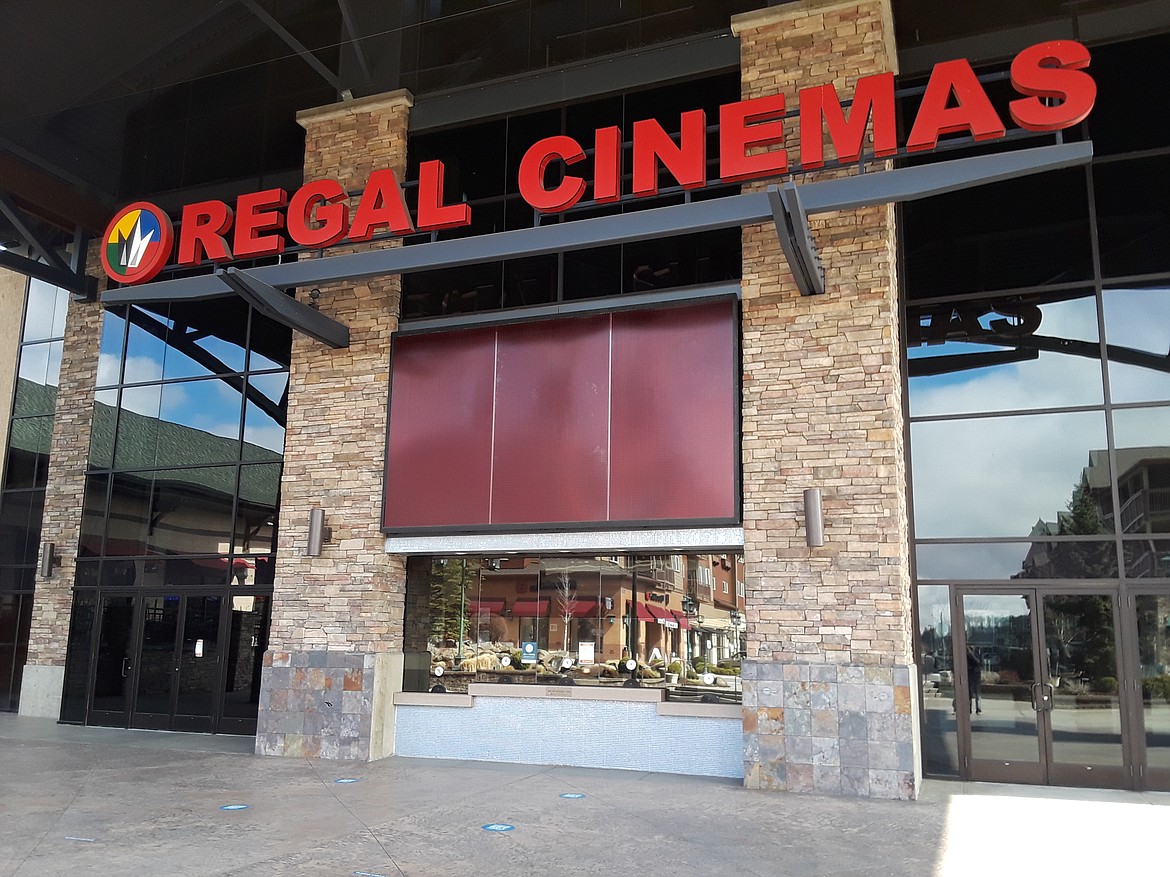 Regal Riverstone has been closed for roughly nine of the last 12 months due to COVID-19. Neighboring businesses remain hopeful the theater will open soon, this after an announcement from Regal's parent company it will re-open some theaters as early as April 1. (CRAIG NORTHRUP/Press)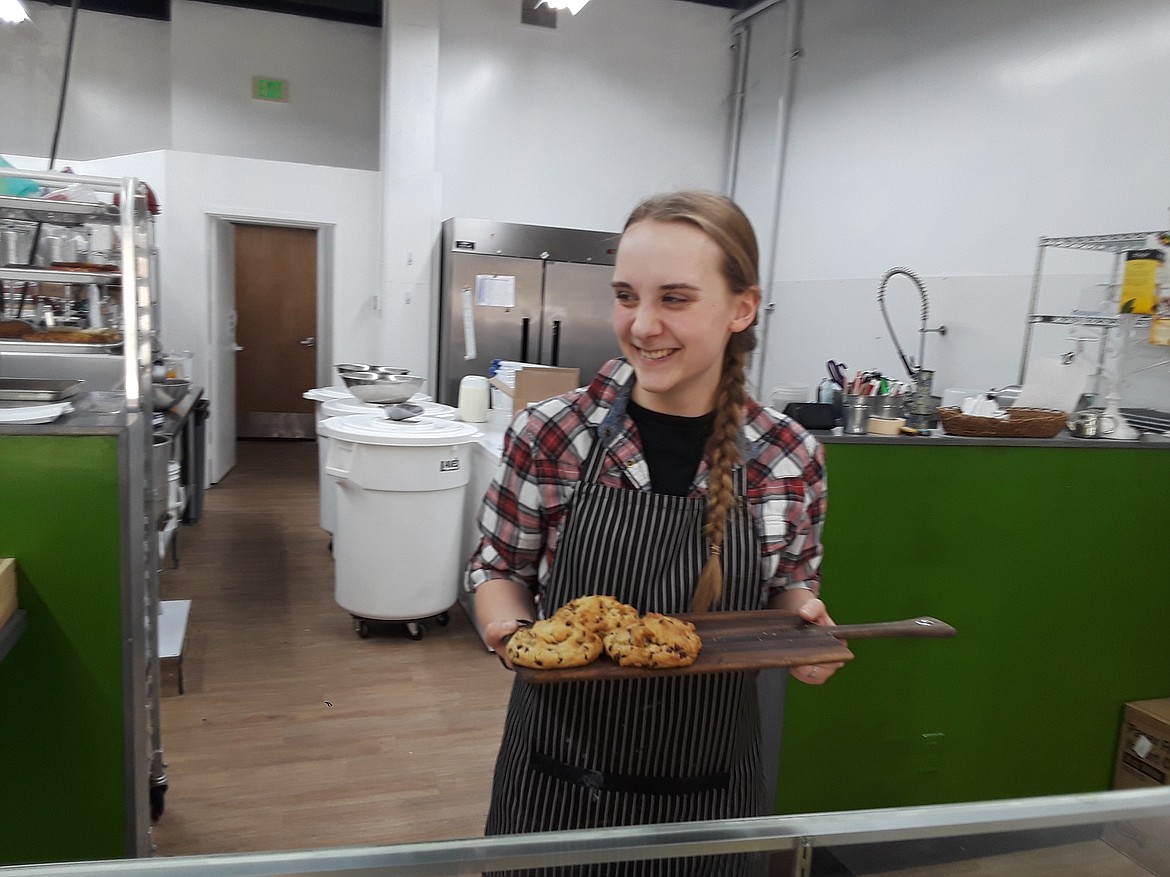 Izzy Epps, baker at the Bear Paw Cookies in Riverstone, pulls out a tray of the bakery's famous chocolate chip cookies for a customer Monday. While the aroma is delightful enough to lure in passers-by, Epps said the scent of freshly-baked cookies can only travel so far. "Foot traffic is a big thing," she said. "That's normally how people find us." CRAIG NORTHRUP/Press)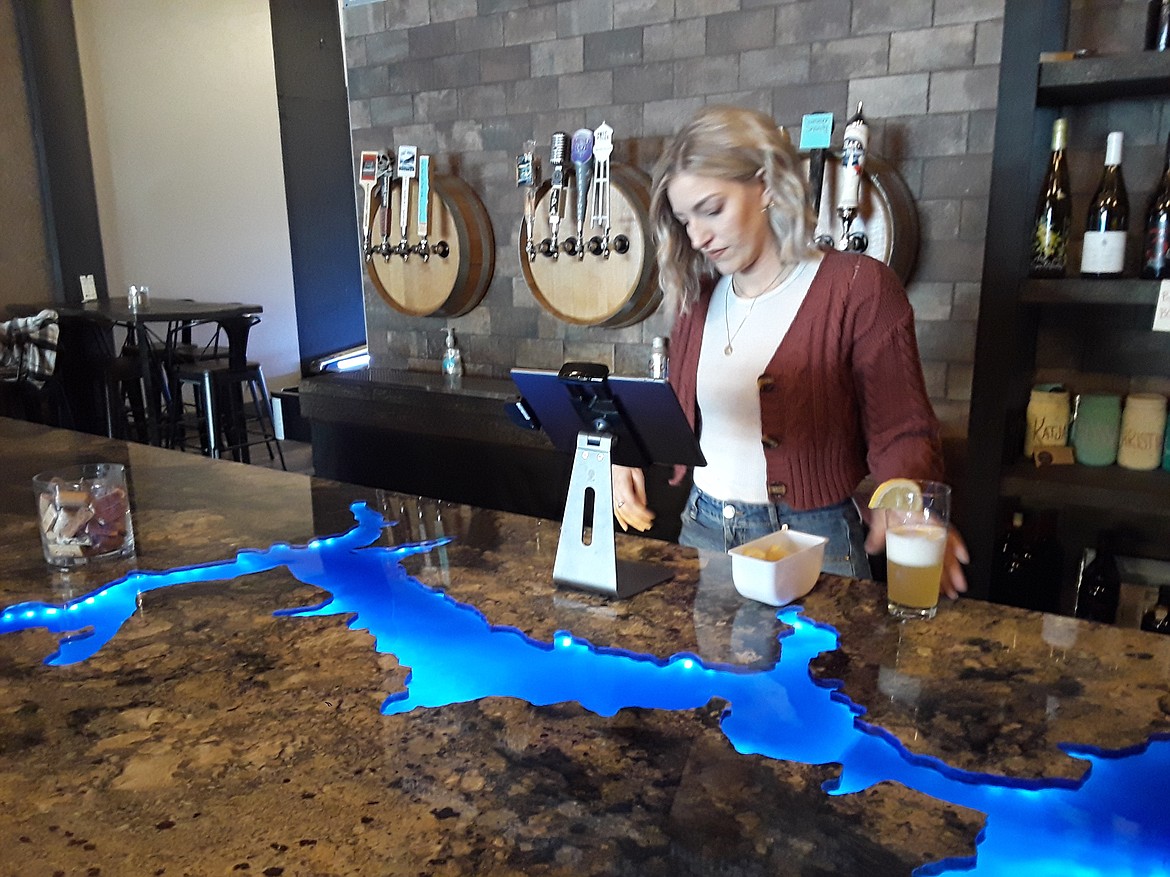 Katja Bartsch minds the till at the Cork & Tap Monday afternoon. The general manager of the popular Riverstone wine bar said her fellow Riverstone businesses have been suffering from the foot traffic the nearby Regal theater once provided. (CRAIG NORTHRUP/Press)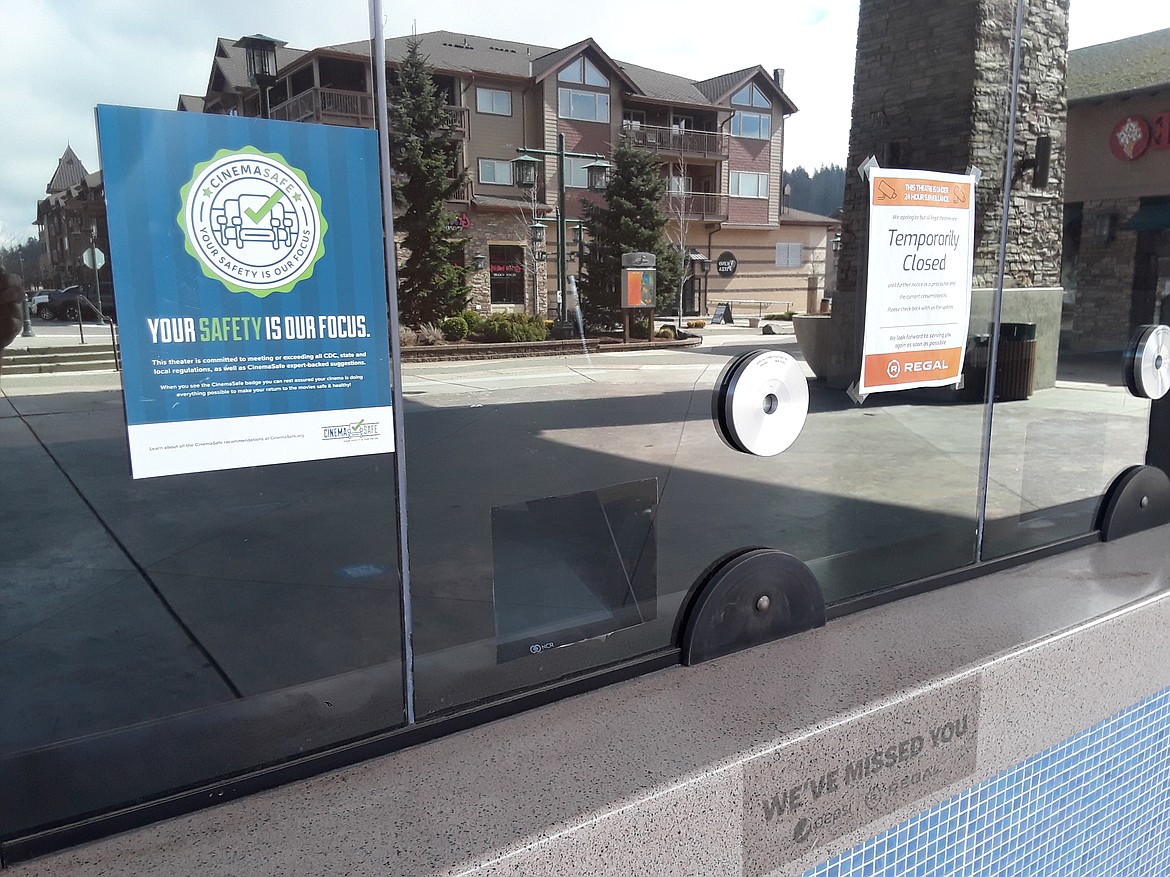 Only a few informative signs and the reflection of neighboring businesses can be seen along the glass of the Regal Riverstone box office. The popular theater initially closed because of the pandemic in March of 2020, opening briefly in late August before shuttering again. (CRAIG NORTHRUP/Press)
Previous
Next
by
CRAIG NORTHRUP
Staff Writer
|
March 24, 2021 1:09 AM
COEUR d'ALENE — Izzy Epps' face lit up when she first heard the news. She bounced up and down on her toes and clapped her hands in gleeful anticipation.
"Are they really opening back up?" the baker for Bear Paw Cookies in Coeur d'Alene asked.
While Regal Cinema is likely opening more than a year after the COVID-19 pandemic swept the world, Epps' expectations were quickly squelched.
Yes, Regal's parent company announced it's opening some theaters on April 1.
No, the Coeur d'Alene theater — not 400 feet from Bear Paw's delicious aroma in the Riverstone complex — will likely not be on that initial list.
"Regal opening back up would mean a lot more business and a lot more people coming to see our cookies," Epps said. "Regal brings in a lot of people to see our clothing shops, the yogurt place, our cookies. It would bring a lot more people to come in and see us, because it gets a lot of people moving around. People wanting to get a dessert before their movie or after their movie would be really cool."
Regal Riverstone closed down alongside all Regal and Cinemark theaters on March 19, 2020, as the virus arrived in many states across the country, Idaho included.
The local theater opened briefly in late summer before closing once again in October as COVID-19 surged. But now, as vaccination rates are outpacing new cases, the movie industry hopes to return to business as usual, even if capacity will be limited.
"With capacity restrictions expanding to 50 percent or more across most U.S. states, we will be able to operate profitably in our biggest markets," Cineworld Chief Executive Officer Mooky Greidinger said in a statement.
Cineworld and Regal media point-people did not respond to questions from the Coeur d'Alene Press asking if the Riverstone theater would be on the list of theaters to open on either of Cineworld's target dates of April 1 or April 15.
Those dates weren't chosen by accident: April 1 falls on a Thursday, one day before the opening of the monster movie "Godzilla vs. Kong." Likewise, "Mortal Kombat" opens on April 16. Once considered shoo-ins for big box office returns, both Regal and Warner Bros. — the films' distributor — are hoping the two movies will carry Hollywood back onto the big screen in a post-pandemic world.
So what evidence suggests Coeur d'Alene will not be on the list of theaters that will open April 1? The parking spaces reportedly reserved for Regal staff are vacant. The theater's lobby remains dark and empty. But the tell-tale sign moviegoers are relying on to determine whether their Regal will open can be found online.
Cinemark said in its statement tickets for Godzilla vs. Kong and Mortal Kombat are available to pre-order in markets where Regal theaters are re-opening. As of 2:45 p.m. Monday, no such option for Regal Riverstone was available.
But local movie lovers looking for Godzilla to battle King Kong or street brawlers to fight to the death can still enjoy those films, as both will be shown at Hayden Cinema. Its general manager, Mike Lehosit, said the return of the blockbuster shouldn't be read into quite so closely.
When Regal Riverstone abruptly closed with the onset of COVID-19, Hayden Cinema stayed open for as long as it could. After a brief closure and gradual re-opening — with Lehosit still trying to keep employees paid through the pandemic by selling popcorn through his front-facing box office, renting out theaters to private groups and opening up a still-successful outdoor drive-in theater before finally returning to indoor showings over the summer — Hayden Cinema earned first-run movie rights. He said the movie landscape has to reveal itself before he commits to returning to the discount cinema model.
"There just is not enough movie product out there right now to know what we will do or can do," he said. "Most of the major studios continue to change plans on if they will open movies theatrical or go streaming."
Lehosit pointed to Monday's other announcement to support his argument.
The same day Regal announced it's returning to U.S. theaters, Disney announced it's rolling back launch dates of its more anticipated films. The financial crown jewel of that company's upcoming schedule — "Black Widow," the first installment in the newest phase of the Marvel Cinematic Universe — just pushed its release date from late May to July 9.
Neither Disney nor Warner Bros. is putting all their eggs into the box office basket. Warner Bros. is already in the midst of a deal with HBO Max to stream new movies the same day of their theatrical release.
Monday's announcement from Disney included the news that — for an additional fee — viewers still not comfortable with returning to the big screen could stream the company's upcoming releases on the small screen, courtesy of Disney+.
But the Riverstone businesses are quietly crossing their fingers that Regal will return. Katja Bartsch, general manager of the Cork & Tap, said the Riverstone wine bar shut down in February 2020 for a planned remodel and re-opened in May 2020 to a landscape that couldn't factor in Regal foot traffic anymore, particularly from a noteworthy audience Riverstone businesses could traditionally count on: families.
"Honestly, it would bring that family aspect back to Riverstone," Bartsch said in her near-empty wine bar during Monday's noon hour. "We've kind of seen it lack a little bit. We just don't see families much anymore, unless they're going to Grooveberries or Cold Stone [Creamery]. Regal opening back up would help with foot traffic. People would want to come down here more. We love having the shops be full and seats be filled."
Regal's eventual re-opening is something Epps, the Bear Paw baker, would love to see once again.
"Foot traffic is a big thing," she said. "That's normally how people find us. With our Sherman location, it's easier, because downtown is a big draw. Word-of-mouth is bringing people here right now. But foot traffic is definitely a big, big draw for us at Riverstone."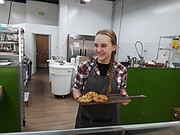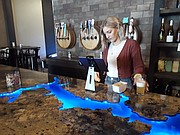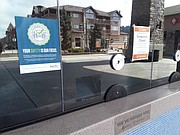 ---