Neighborhood of the Week takes a swing
by
TYLER WILSON/Special to The Press
|
March 21, 2021 1:00 AM
Time to dig the clubs out of the garage.
Whenever it doesn't snow for an extended period of time (knock on wood), many residents get a hankering for a round of spring golf. For some, living on a golf course is the Endgame, compared to say, living on the lake or ocean or a mountain surrounded by massive acreage. Some folks just want to be able to walk right onto the golf course.
As with everything in North Idaho right now, there isn't much currently available, and you can expect to pay a premium.
With a view of the Coeur d'Alene Public Golf Course, a recently available home in the Fairway Hills neighborhood comes with five bedrooms, four bathrooms, three separate living spaces and more than 3,500 square feet. Listed price: $895,000.
Also in Fairway Hills is an immaculately remodeled four-bedroom home with more than 2,100 square feet, plus a large shop and oversized garage listed at 100 cents under $800,000.
And look, that's everything listed there right now… unless you count one a few blocks out that's got more than 4,500 square feet and is ticketed for nearly $1.8 million.
Meanwhile, Ponderosa Springs closer to downtown Coeur d'Alene off 15th Street serves as an excellent "starter" course for golfers with its Par-3 setup. There's a lot listed in the area with views of the course priced at just under $100,000.
OK, so we head to Post Falls and the ever in-demand Highlands community and the Highlands golf course. Neighborhoods here include the Highland Park Estates and the gated community of Glengarry Estates. And at this moment… nothing is listed. Whoops. Nevermind. Forget we mentioned it.
We move onto the next Post Falls golf course, Prairie Falls Golf Club, located off Spokane Street near Prairie Avenue. Here we're limited to one active listing — a four-bedroom, 2,100-square-foot home off Brookie adjacent to the second hole with views of the course listed at $695,000. It also comes with a family membership to the course.
If you're OK with being a few blocks away from the course, you can also consider a rancher near Syringa Park with four bedrooms and 1,600 square feet that's priced at $449,000 (after a recent price cut).
You can also head north to The Links off Chase Road near Highway 53 and… OK, not seeing much available here outside nearby land options.
Maybe we should head to Hayden. Hayden has golf course homes right? OK, seriously, what's going on here? Is my internet broken?
Maybe just buy a little further away, save some money, get your own golf cart and ride down to the course like all those folks in Liberty Lake. Yes, they have three golf courses within close proximity of each other, but man, it's like there's more golf carts than cars over there.
Or play a video game? There's new Tiger Woods or Mario Golf games coming soon.
• • •
Let us know about more standout neighborhoods and developments that we may feature in an upcoming Neighborhood of the Week. Contact Tyler Wilson at twilson@cdapress.com.
Real Estate Agents, take advantage of Neighborhood of the Week by sending in your suggestions for featured areas, including sites outside the normal confines of Coeur d'Alene, Post Falls and Hayden.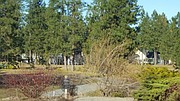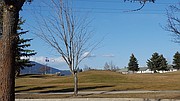 ---