Future of Fitness
What if it were possible to reach your fitness goals at home while committing no more than two days a week with no weights or machines?
What if you could just put on a suit that makes you feel and even look like a superhero?
Katalyst is a company that has created a workout suit that uses what is known as Electro Muscle Stimulation (EMS) technology. Believe it or not this technology has been all over Europe, especially Germany for over 30 years with EMS studios as popular as yoga.
In 2012, Katalyst founder and CEO Bjoern Woltermann was introduced to full-body Electro Muscle Stimulation training. Realizing the potential of this technology, Bjoern founded Katalyst.
"Fitness has experienced very little innovation for millennia," Woltermann said.
He said consumers spend about $37 billion on gym memberships and equipment and motivational workout programs every year. All still require the same fundamental ingredients: lifting heavier, running faster and working harder, for longer periods of time.
With more than 70% of Americans failing to meet the CDC's minimum activity guidelines, "it's clear that traditional fitness only works for a fraction of the population. And that was before the COVID-19 pandemic," Woltermann said.
Although North Idahoans are not facing the same lockdown restrictions as most states, the concept of working out from home has increased in popularity.
Woltermann illuminates the difference.
"When you engage in physical activity, whether lifting weights or unloading groceries from the car, your skeletal muscles contract. Each contraction begins with a signal that is sent from your brain to your motor nerves. This signal then forces your muscles to contract in order to move the object. When using EMS, the motor nerve receives the signal from the device instead of the brain, and the muscle cannot tell the difference. This is why it is possible to train muscles using EMS."
Katalyst offers four different modalities including strength, power, cardio and recovery training.
Because it is an FDA-regulated medical device, however, it is for adult use only.
He said because there is no impact on your joints or injury risk, Katalyst can help improve fitness through every stage of life.

"As we like to say, 'from 18 to 80!'" he said.
Coeur d'Alene local Bailey Heckel, vice president of operations at Katalyst, became involved with the company through personal experience.
"It was like nothing I had ever done before. But what really caught my attention was the implications of what this product could do for all kinds of people - at all kinds of fitness levels. I knew I needed to be a part of this company so I stayed in touch with the CEO. I was persistent and joined the team about two years ago."
And she believes it works.
"I feel like I've been able to reset my lifestyle with my health and fitness goals back in as a priority," she said.
Mike Larsen, a CDA local fitness instructor, was recommended the suit by a co-worker and has decided to use it several times a week.
"I have been a group fitness instructor and trainer for years and they thought I would be a good judge of the technology," Larsen said. "The first time I tried it I was sore after only one 20-minute workout, that is not the only sign you had a good workout but it was clear my body was challenged."
He found it efficient.
"All you need are workout shoes," he said.
I was able to experience this one of a kind workout as part of my research for this article. From start to finish it's less than a 30-minute process.
First, I put on the base layer, a comfortable moisture absorbent material which the suit goes over. The suit is then sprayed down with water to ensure proper electro stimulation.
Once it's strapped into place, the device is linked to the app where a fitness instructor explains everything via videos.
The workout is customizable so if it's abs day you can bump up the stimulation or if you're feeling a little too intense you can always turn down the frequency of isolated muscle groups.
The workout itself can be controlled by the virtual fitness instructor or manually. I did 20 minutes strength training and 10 minutes cardio and three days post workout I feel like a superhero, albeit a sore one. Not to mention I had one of the deepest night's rest as I was pleasantly exhausted.
With a background in massage therapy, I can say this kind of technology is going to do more for your body than a workout.
I think a mindfulness practice like yoga and meditation also complement usage, as well as other forms of working out like Peloton or Pilates. Just put on the suit for added benefits!
"It's super important to us to bring this product back to the local community," Heckel adds. "it has been local support that has made the biggest difference to our success so far."
Katalyst is holding a launch event this weekend at the Innovation Den in downtown Coeur d'Alene so people try a workout.
The company has big plans for the future.
Woltermann said Katalyst is studying the positive impact of using Katalyst on specialized populations like professional athletes, military and adaptive athletes.
"We see enormous opportunity to serve a mainstream market and to make fitness more accessible to the general population," he said.
Heckle believes it could help create a future of people who feel like superheroes.
"How you feel in your body is one of, if not the most important factor in the quality of life equation," she said. "Everyone needs a fitness regime that meets them where they are at."
Info: www.Katalyst.fit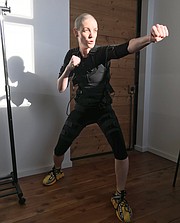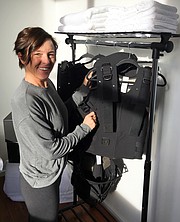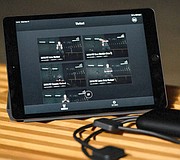 ---