Idaho's next initiative could be medical marijuana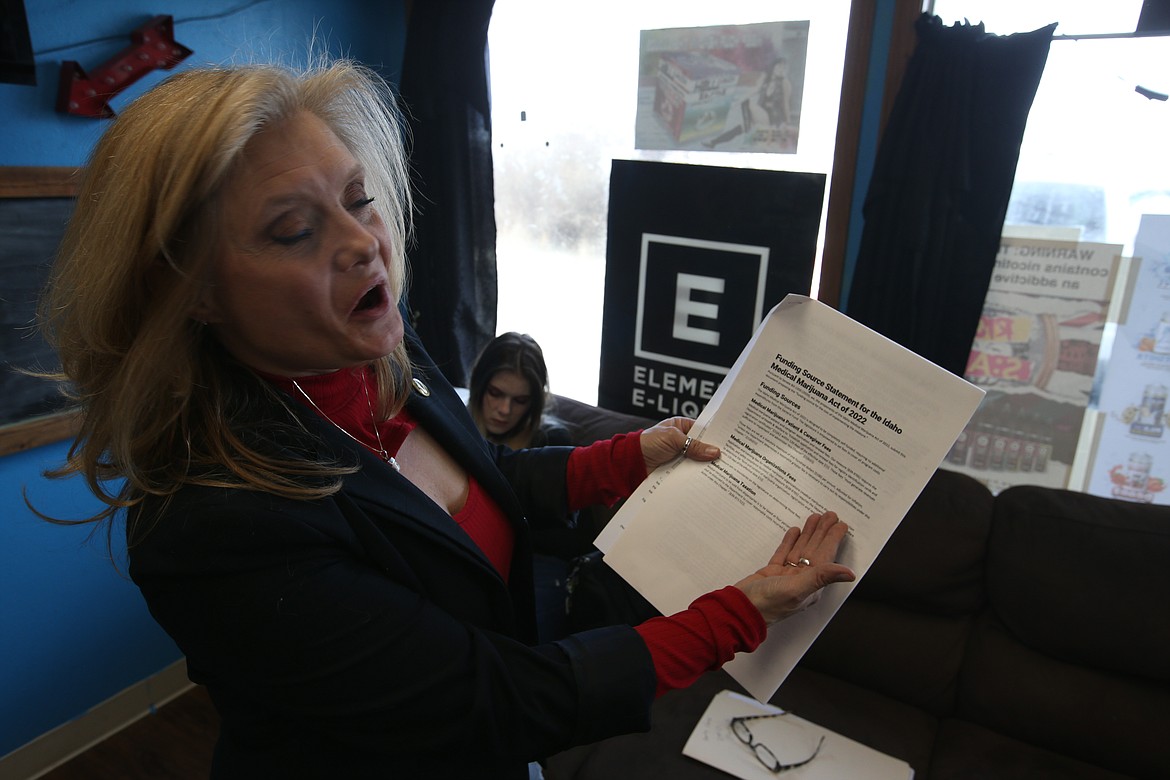 Suzette Meyers of Coeur d'Alene said she is determined to get medical marijuana in front of the voters. The North Idaho spokesperson for the grassroots group Kind Idaho said they are eyeing 2022, regardless of whether or not anti-legislation passes the Idaho legislature. (CRAIG NORTHRUP/Press)
by
CRAIG NORTHRUP
Staff Writer
|
March 20, 2021 1:08 AM
Suzette Meyers is easy to label. Idaho native. Stroke survivor. Registered Republican.
But the Coeur d'Alene resident is also charging ahead with another label, one she repeats loudly and proudly: medical marijuana advocate.
"I look at people from my hometown in Salmon," she said. "How many of them have had to suffer from debilitating conditions while people in the states around us have the freedom to choose what goes in their medicine cabinets?"
Meyers returned to Idaho from her lobby work in the Phoenix area last year, where she championed for medical marijuana in the Arizona Legislature, to continue her efforts in Coeur d'Alene. As North Idaho spokesperson for Kind Idaho, the emerging advocacy group that lobbies for medical marijuana legislation, Meyers said she's eager to get the issue in front of Idaho voters in 2022.
"When you look at these communities so close to the borders, all they're doing is stimulating economies in other states," she said from a comfortable couch in Cloud Vapor, a vape shop in Post Falls, less than 5 miles from the Idaho-Washington state line. "We're stimulating their economies and their agendas. Why shouldn't we be doing that with our own economy or our own agenda?"
Kind Idaho is in the petition stage of a long-term campaign to get an initiative in front of Idaho voters. Meyers' fight might be the next citizen initiative to make the ballot: The last successful initiative put Medicaid expansion in front of voters in 2018.
But the next citizen initiative — be it medical marijuana or something else — is by no means grounded in guarantees. On Friday, the Idaho House was preparing to debate SB 1110, a bill by Sen. Steve Vick, R-Dalton Gardens, that would require 6 percent of signatures from all 35 legislative districts, rather than the current requirement of 17 districts. That bill cleared the Senate on a 26-9 vote March 1.
Friday's debate was postponed, along with every other floor debate and committee hearing, as the Legislature voted for an emergency recess, all thanks to a COVID-19 outbreak. The House and Senate won't reconvene for at least two weeks. Once lawmakers resume, the initiative process will likely be among the very first orders of business.
"I think the bill is good for Idaho," Vick told the Coeur d'Alene Press. "I think it advances these conversations to all of Idaho. My goal is to extend the conversation to the entire state. I think that it's easier than ever to communicate to all parts of the state than it used to be. It's important, when it comes to statewide matters, to involve all parts of the state."
Meyers, however, pulls no punches with SB 1110.
"It's unconstitutional," she said. "The GOP majority might be running it through and selling it as constitutional. But that's just not the case."
Constitutionality aside, some defenders of the bill say SB 1110 is less about making it hard on signature gatherers, and more about making it hard on out-of-state interest groups.
Sen. Mary Souza, R-Coeur d'Alene, told The Press that groups cherishing their brands as "grassroots" seldom stay that way.
"There's really no such thing as 'grassroots' anymore," Souza said. "They always start as grassroots until the big money comes in. These days, these organizations have access to a lot of technology and a lot of high-tech abilities to get their message out. The initiative drives have become popular destinations for these big-money groups to come in and influence Idaho."
When asked to defend grassroots organizations, Meyers said opponents are putting the cart before the horse, and that she, frankly, would welcome a national interest.
"Right now, we have no money at this point," she said. "We have no national organizations that are talking to us at this point. They won't talk to us until we have signatures that show we're serious, that we're worth their time."
The signature drive continues April 17 from 10 a.m. to 2 p.m. at Cloud Vapor on Seltice Way, where Meyers and the state officers of Kind Idaho will hold a signature-gathering event.
The group's website — kindidaho.org — offers a calendar that's filled with near-daily statewide events like the April 17 rally. The site also allows visitors to donate in whatever increment they can afford.
"We're pushing for what is familiar for people," Meyers said. "When we ask for $4.20 or $7.10, those are feasible amounts for grassroots purposes that are emotionally engaging, and that it's also a commitment to these causes."
Recent Headlines
---