NIC invests $8.1M in health science expansion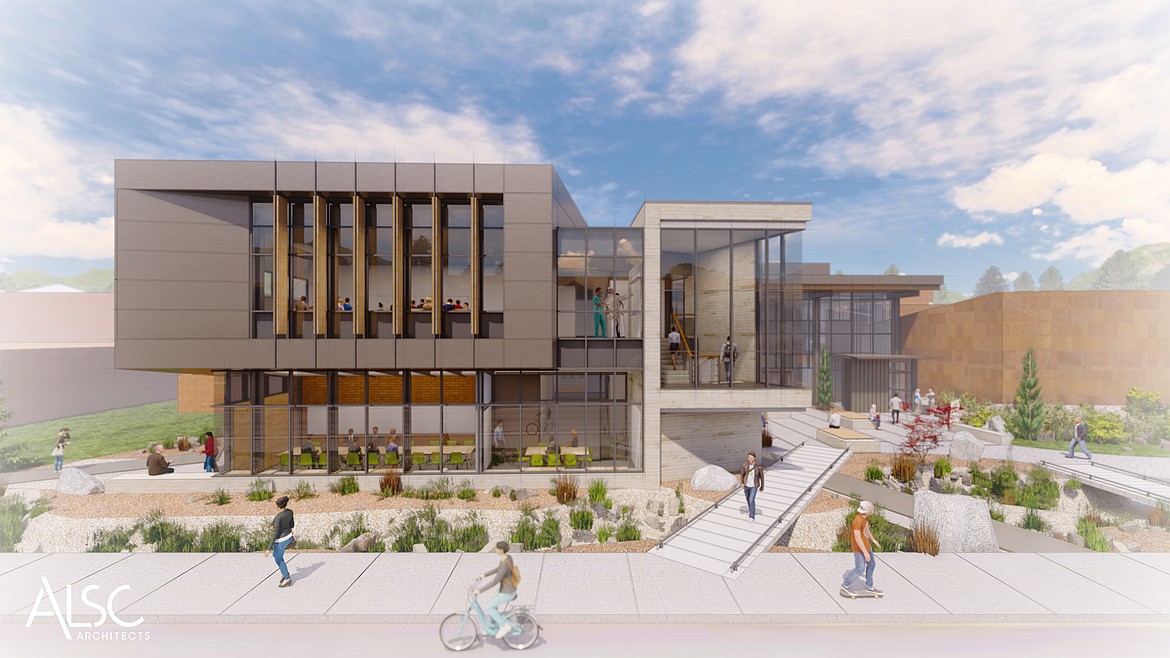 The Meyer Health and Sciences expansion will include the addition of 4-5 labs, lab prep space, 4 classrooms, faculty offices, student study areas, a large conference room and support spaces. Photo courtesy ALSC ARCHITECTS.
by
MADISON HARDY
Staff Writer
|
March 17, 2021 1:08 AM
The North Idaho College Meyer Health and Sciences building expansion will soon be underway following approval of an all-the-bells-and-whistles $8.1 million budget. 
In a special meeting of the NIC board of trustees Monday night, staff presented the four bids the college received from construction groups for the project.
Ranging from $7.6 million to $7.78 million, there was little variance between contractor bids — but they were all still higher than the initial estimate of $7.4 million. Trustees unanimously awarded the bid to Leone & Keeble, Inc. for $7,603,800. Trustees tacked on an additional $650,000 — totaling about $8.1 million — that includes the bid increases and necessary laboratory equipment. 
The project will be paid for from capital reserves.
"A big piece of this is expanding the laboratory science capacities, which are prerequisites for everyone in nursing and health care," said Chris Martin, NIC vice president of Finance and Business Affairs. "I think this is really an incredible investment for science and North Idaho."
John Young, president of Young Construction Group of Idaho, said the uptick of costs is largely due to the pandemic. 
"We call it the COVID construction impact," Young said. "Everything from supply chain logistics to material costs." 
He noted that wood products' cost is up 227% since last year. In November they were half that price. Due to the volatility of the changing market, Young said he and other contractors tend to put together larger contingencies. 
"Steel, just in the probable budget impact there, we've had an increase of about 31% in the last year on raw materials," he said. "So that's about a quarter of a million dollars on this project alone."
Steel and wood aren't alone in the climbing costs, Young said. Aluminum has increased over 52%, an impact of about $100,000. Since completing the company's last budgetary update, he said, gasoline, fuel, and oil costs have gone up 371%. 
Expanding the Meyer Health and Sciences building has been in the works since November 2018. As the community continues to grow, the college has seen increased enrollment in health and science degree programs. However, the project was postponed last April due to COVID-19. 
Last year when the board decided to reconsider the project, Trustee Ken Howard noted that the college anticipated fair costs. Now, several months later, material prices have skyrocketed. 
"I appreciate the fact that there is no crystal ball as you said, but you had expected the prices would be very good and very competitive," Howard said. "I guess my question is, using the limited crystal ball that you have, would it be best for us to put this back on the shelf again for a while, six months, and see what happens to the prices?"
Unfortunately, Young said, all of the guidance he has received from construction industry associations is that the erratic costs of steel, concrete, and wood will continue to be unpredictable as supply chains and factories reopen for production.
He explained that one representative heard that steel could increase by another 5% in the next 90 days, and in the last week, lumber has risen by another 3% or 4%. Another factor he mentioned for board consideration is the shortage of qualified construction workers, largely due to the overwhelming increase in housing development projects. 
"It would be my recommendation that you go forward at this point because we know where the numbers are at, rather than anticipating that numbers are going to drop," Young said. "I think the market's actually going to get tighter over the next six months to a year, and prices are going to continue to go up rather than stabilize and go down."
To complete the project while still allowing student access, the staff and Young, serving as an adviser, extended the project's timeline by three months. Ideally, project work will start this spring with the brunt of major remodel work done over the summer. Based on Young's timeline, the main construction would be completed by the end of spring break 2022.
Recent Headlines
---