Kids go to head of class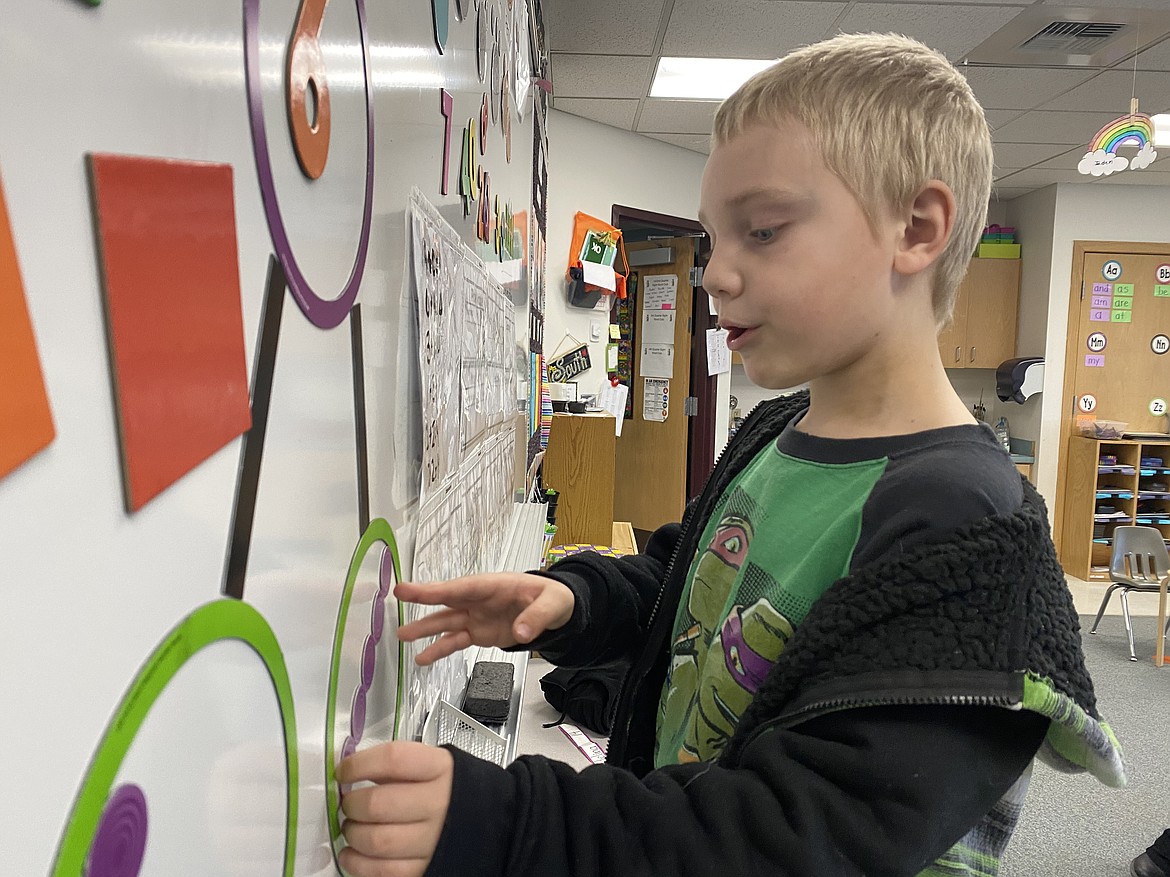 Betty Kiefer Elementary School kindergartener Gunnar Pursley works on his number bonds by playing with what he calls "aliens" on planet Earth and Mars. (Madison Hardy/Press)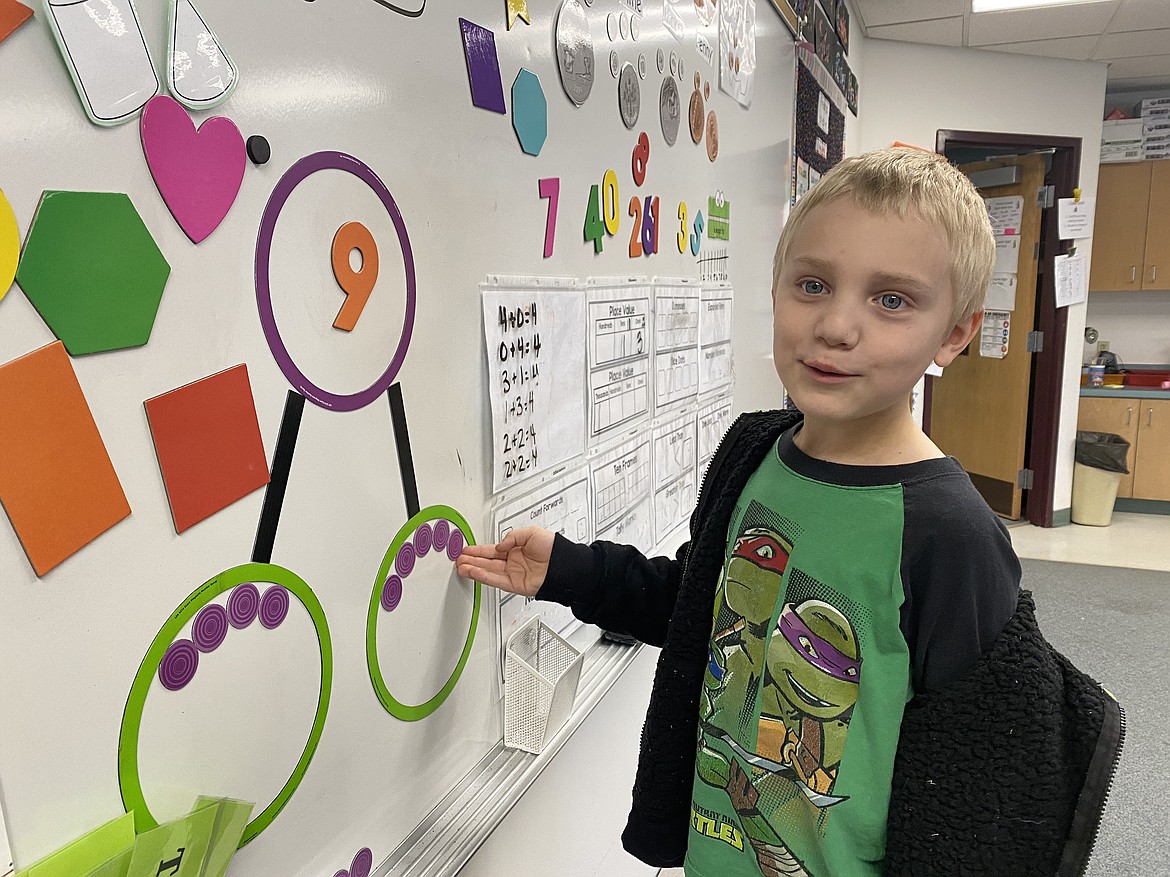 Betty Kiefer Elementary School kindergartener Gunnar Pursley works on his number bonds by playing with what he calls "aliens" on planet Earth and Mars. (Madison Hardy/Press)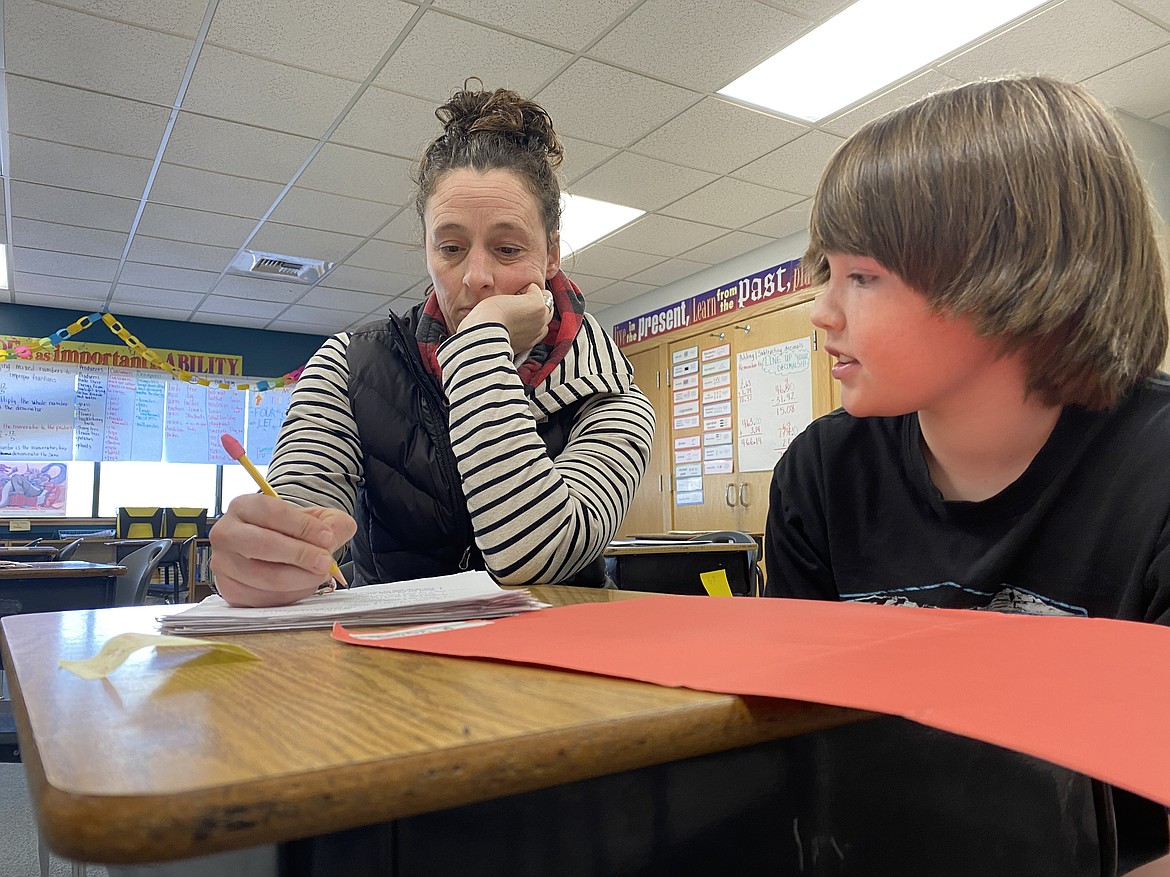 Betty Kiefer Elementary School fifth grader Brody Weitz works on his SMART goals and steps to achieve them with mom Tassie Magrath during the annual student-led conference Thursday morning. (Madison Hardy/Press)
Previous
Next
by
MADISON HARDY
Staff Writer
|
March 12, 2021 1:00 AM
RATHDRUM — When Betty Kiefer Elementary School student Gunnar Pursley was asked what he was learning about, he puffed up with pride.
"Aliens," he said. 
These "aliens" are purple magnets that kindergartners like Gunnar use to make math fun and understandable. The process is a way of decomposing and composing numbers, Betty Kiefer Elementary School Principal Lynn Paslay said. By putting random numbers (aliens) into the circles — also known as planet Earth and Mars — students break down the different ways to make numbers. 
"If we have nine and we take away three from the planet because they stole some stuff and go back on their ship, then it will be six," Gunnar said.
Gunnar's mother, Chelsea, stood beaming behind her son during the school's annual student-led conferences. Once a year, the program brings parents into the classroom and allows them to see what their child is learning, hear their child's goals, and get a firsthand look at their lives. 
"Instead of just getting school work brought home, he gets to show me what it's like here," Chelsea Pursley said. "He gets to show me how he learns and the different ways he breaks things apart,"
Betty Kiefer Elementary implemented the student-led conferences four years ago, Paslay said, which plays into the idea of self-reported grades — where students show what they are learning through actions, not letter designations. 
"It's really about being able to articulate the things that help them learn," Paslay said. "He can show you all these different ways, but maybe he'll tell you number bonds are the best way for him."
Inspired by John Hattie's 2009 meta-study on styles of education called Visible Learning, the practice has gradually been picked up in other Lakeland School District elementary schools, junior highs, and — starting this year — ninth graders. 
"Student-led conferences really just equate to really high engagement because it's not just the day of. It's all year long goal-setting so that they can showcase the things they want to spotlight for their parents," Paslay said.
The goals they set are not just for math or reading, but personal goals, fourth-grade teacher Shana Hostetler said. On her checklist, Hostetler asks her students to show parents anything important to them, math data, spelling tests, and Dojo points — behavioral growth. 
"I see my kids getting to talk. It helps just listening to them, helps me see their perspective, see learning through their eyes," Hostetler said. "Their goals become more meaningful to them. There's a purpose."
For fifth-grader Brody Weitz, one goal is to land a backflip on a scooter, but getting his parents involved in the goal-setting process helps them encourage their child to progress. On Thursday, Weitz showed his mom, Tassie Magrath, what he believes are his three strengths — math, states and capitals, and word affixes. 
"I like showing her all the stuff I do at school, what I'm working on right now, and usually she can help me achieve them," Brody said. 
Magrath also enjoys the program, noting that typically when Brody comes home from school, she doesn't hear about everything he did, but this way, she can see things in person. She has three other sons who go to the school, Brody being the eldest, and has noticed their excitement leading up to the conferences.
"They work so hard on it. They want to come to school and work on their student-led conferences because they are so proud to show me that work," Magrath said. "It's pretty cool."
The idea, Paslay explained, is that students take ownership of what they're learning, finding strategies that allow them to be successful, or in her words, "empowering them to have a voice." 
"I think it's important that we teach them to love school, to love learning, to have aspirations, dreams, and hopes," Paslay said. "As long as we can make it positive and they can learn to love their strengths and their weaknesses, then we've achieved our goal."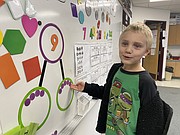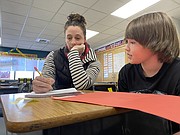 Recent Headlines
---