Student artists: Courageously creative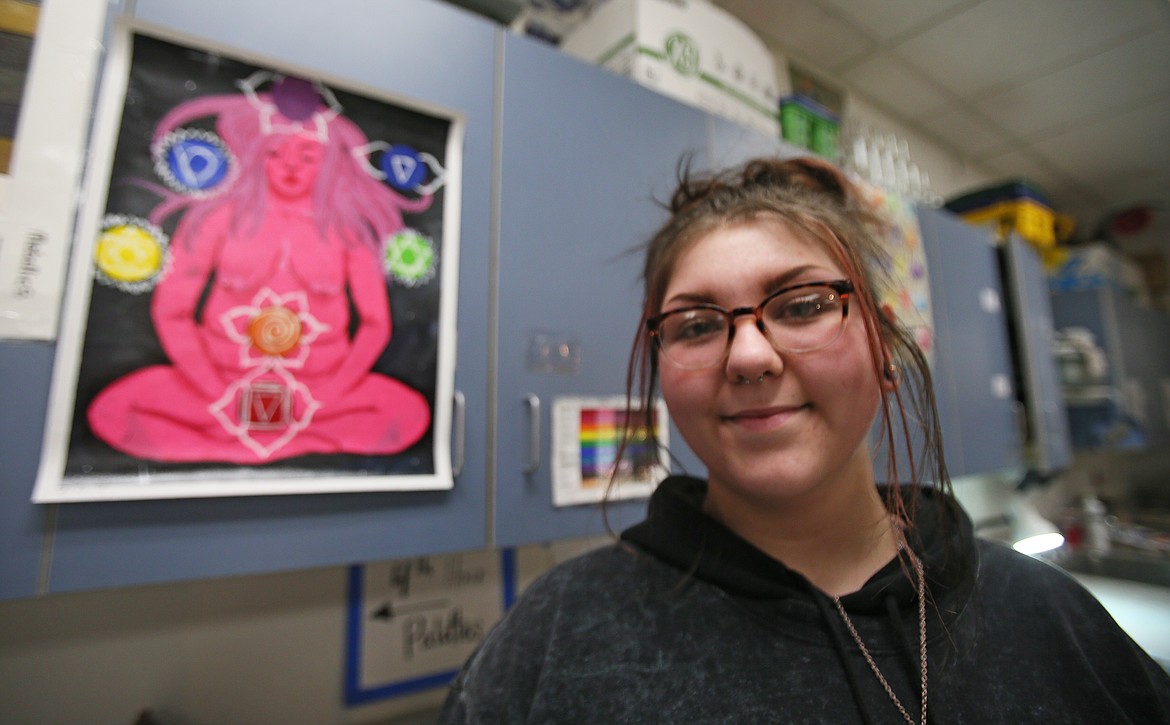 Timberlake Senior High School 12th-grader Kyra Coop is seen here Tuesday with her acrylic painting, "Realignment." "She has all her rolls and her stretch marks," Kyra said. "She's in her most natural state, and there's nothing wrong with that."
DEVIN WEEKS/Press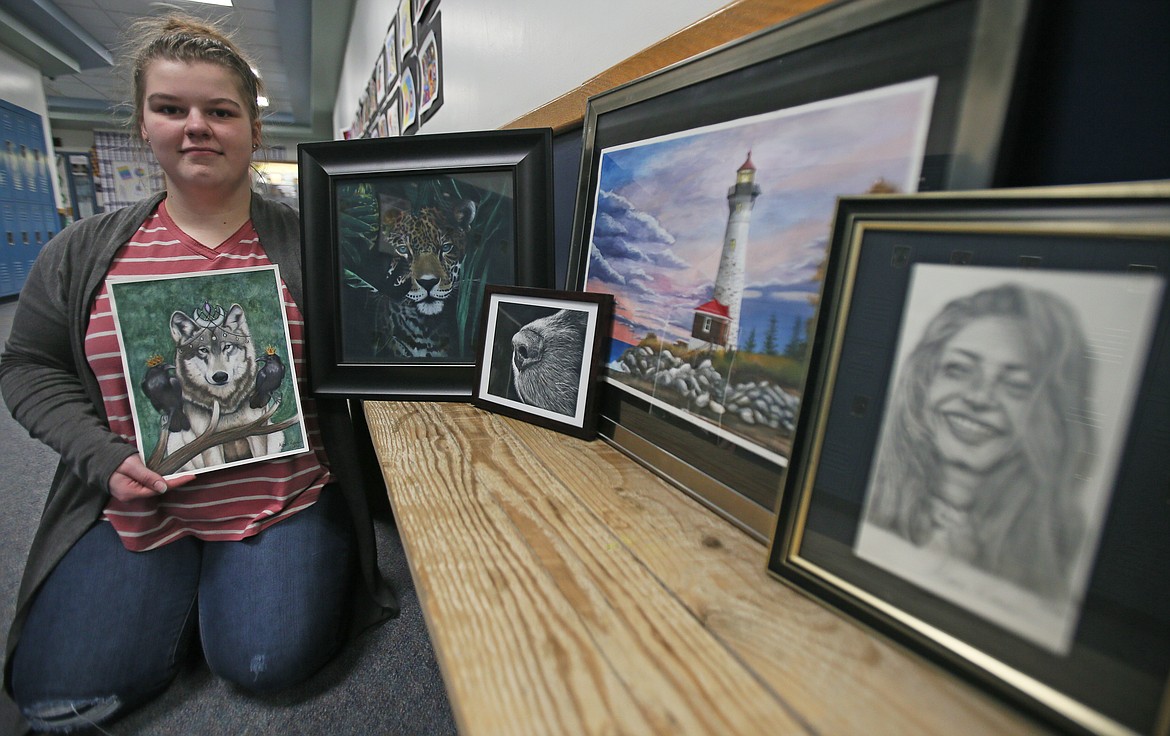 Timberlake Senior High School junior Alexis Roush on Tuesday displays a small collection of her works, including an anthropomorphic piece she's holding showing the symbiotic relationship between wolves and ravens.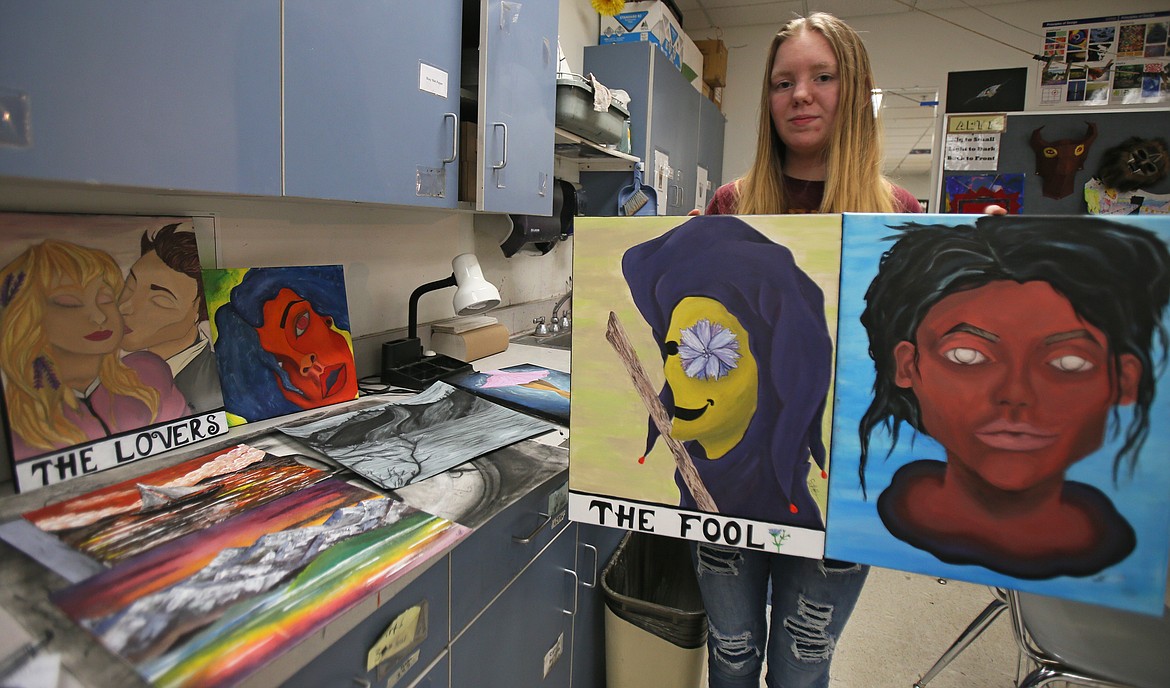 Honors art student Sofia Rhoades showcases a variety of her creations in Lindsey Johnson's class on Tuesday. Sofia has business aspirations for her works and has already set up a shop on Etsy under "OnTheWhiteWalls."
Previous
Next
by
DEVIN WEEKS
Staff Writer
|
March 12, 2021 1:00 AM
SPIRIT LAKE — The creativity in Lindsey Johnson's advanced art classes flows like mountain streams, rushing from hidden corners of student minds and appearing in a range of forms that excite and intrigue those who happen upon it.
"Every time they take the opportunity to be brave and express themselves, just in our classroom is one thing, but to show the courage to open up an Etsy shop, to want to submit their work outside of school, just makes me so proud of the courage it takes to expose their work like that," Johnson, who teaches at Timberlake Senior High School, said Tuesday. "Hopefully that courage will extend and develop out into any career."
Senior Kyra Coop's recent independent project, "Realigning," is bold and bright, an acrylic painted image of a woman surrounded by yogic chakras that are out of place.
"It's a wonderful thing to be a woman, and I don't see very many people expressing that," Kyra said. "I wanted to paint her nude because women's bodies are so sexualized, I think it's something that should be normal. Everyone's naked at some point … I think we should have some real representation. She has all her rolls and her stretch marks. She's in her most natural state, and there's nothing wrong with that."
Kyra is interested in tattoo art and body piercing.
"I love being able to express yourself," she said. "It's art on your body. It makes you feel like a walking art piece. I'd love to give that to someone else."
In the hallway, senior Sofia Rhoades worked on a mural that represents Timberlake's electives: Future Farmers of America, art, computer programming, geology and more.
In her personal work, she's creating a series of tarot card-inspired pieces that include herbs or flowers to represent each card.
"Creating has always been an outlet for me," Sofia said. "I really got into creating a couple years ago when my depression was really bad. I'm able to zone out, and it's a lot about the feeling of it. I just sit down and create."
Sofia has business aspirations for her art and has already opened an Etsy shop online, "OnTheWhiteWalls."
"It's really cool what people create," she said. "I've always seen art like it's a human instinct.
"People have always created art," she continued. "It's a way of storytelling. It's a way of conveying emotion and it's honestly a form of therapy. If we didn't have it, life would be really boring."
Bringing to life what her mind's eye sees, junior Alexis Roush's masterpieces could easily be mistaken for the photographs from which she draws inspiration.
"I go for more realistic things, and, for the most part, I just find a picture that I like and I recreate it," she said, gesturing to a small collection of her works. "These four, I found a picture and just drew from it."
Graphite, acrylic, watercolor and scratch art are among her favored mediums.
She's also interested in the fields of zoology and biology, disciplines that always have room for talented artists.
"I just really like the fact that I'm really good at copying pictures," Alexis said. "I'm proud of my work because I can get it so close to how I see it in the picture."
• • •
This is an ongoing series that highlights the talents of local student artists. Have a student or a class to feature? Email dweeks@cdapress.com with suggestions.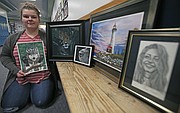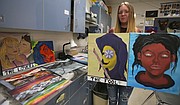 ---