Be the next Art on the Green poster artist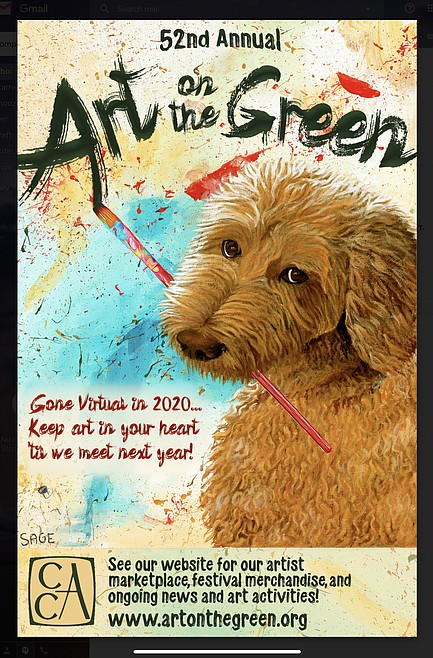 Art on the Green poster contest winner Sage Pedersen submitted last year's winning design, seen here. The 2021 contest is now open for the 53rd annual Art on the Green. The deadline is April 16.
Courtesy image
by
Press Staff
|
March 12, 2021 1:00 AM
The 2021 Art on the Green Poster Contest is now open.
The Citizen's Council for the Arts, which presents the annual festival on the North Idaho College campus, announced that the deadline is April 16. The deadline has been pushed later this year to give participants more time to enter.
The Council plans for Art on the Green to go on schedule July 30 through Aug. 1, but with adjustments to work around damage caused to the festival grounds during the Jan. 13 windstorm. The winds took out a number of shade-providing trees, and the north stage was demolished.
Examples of past festival posters can be found on www.artonthegreen.org, along with requirements for poster information.
Poster entries should be 11-by-17 inches and include: "53rd annual Art on the Green, July 30, 31, Aug. 1, on the grounds of North Idaho College, presented by the Citizen's Council for the Arts."
Submit entries to: Art on the Green, c/o Law Offices of Flammia and Solomon, 315 Wallace Ave., Coeur d'Alene, ID 83814.
---