Gun sales skyrocket in 2020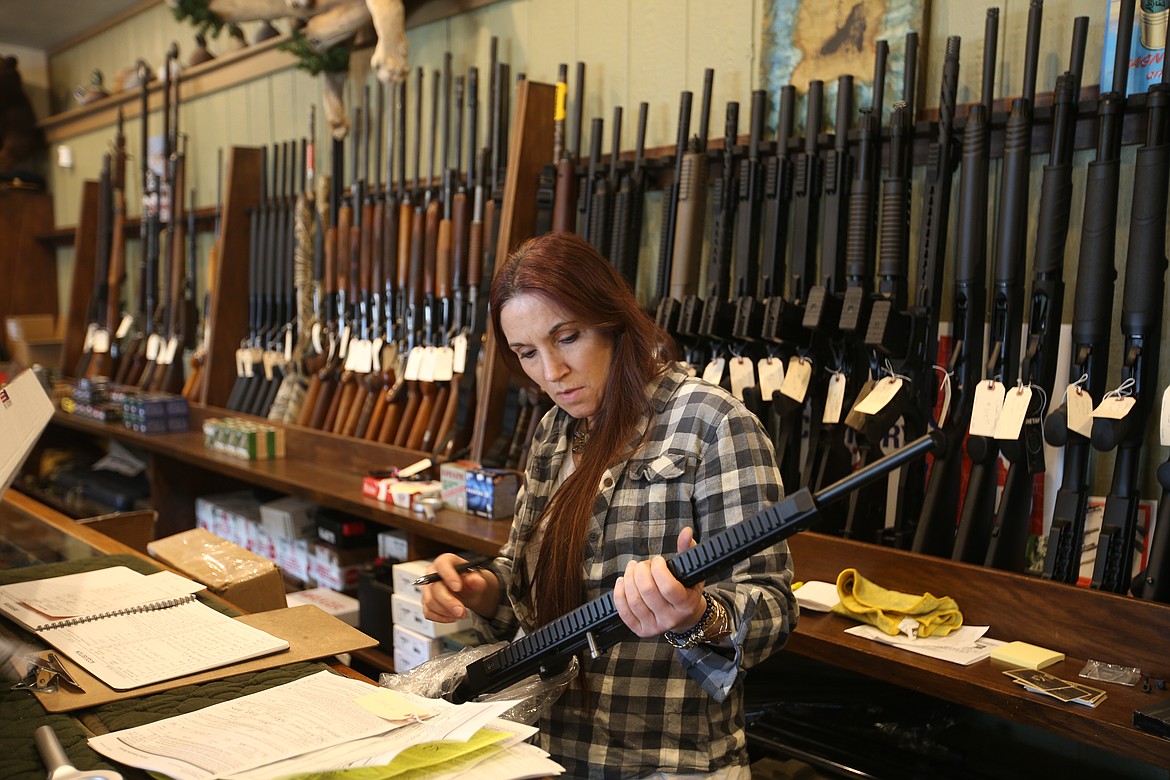 Kinsey Boyle, co-owner of Triple B Guns in Coeur d'Alene, records the serial number off a rifle she received Friday. Gun sales in Idaho last year easily outpaced 2019, which many attribute to a year of unprecedented calamity and unrest. (CRAIG NORTHRUP/Press)
by
CRAIG NORTHRUP
Staff Writer
|
March 6, 2021 1:07 AM
Randy Giles stood outside the Pawn 1 in Hayden on Friday with his paycheck still burning a hole in his pocket.
"Gotta wait until tomorrow," he said. "Have a few things I need to sell."
Giles, a freshly paid construction worker who lives on the north end of Coeur d'Alene, said he was a few dollars short for his soon-to-be-newest possession, a Taurus 9mm handgun. Giles, who said he already owns a pistol, a hunting rifle and a shotgun, said the Taurus will go in a hidey-hole, one he has quick access to in a pinch.
"Can't be too careful these days," he said.
"These days" have been like few others.
One of the most contentious, divisive and deadly years in American history brought with it a predictable side effect, according to a report released this week that laid out the degree in which gun and ammunition sales skyrocketed in 2020.
The analysis by the National Instant Criminal Background Check System, which records and reports background checks for the FBI, said Idahoans purchased 281,284 guns in 2020, up dramatically from the 209,275 firearms sold in 2019.
Nick Lange, owner of Praetorian Armory & Coatings in Coeur d'Alene, attributes the surge to a year mired in uncertainty, from nationwide civil unrest last summer to the COVID-19 pandemic the World Health Organization reports has killed more than 2.5 million people.
"In my opinion, first it was the COVID-19 thing," Lange said. "Then we had the BLM riots and the Antifa riots."
Lange estimates his gun and ammunition sales went up 250 to 300 percent during 2020, with November providing a late-year push in sales, a byproduct of the national election.
"Now, with a Democrat in office, people are afraid," he said. "People are afraid our Second Amendment rights will be taken away."
Lange added that the post-election turmoil and the inauguration of President Joe Biden has kept sales high through the first few months of 2021, something Lange said he is not expecting to last.
"This trend is starting to die down for firearm and ammo sales," Lange said. "The ammo sales are starting to die down. People are really starting to focus on our specialty products, our body armor, our night vision."
Any decline in ammo sales has been countered by brief runs. On the morning of Feb. 18, for example, Black Sheep in Coeur d'Alene stacked boxes of .223 AR-15 ammunition. A line of approximately 50 people reportedly formed outside, with the product selling out in a matter of hours.
Despite the 34 percent jump, Idaho actually trailed the pace of gun sales nationwide. Gun sales across the country rose from 28.4 million in 2019 to 39.7 million in 2020, a jump of 39 percent. Giles said he's proud to do his part to keep Idaho in the arms race.
"I've always owned a gun," he said. "I always will."
---