English Point project aims to create healthier forest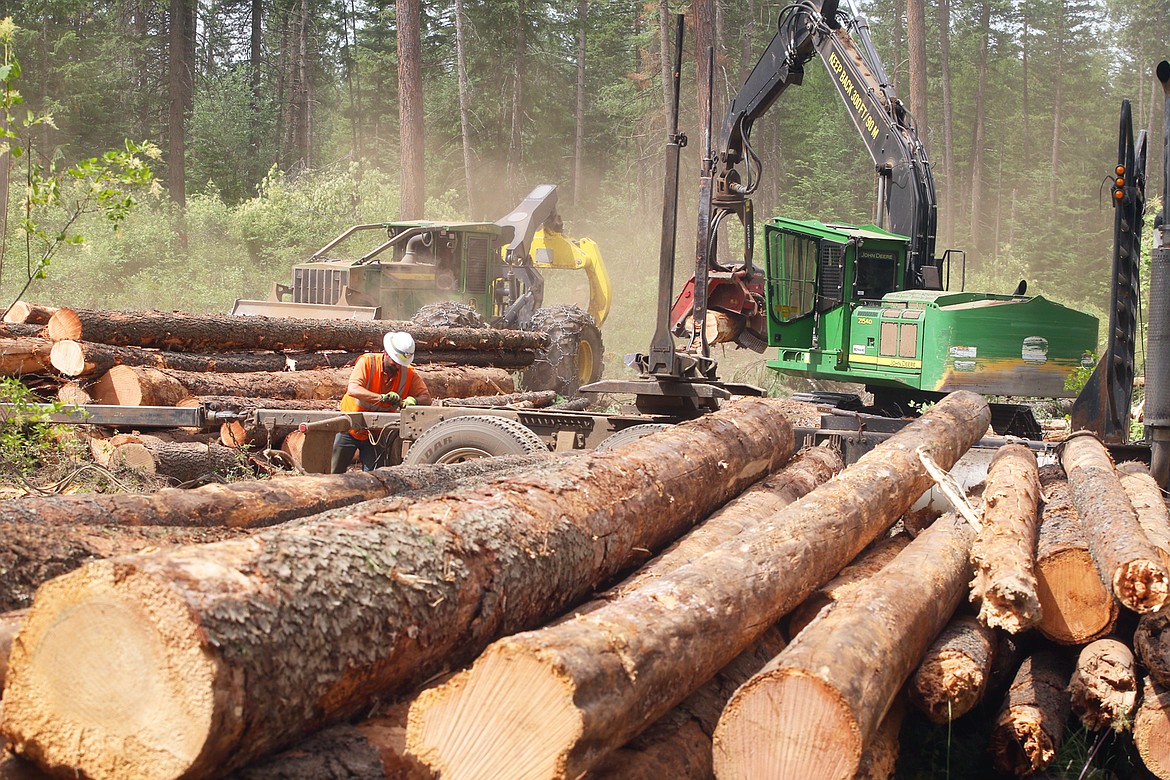 Work continues Wednesday on the The English Point Forest Health Protection project.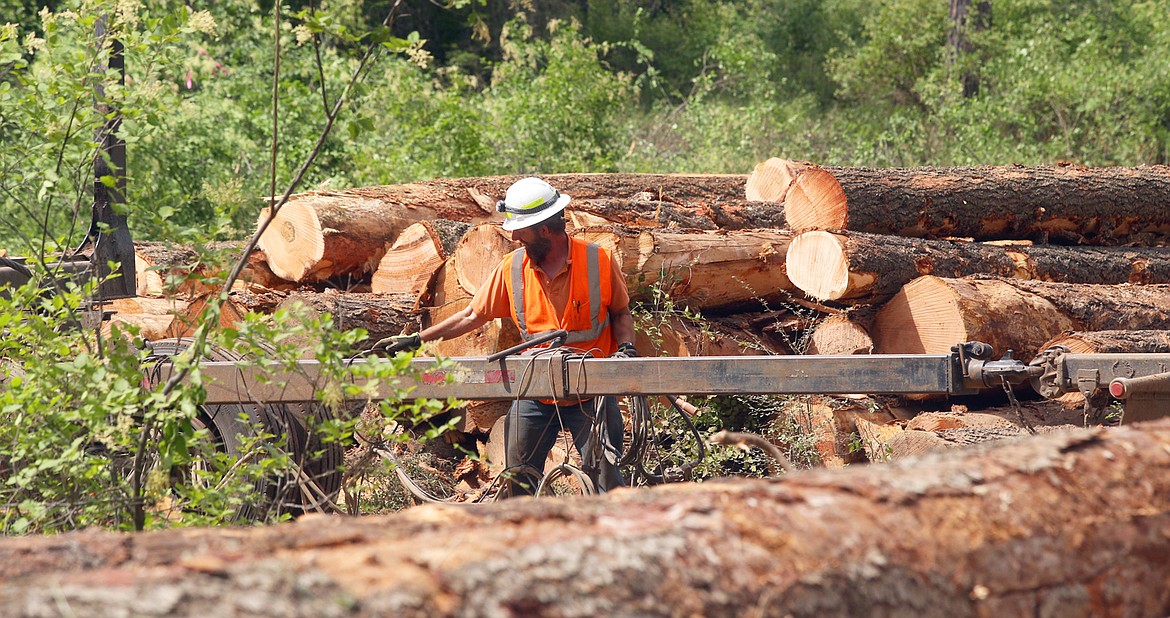 A logger prepares equipment to haul away trees at English Point on Wednesday.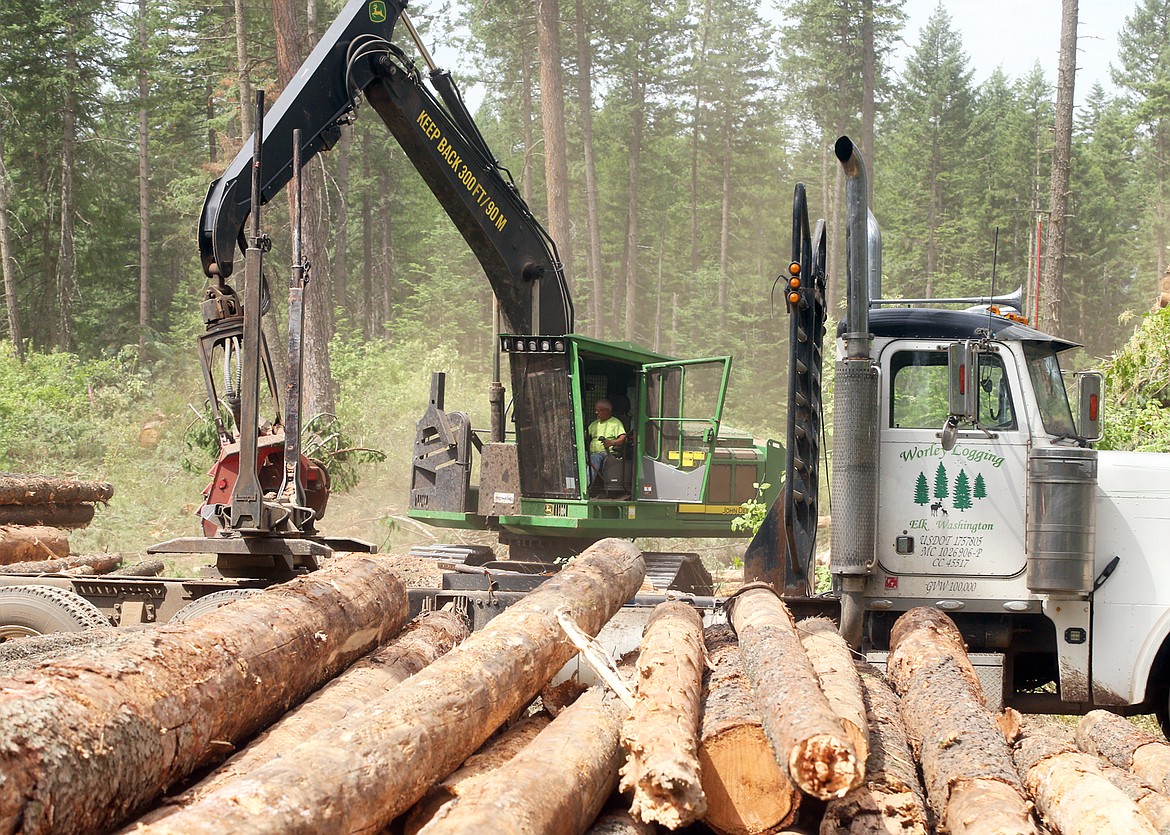 The English Point Forest Health Protection project is underway.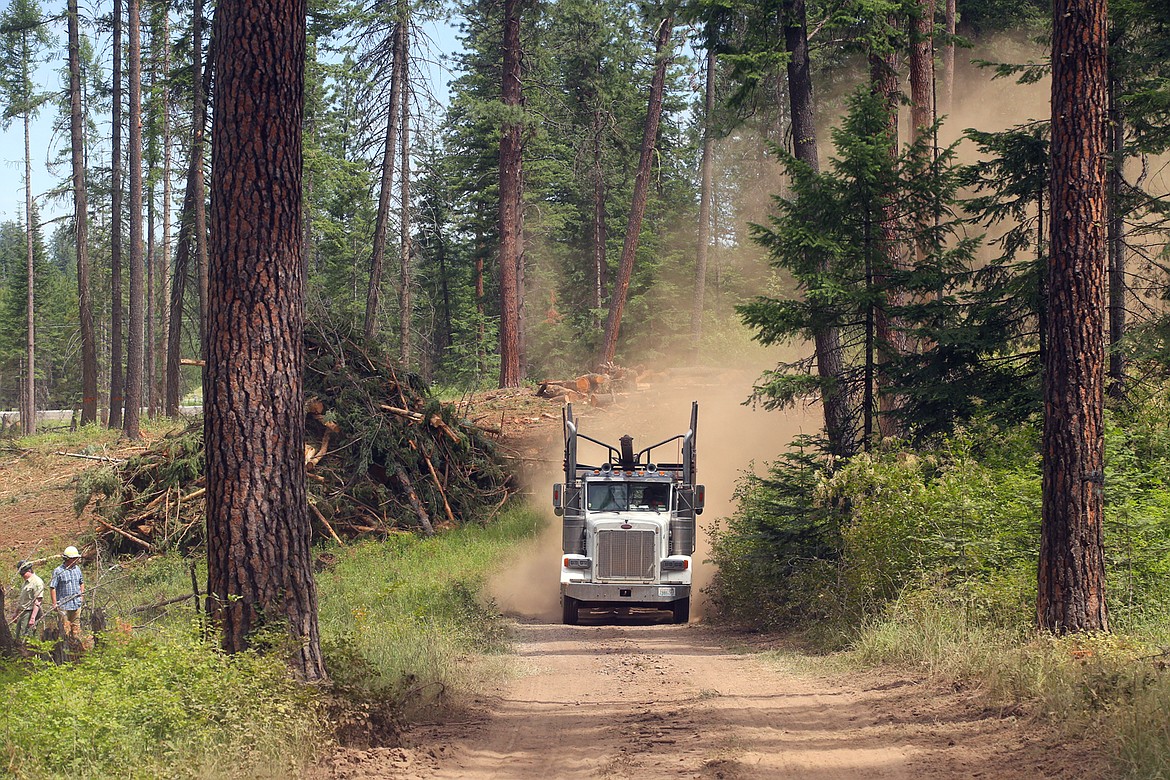 A logging truck rumbles down the road toward the logging operation at English Point on Wednesday.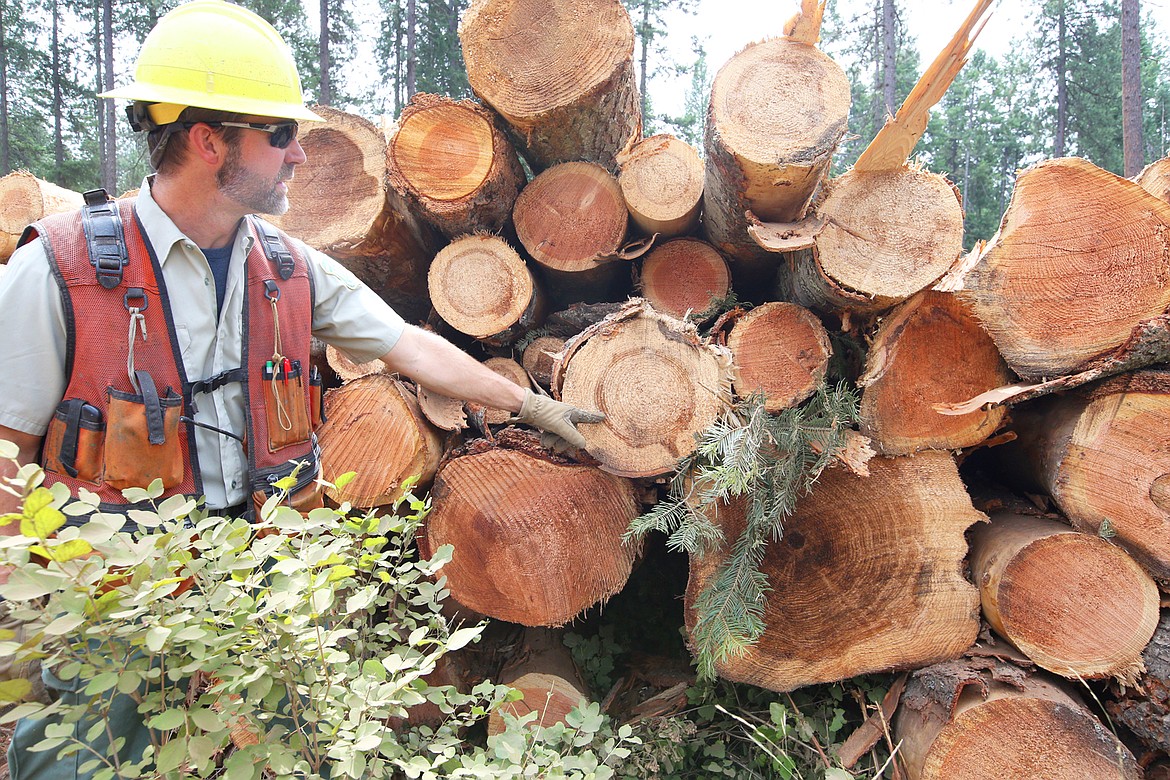 Rob Tomczak, IPNF timber sale contracting officer, points out disease in some of the trees removed at English Point.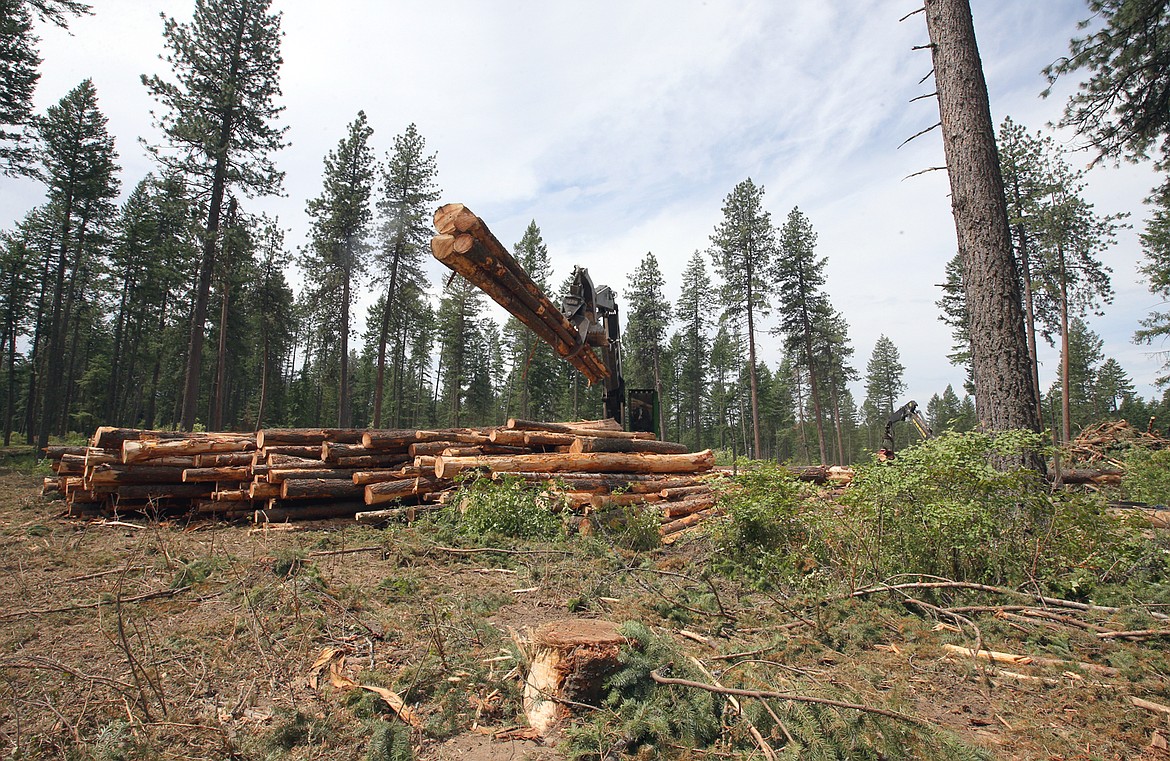 Trees are removed from English Point Wednesday.
Previous
Next
by
BILL BULEY
Staff Writer
|
June 24, 2021 1:08 AM
HAYDEN LAKE — The English Point Forest Health Protection project is underway.
And yes, people have noticed.
A jogger stopped to ask Jason Jerman and Dan Scaife, with the Idaho Panhandle National Forests, about logs and brush she saw piled off Lancaster Road and just west of the English Point parking lot.
After chatting for a few minutes, the runner nodded, smiled and trotted away toward the trails Wednesday morning.
Many others have also inquired about the project and often, when folks see downed trees and hear the commotion of a logging operation, they think all the trees are being removed.
That would be wrong.
"That's not what we're doing," Jerman said.
Dead and diseased trees are the targets.
"We're cleaning those up so that we can reduce the fire hazard and replace them with trees more resistant to root disease," he said.
The project was approved last year and the timber harvest started about a week ago. It calls for removal of primarily diseased Douglas fir, grand fir and some western larch, and should be completed by summer's end.
About 1.5 million board feet of timber is being removed by Lake City Logging, contracted for the job, and sold to the Idaho Forest Group.
Portions of the English Point hiking area have been temporarily closed to the public to allow for the safe operation of the timber removal. The closure area only affects the trails south of Lancaster Road and west of English Point Road. The rest of the system remains open, according to an IPNF press release.
The English Point trail system, a 358-acre recreation site near Hayden Lake, is managed by the IPNF's Coeur d'Alene River Ranger District. Providing about 8.4 miles of trails, including the English Point National Recreation Trail, the area is popular with visitors and residents for hiking, biking, horseback riding, mountain biking and winter snowshoeing.
"Following a decision in March last year, the project seeks to improve forest health in and around the popular hiking area by reducing hazardous fuels loading to mitigate wildfire danger and by thinning to improve species and age class diversity," states the IPNF press release. "The project also includes work to improve hiking trails and boardwalks."
While some expressed concerns about the trail closures, the need for improving the English Point parking lot and slash piles being left behind, public input was generally positive.
"I was pretty excited to hear the Forest Service is "finally" getting some of those dead, dying, blow down trees taken care of!!!" wrote Joan Gabrielsen
"I applaud and am in full support of the work that has already been done — it feels like a park setting with the removal of diseased and wind fallen trees," wrote Rosie Leake.
"This is a beautiful area and the maintenance and future work of this area will really show how well the USFS is doing their job in this part of the country," wrote Joni Lueck.
Jerman said it is a selective cut, not a clearcutting operation. Larger, older trees are being left on place, and ponderosa pine are generally not being touched, either.
They are also leaving unharvested patches in the middle of the larger harvested area.
"We're trying to reduce the amount of root disease and create some growing space, just kind of disperse growing space all through the stands so that we can begin to plant more ponderosa pine, which is more resistant to root disease," he said.
Scaife said IPNF began doing active management in the area a few years ago, pointing out they cleared some small trees and brush as part of fuel reduction, 300 feet in from the property boundary.
Some have said they would like to see more forest management of the area, worried about fire danger.
Their fears are not unfounded. Jerman said there has been "persistent mortality through the property."
He said since the late '80s they have completed four salvage operations to remove recently killed trees, victims of Douglas fir beetle and winter storms.
"Root disease has been getting worse and worse," he said.
He added once the grand fir, Douglas fir and western larch is removed, they will plant western white pine, ponderosa pine and larch, which are more resistant to root disease.
"Change that species composition to something that is more healthy over the long run," Jerman said.
They also want to reduce the density of trees to maintain a healthier stand. The area is prone to drought because of a clay soil layer and trees compete for limited water.
"There's more trees on the site today than the site really ought to have on it," he said.
Rob Tomczak, IPNF timber sale contracting officer, said while the logging operation is going well, they have had some problems with people venturing into the restricted area. He said they need to stay away.
Enforcement of the closure forest order will be a combination of signing, public information, personal contacts and law enforcement actions. Violators may be fined up to $5,000 and face imprisonment for not more than six months.
Jerman said no other logging is planned at English Point, but didn't rule it out.
"If something creates a need, we may need to do something in the future," he said.
---