Milestone Announcements
ANNIVERSARIES
Rick and Val Martin
45th Anniversary
Rick Martin and Val Butcher met in the fall of 1968 in Long Beach, Calif., aboard USS Schofield while Rick was on duty and Val was visiting family. Rick worked with her brother-in-law. Little did they know back then that they would celebrate their 45th anniversary on June 26, 2021.
They kept in touch during Rick's active duty time and while he was on deployment in the Western Pacific. After the Navy, Rick settled in Chicago starting his civil engineering career while Val was teaching elementary school in Placentia, Calif. Cross-country visits in 1975 sparked a proposal and later a wedding date. Rick joined Val in Pomona, Calif., spring 1976. They married in Claremont, Calif., that June. A new home in Alta Loma was barely broken in when a move to the Northwest beckoned for the Portland, Ore., area in 1979. That area was home for the Martins for 27 years as they grew in their relationship, interests, careers, faith and travel skills. In 2006, they moved to Coeur d'Alene for Rick's company.
Rick retired from the Navy Reserve in 2001 as a Captain after a total of more than 33 years of service with the last 27 years in the Civil Engineer Corps (SeaBees). Val retired in 2004 from Lake Oswego School District in Oregon with 25 years teaching there. She taught a total of 36 years in all. Rick retired again in 2008, this time from WHPacific, where he spent almost 20 years of his 38 years of professional career.
The Martins each have their own interests and hobbies. Rick's passion is model railroading and Val spends her time with handcrafts. Both follow their faith and enjoy time with friends. Their favorite mutual interest is travel. They have been blessed to travel by boat, plane, train, RV and car throughout the U.S. and Canada. They have explored far away places like New Zealand and Sydney, plus many European countries. Their motto is "We will travel until we unravel."
Joseph and Joan Corege
65th Anniversary
Joseph and Joan Corege celebrated their marriage of 65 years on June 17, 2021. They shared their joy with family and friends.
MILESTONE BIRTHDAY
Ethel Rose Sertich
Happy 98th Birthday
We should all look this good!
Love your daughter, your friend and partner in crime.
Love Odette
• • •
Submit your milestones to hmain@cdapress.com or in person at the Coeur d'Alene Press, 215 Second St., Coeur d'Alene, ID 83814.
Listings include:
• Wedding anniversaries for couples married 25 years and every fifth year thereafter (2 photos accepted)
• Engagement announcements (1 photo accepted)
• Wedding announcements (1 photo accepted)
• Births (1 photo accepted)
• Milestone birthdays at age 70 and every fifth year thereafter or every year after age 90 (1 photo accepted)
• Generations (1 photo accepted)
• Academic honors and higher education accomplishments (1 photo accepted)
• Military announcements (1 photo accepted) Deadline is 3 p.m. Tuesdays.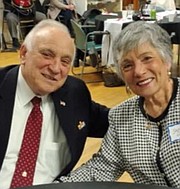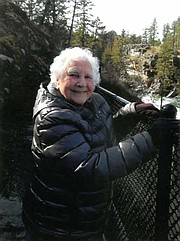 Recent Headlines
---