One flag, one nation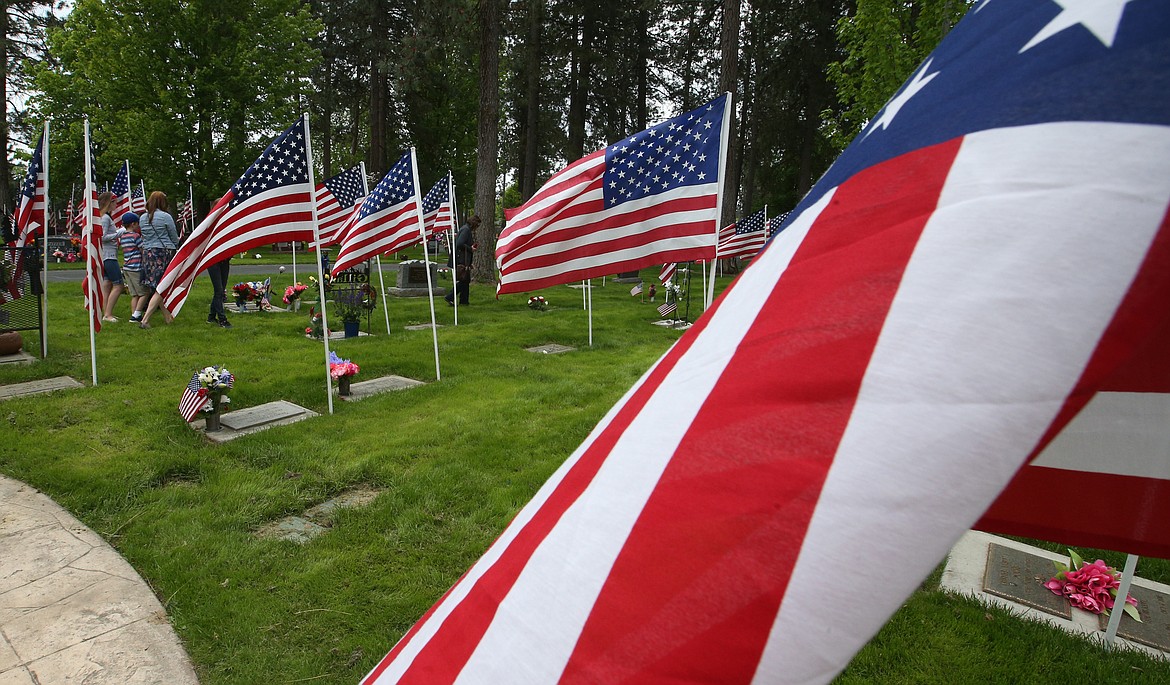 Flags flutter in the wind at Evergreen Cemetery in Post Falls on Memorial Day 2020.
BILL BULEY/Press
by
DR. SCOTT FINNIE/Special to The Press
|
June 14, 2021 1:00 AM
Our nation's sacred symbol, the American flag, speaks to our collective aspiration to "form a more perfect union." While both Presidents Woodrow Wilson (in 1916) and Calvin Coolidge (in 1927) issued proclamations asking for June 14 to be observed as the "National Flag Day," it wasn't until Aug. 3, 1949, that the U.S. Congress approved June 14 for national observance, signed into law by President Harry S. Truman.
Yet the collective resolution to endorse the American flag as our prized symbol was conceived almost 200 years earlier in Philadelphia when the Continental Congress passed the first Flag Act on June 14, 1777. As stated back then by John Adams (who later became our second U.S. president from 1797 to 1801): "Resolved, that the flag of the United States be made of thirteen stripes, alternate red and white; that the union be thirteen stars, white in a blue field, representing a new constellation."
This "new constellation" would be fueled by what may be called "the collective aspiration," as embodied in the words of "E Pluribus Unum." This Latin phrase, which literally means "out of many, one" was adopted a year before the first Flag Act as suggested by John Adams, Benjamin Franklin and Thomas Jefferson.
"E Pluribus Unum" was thus proposed as our national motto and was to be given a prominent location in the Great Seal of the United States. "Out of many, one" would be offered as a strong statement of the American determination to form a single nation from a collection of states — that "new constellation" embodied in the American flag.

As we consider our flag in this light, it is clear that the flag is a unifying symbol arousing feelings of deep loyalty and brotherhood. While other variations of our flag exist and may be put on display at given events, any deviation from "Old Glory" fails to measure up to the noble pronouncement of the old red, white and blue.
These unifying feelings are further punctuated by the fact that the flag's three colors carry a specific weight of significance that shouldn't be overlooked: Red stands for COURAGE, White for PURITY and Blue for JUSTICE. Any variation of "Old Glory" will only fall short of the value and history imbued in this unique symbol.
Similarly, flags that are tattered or presented upside down attempting to convey a misleading message of distress or great danger only diminish the honor and respect due to "Old Glory."

When we see this connection between "E Pluribus Unum" and our nation's flag, it should remind us of the noble origins of our nation as we continue that collective drive to advance toward "a more perfect union."
The American flag represents a call to all of us to draw from a shared historical consciousness that aims to propel us toward our full potential as a country "of many but one." Such a challenge calls forth, as President Lincoln once stated, the "better angels of our nature."
•••
Flag etiquette: https://bit.ly/3vltgE5
•••
This article was developed by Dr. Scott Finnie, in collaboration with the Human Rights Consortium. The purpose of the Human Rights Consortium is to promote and protect human rights in our North Idaho communities. We encourage research into the sources of inequality and contribute to broad and pervasive human rights education. Dr. Scott Finnie has been a faculty member of Eastern Washington University's Africana Education Program (AEP) and History Department since 1992. He is presently the Senior Faculty member, Director of Africana Studies, as well as the Executive Director of Race and Cultural Studies. Dr. Finnie owns a diversity consultant business, "Engaging Team Concepts," serving employers and institutions throughout the Inland Northwest for the past 17 years. Engaging Team Concepts is a member of the Human Rights Consortium and Dr. Finnie serves with the Human Rights Education Institute education committee as an education facilitator.
---