Milestone Announcements
ANNIVERSARY
Ed and LaNece Schaefer
45th Anniversary
Ed and LaNece Schaefer, married 45 years ago on June 10, 1976. Proud parents of three girls and three boys, proud grandparents of two granddaughters and four grandsons.
MILESTONE BIRTHDAY
Lee Bolle
93rd Birthday
Happy 93rd Birthday Lee Bolle!
Wishing you a day filled with all the love and happiness you have shared with so many.
You are the best Husband, Father, Grandpa, Friend and Citizen there could ever be.

We are blessed from the heavens that you were born June 12, 1928, which is 93 years ago. You lighten our world by just being with us and we cherish you more than you could ever know.

You are an awe inspiring role model in everything you do. We genuinely thank you for your service during the Korean War defending the freedom and liberties we enjoy today. You have always been so humble and never asked for anything in return but finally received the well deserved recognition afforded by the Korean government on July 27, 2019.
Today we celebrate YOU and all you stand for. We love you more than there are stars in the Galaxy.
— Brenda and Mario
EDUCATION
Montana State University has announced its undergraduate honor rolls for spring semester 2021.
There are two MSU honor roll lists, the President's List and the Dean's List. To be eligible for the lists, students must have earned in at least 12 college-level credits. This honor roll list was current as of May 27 and includes all registration corrections or grade changes processed to that date.
The 1,487 students with a perfect 4.0 grade point average for the semester were named to the President's List. An asterisk follows their names below. The Dean's List includes the 3,455 students earning grade point averages of 3.5 or above for the semester.
North Idaho students named to MSU's president's or dean's lists, ordered according to their hometowns, follow:
Coeur d'Alene: Conner Conigliaro, Madeline DeMarco*, Gracie Dusbabek, Mercedes Reynolds, Ethan Skelton, Josie Yovichin
Hayden: Michael Dooley, Hope McWilliams, Emily Minerath, Sara Minerath, Alexi Panos
Ponderay: Jacob Suhr*
Post Falls: Elijah Blake, Lille Brott, Olivia Hill*, Ashleigh Hilton, Brynn Roberson, Hannah Snow
Priest River: Noah Bates
Rathdrum: Gabriella Schaffer*
Sagle: Erika Bocksch
Sandpoint: Nathan Couch, Elisabeth Faggard, Katherine Kaul, Kieran Wilder
• • •
Submit your milestones to hmain@cdapress.com or in person at the Coeur d'Alene Press, 215 Second St., Coeur d'Alene, ID 83814.
Listings include:
• Wedding anniversaries for couples married 25 years and every fifth year thereafter (2 photos accepted)
• Engagement announcements (1 photo accepted)
• Wedding announcements (1 photo accepted)
• Births (1 photo accepted)
• Milestone birthdays at age 70 and every fifth year thereafter or every year after age 90 (1 photo accepted)
• Generations (1 photo accepted)
• Academic honors and higher education accomplishments (1 photo accepted)
• Military announcements (1 photo accepted) Deadline is 3 p.m. Tuesdays.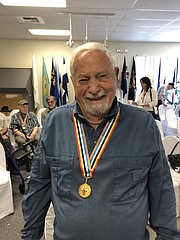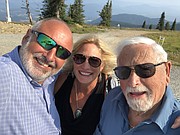 Recent Headlines
---