A record year of state accomplishments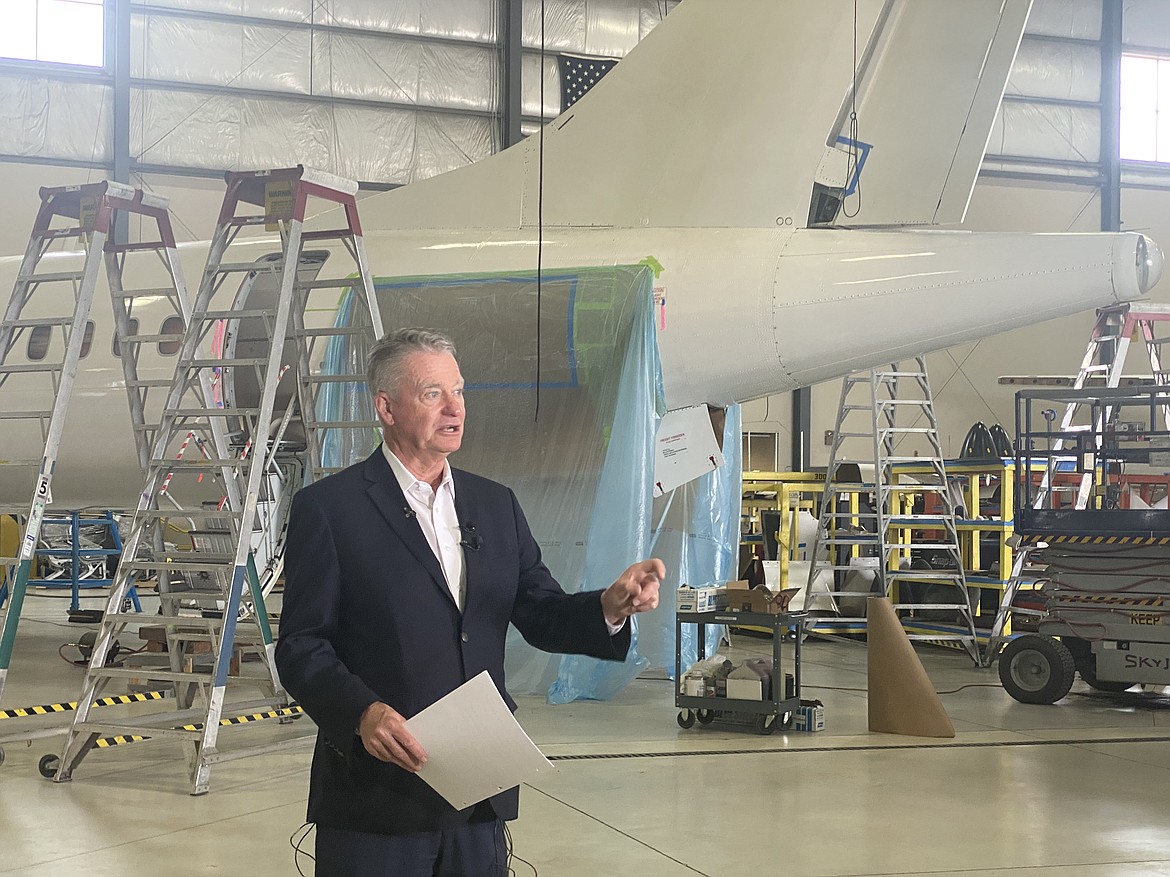 Gov. Brad Little traveled up north Wednesday to highlight accomplishments and a record breaking revenue surplus at the Empire Airlines Hayden facility. (MADISON HARDY/Press)
by
MADISON HARDY
Staff Writer
|
June 10, 2021 1:07 AM
With an anticipated budget surplus of $800 million, Gov. Brad Little told media representatives that he will advocate for more tax relief and strategic investments in the future — and that he plans to be there when it happens.
During a visit to the Empire Airlines Hayden facility, Little met with members of the media to talk about the budget, economy, and intentions to back programs in education, transportation, broadband and Idaho land.
Last year, Little and Idaho Division of Financial Management Administrator Alex Adams were uncertain on what impact COVID-19 would have on the state budget. They certainly didn't anticipate reporting record-breaking state revenues and all-time-high budget surplus, both men said.
"A year ago right now, there was so much uncertainty and so much risk built into everything," Little said. "Whether it was the government, education, or business, doing the fundamental things (we did) got us to where we were."
The most significant contributor to Idaho's financial success, Adams said, was Little's conservatism.
"He was much more surgical than other governors by letting major industries like construction continue," Adams told The Press.
Budget numbers from May, which were released by the Governor's Office Wednesday at noon, reported that state revenue figures are $580 million ahead of forecast — smashing previous state records.
Furthermore, the state is projected to end the fiscal year, with a record budget surplus nearing $800 million after appropriating millions of dollars to investments statewide, Adams noted.
"We're doing better than literally every state," Little said with confidence Wednesday afternoon. "Why is that? Prior to the pandemic, the state of Idaho was very conservative. We were trying never to grow the government faster than what we thought the revenue would be coming in."
One of the most significant victories for Little's "Building Idaho's Future" plan, Little said, was securing the most extensive tax relief package in Idaho history. Tax relief is delivered through ongoing cuts and a one-time tax rebate where some Idahoans will either receive a check for at least $50 or 9% of the state income they paid in 2019 — whichever is greater. Those checks, the governor said, should hit mailboxes within the first few weeks of August.
A personal win for Little is the multiple millions of dollars being directed into state and local transportation infrastructure projects. Those initiatives include:
• $140 million for state and local highway projects
• Creating a dedicated $80 million ongoing revenue stream that allows the state to bond up to $1.6 billion for transportation infrastructure projects statewide
• Directed $2 million to assist with railway infrastructure and safety improvements
• $4 million in community airport funding
• Increased sales tax distribution to transportation from 1% to 4.5% for sustainable funding
"I am very happy that we got that done because you know a lot of states are talking about transportation. A lot of them are waiting for the federal government to do something," Little said. "In Idaho, we're saying we're going to do it. This has great support for the Legislature, and it's going to make a difference."
Creating the career ladder build-out for teachers was a critical action by the state, Little said. Notably, he hoped the ladder would help schools in places like Kootenai County be less likely to lose educators to competitive salaries across the border.
"Hardworking teachers here in this community need to know that there is a pathway for them to be rewarded for all the hard work they've done this year," Little said.
Some other state education investments include:
• Growing K-12 funding by 12% in 2021 and 29.7% in 2022
• $20 million for literacy programs to combat pandemic learning disruptions
• $4.8 million for career technical education
• $5.5 million for higher education
• $1 million for ongoing nursing programs
• $1.2 million to embed mental health clinicians in rural schools
Looking ahead, Little said education would continue to be his No. 1, including an emphasis on behavioral health. When asked by The Press if the people of Idaho can expect to see him making decisions in the big office next year, Little gave a smile and said yes. However, when pressed about his intentions to run for re-election, Little — who told The Press he has not yet filed paperwork for the gubernatorial race — said:
"That's a big secret, but don't be surprised."
If he were to run, Little believes his history of advancements in education, state economy, and infrastructure while in office will set him apart from the other candidates.
"I'll probably run on my record," Little said.
An expanded list of state accomplishments is available at: gov.idaho.gov.
---