Movers & Shakers
IRWA recognizes Kuchenski, Bayview Water and Sewer District as Water Operations Specialist of the Year
Idaho Rural Water Association is proud to recognize Bob Kuchenski, system operator for the Bayview Water and Sewer District (BWSD) as the 2021 Water Operations Specialist of the Year.
This award, which was presented to Kuchenski at IRWA's Annual Spring Conference Banquet on May 26 recognizes a State of Idaho Certified Operations Specialist who is actively working in the field and demonstrates outstanding leadership ability and/or accomplishments in drinking water. To be eligible for this award, nominees must be affiliated with an IRWA system member in good standing with full voting rights.
This year's Water Operations Specialist of the Year has assisted BWSD board of directors in multiple projects such as creating a Source Water Protection Plan and an Emergency Response Plan.
According to Ali Spahn, Chairperson of the BWSD board of directors, Kuchenski's knowledge of the system has been instrumental in supporting the engineer in designing the Facility Plan for a much-needed system upgrade. His extensive knowledge and problem-solving skills make him a champion in his community.
Kuchenski was lauded for his ongoing initiative, leadership and dedication to the residents he serves and the BWSD board members. "His expertise is essential in supplying feedback to the board in making critical system decisions," Spahn said. "He is always available to respond to requests and finds quick and solid solutions to system issues."
Idaho Rural Water Association is a non-profit association comprised of 388 water and wastewater systems in Idaho that primarily serve populations of 10,000 or less. IRWA's mission is to provide technical assistance, training and a strong representative voice for the benefit of Idaho's water and wastewater systems.
• • •
Stifel's Scharenberg earns Certified Trust & Fiduciary Advisor Certification
Stifel Financial Corp. announced that Don Scharenberg, first vice president/investments, has attained the Certified Trust & Fiduciary Advisor (CTFA) designation from the American Bankers Association.
The CTFA designation is awarded to individuals who demonstrate experience and knowledge in the field of wealth management. To qualify for the CTFA designation, individuals must have certain levels of experience and education in wealth management, pass an exam and agree to abide by a code of ethics. Learning objectives toward attaining the CTFA designation include how fiduciary and trust activities are related to basic trust administration; understanding federal estate and gift taxation, planning for gifts and related tax-planning strategies; investment management and the economics of markets; and personal financial planning concepts. The added knowledge gained in these areas can contribute to more effective collaboration with clients' legal and tax advisers.
Scharenberg has worked at Stifel since 2013 and has helped clients pursue their financial endeavors over the past 40 years. In addition to the CTFA designation, he has earned the Certified Private Wealth Advisor, Certified Investment Management Analyst and Accredited Investment Fiduciary designations.
Scharenberg is based in Stifel's Coeur d'Alene office, which is located at 2100 Northwest Boulevard, Suite 390, and can be reached by calling 208-765-7005.
• • •
If you have a new, relocated or expanded business, or announcement of events, promotions or awards, The Press wants to let our readers know. Email the details to hmain@cdapress.com.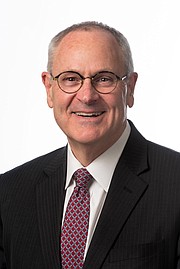 ---