LEGION BASEBALL: Lums take two from Lewis-Clark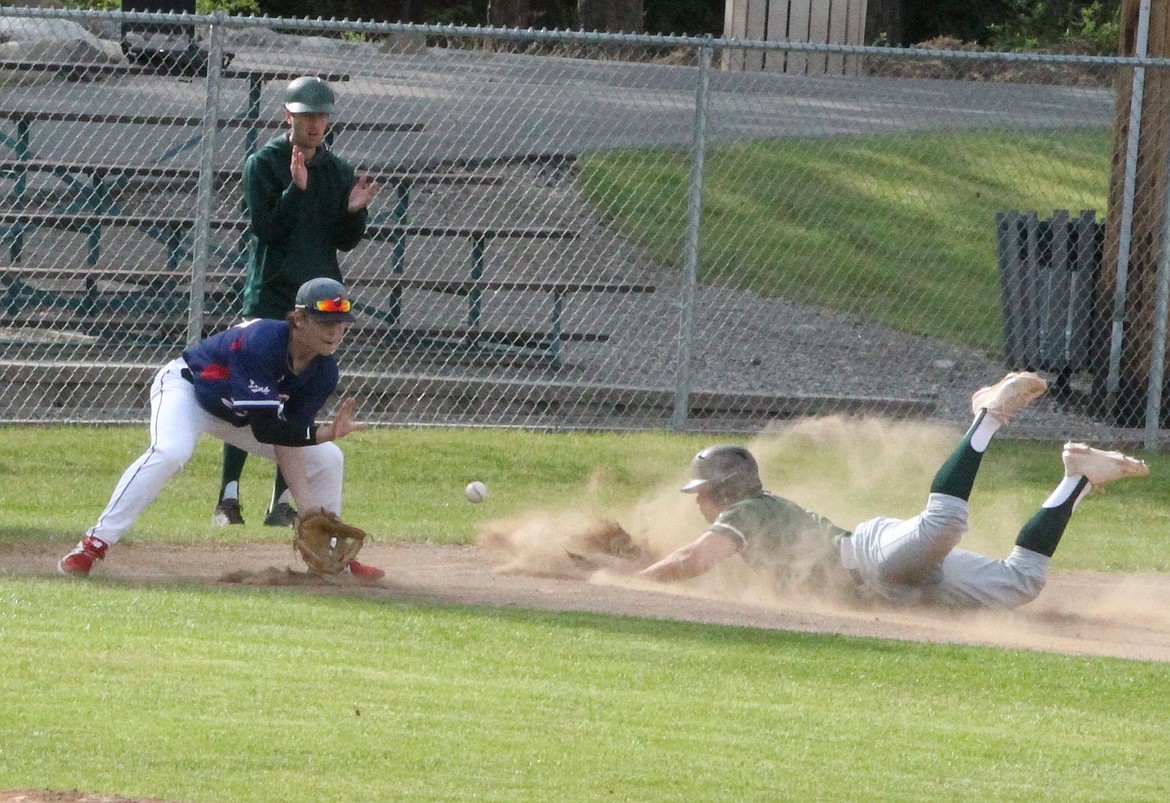 JASON ELLIOTT/Press Coeur d'Alene Lumbermen third baseman Cooper Erickson fields a throw during the first inning of a game against the Lewis-Clark Twins at Thorco Field on Wednesday. Coeur d'Alene won the opener 5-4.
COEUR d'ALENE — You'll have to excuse Liam Paddack's absence in the first game for Coeur d'Alene on Wednesday.
School first, then swings.
Paddack, who missed the opener while receiving a scholarship from the Hayden Little League, hit a key three-run home run in the second inning of the second game, helping the Lumbermen improve to 7-3 on the season with a 5-4 and 14-4 sweep of the Lewis-Clark Twins in American Legion baseball play at Thorco Field on Wednesday.
"It was a big lift for us," Coeur d'Alene coach Darren Taylor said. "It looked like it was going to be a close game, but that shot really opened the floodgates for us. It was fun to watch."
In the opener, Troy Shepard struck out 10 in five innings for Coeur d'Alene. Owen Benson pitched two scoreless innings to close out the opener.
"He didn't have his best stuff today, but he gritted one out," Taylor said. "Owen, he's starting to be the guy we count on in relief and he's just got ice in his veins."
Lewis-Clark led 2-0 after the first inning, taking advantage of two early errors by Coeur d'Alene.
"They were still in classroom mode," Taylor said. "Nobody came to play, but we woke up in the second inning and looked pretty strong after that."
Ryan Schneider had three runs scored and two RBIs, Zach Garza two RBIs and two runs scored and Cooper Larson two RBIs in the second game for Coeur d'Alene, which scored 14 runs on eight hits and had 11 walks in the second game.
Coeur d'Alene will play at Harris Field next Tuesday starting at 5 p.m.
Coeur d'Alene is scheduled to host the Shadle Shockers tonight in a single-game starting at 5.
FIRST GAME
Lewis-Clark 202 000 0 — 4 9 3
Coeur d'Alene 040 010 x — 5 8 2
Carson Kolb, Cole McKenzie and Jake Feger; Troy Shepard, Owen Benson (6) and Joe DuCoeur. W — Shepard. L — Kolb.
HITS: L-C — McKenzie, Johnson, Hepburn, E. Taylor 3, Reynolds, Daniel, Edminson. Cd'A — Schneider 2, Manzardo 2, Scherr, DuCoeur, Taylor, Bridge. 2B — Reynolds, E. Taylor.
SECOND GAME
Lewis-Clark 201 10 — 4 5 3
Coeur d'Alene 143 06 — 14 8 0
Kayden Carpenter, Elliott Taylor (3), Jose Barajas (5) and Jake Feger; Ryan Schneider, Cooper Erickson (1), Zach Garza (3) and Jackson Scherr. W — Erickson. L — Carpenter.
HITS: L-C — E. Taylor, Daniel, C. Kolb, Barajas, Feger. Cd'A — Schneider, Scherr, Paddack, Rimpau, Garza 2, Bridge. 2B — Schneider, Rimpau, Bridge. HR — Paddack.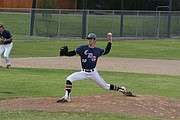 ---